Do co-working office spaces have a place in Chinatown? 
Last week, the influential Chinatown Community Development Center (CCDC) nonprofit realized a nearby work-sharing space called 1920C, located on the second floor of 950 Grant Ave., has been operating in violation of the planning code.
Offices are not allowed in the heart of Chinatown, per an 80s-era zoning policy.
According to 1920C's website, it rents space by the hour, day or month, and offers amenities such as "bottomless organic fair-trade coffee and teas" and "discounted kombucha." CCDC says offices pose a threat to the character of the area and forces out small retail and restaurants that can't afford as high of rents.

The Planning Department agreed that the space has been illegally converted and issued a notice of enforcement on Tuesday to both the property owner, JQ Properties LP, and to 1920C as the occupant. They have 15 days to comply, and after that, both entities will receive a $250 fine each day until they come into compliance.
The CCDC wasn't done. The group called a press conference at 10am Thursday across the street from the building to draw attention to the issue. Its leaders say 1920C sets a bad precedent for others who might try to skirt the zoning law (the former Empress of China building at 838 Grant Ave. was mentioned, for example).
The Chinatown Area Plan was adopted in 1986, CCDC policy director Gen Fujioka explained at the event, "to protect Chinatown from the encroaching Financial District." Back then, as now, a wave of development drove up rents and made it tough for small retailers and restaurants to compete for space against deep-pocketed companies that needed office space or wanted to open, say, a bank.
That's why the zoning plan calls for "Chinatown Visitor Retail" along Grant Avenue from roughly Jackson Street to California Street. The stretch is known for its abundance of shops selling souvenirs, jewelry, luggage and other tourist-friendly merchandise. The main floor of 950 Grant Ave. is the Oriental Treasures gift shop. Restaurants qualify, too – The building used to house Grand Palace Restaurant.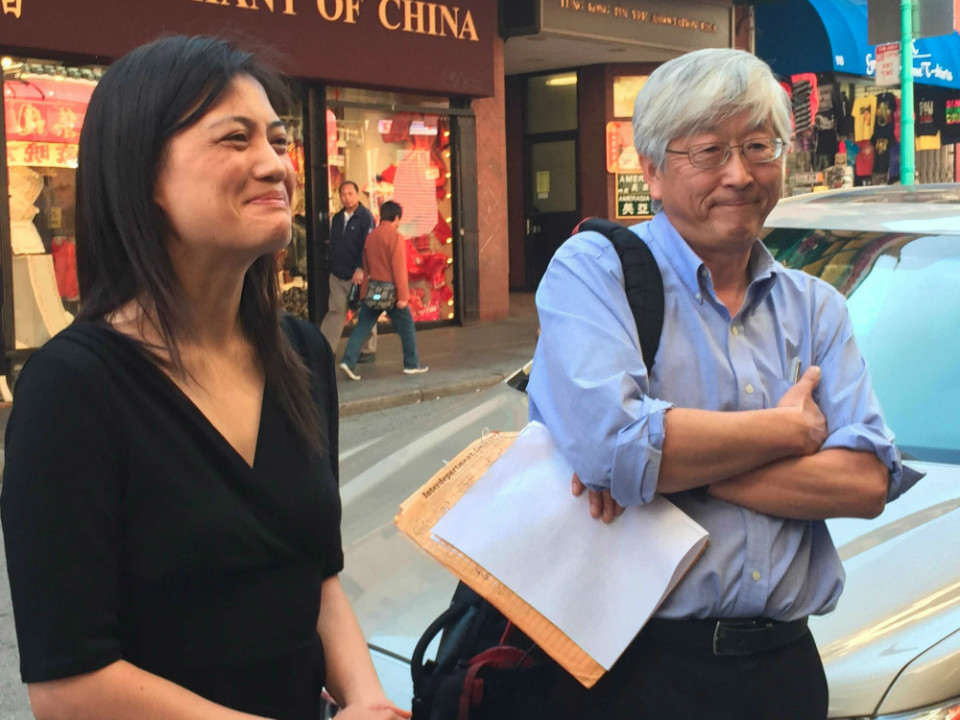 Cindy Wu and Gen Fujioka of CCDC react to a question at the press event.
But what is a co-working space? Definitions are all over the map, but typically you will find shared resources like a private internet connection, a kitchenette, bathrooms, shared conference rooms, possibly bicycle or car parking, and some collection of desks and private office rooms for rent. Some provide fancier benefits, like free coffee or beer.
According to an industry wiki, San Francisco has more than 40 of them. A few, like the Center For New Music in the Tenderloin, have arts or nonprofit themes. But almost all are explicitly or implicitly set up for technology startups, and related workers – tech freelancers, satellite officers of companies based elsewhere, and services firms like law or public relations.
A few are big businesses themselves. WeWork, which is based in New York but has a growing number of locations in San Francisco, has raised hundreds of millions of dollars, is now valued at more than $5 billion in the private markets, and is dreaming of an initial public offering. 
WeWork itself makes for an interesting example. At its 25 Taylor location you can find a number of non-profits, random non-tech law and architecture firms, and miscellaneous others – Buzzfeed was a flagship tenant when the space opened a couple years ago, and this publication has a cramped office there now. But most tenants seem to be tech-related, and that at least is the vibe. 
So the lines can be blurry, but not that blurry. How does 1920C fit in? 
The owner, Jenny Chan, arrived at the press conference saying she was confused. She runs the co-working business and a small nonprofit out of the co-working space and said a few other nonprofits do as well.
Only one tech firm, Whil, occupies space so far. "We're trying to collaborate with the community," Chan said, adding that she is also Chinese. Her nonprofit, Pacific Atrocities Education, aims "to build a community of supporters of the survivors from the Pacific Asia War," according to its Facebook page.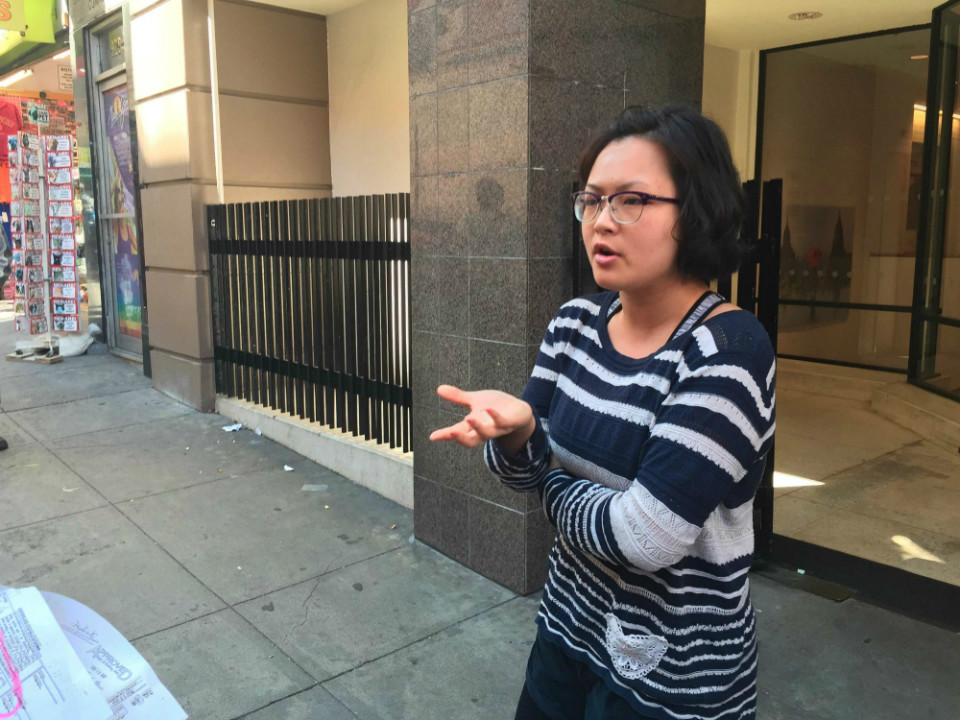 Jenny Chan of 1920C, at the press conference yesterday.
But CCDC Deputy Director Malcolm Yeung compared 1920C to Uber and other tech firms that "violate the law first and try to fix it later," he said. Chan said the landlord told her it was a "commercial building." Fujioka told her, "If you have a beef, it's probably with the owner. They should have told you these are the conditions." 

Fujioka and Cindy Wu, a CCDC deputy director as well as vice president of the San Francisco Planning Commission, showed Chan and reporters a document from the San Francisco Department of Building Inspection saying the space was approved for two retail units of no more than 2,500 square feet each per floor on the ground and second floor. 1920C occupies 4,000 square feet, according to its website. The third floor is authorized for group housing and contains single-room occupancy (SRO) units.

The Planning Department's notice of enforcement reads in part, "The complaint alleges that the second-story of the subject property, a three-story 15,660 square foot building, has illegally converted from a retail/commercial use to an Administrative Service use. They have 15 days to respond."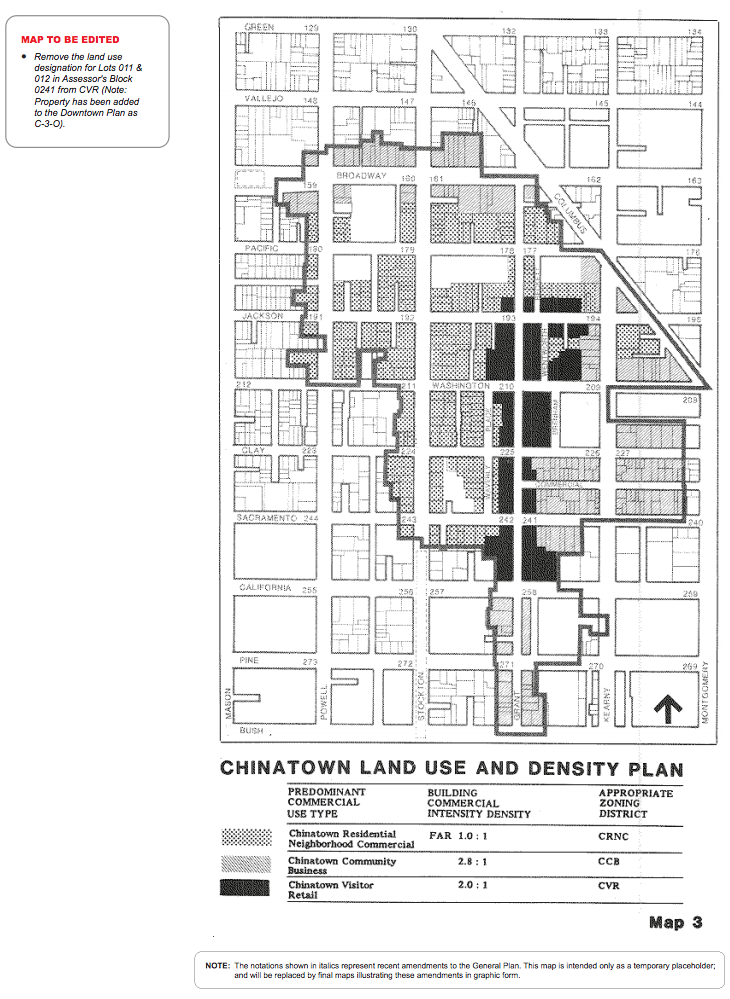 A map of the land use plan for Chinatown as included in the Planning Department's general plan.  
But as Wu said, "They need to come into compliance with Planning, but there is no way to come into compliance." Unless, of course, the business closes. It's been open nearly a month so far.
Chan sent an email to the press just before 5pm Thursday with a response to the press conference and a press release from Tan Chow of the CCDC. It linked to the 1920C blog and reads, in part, "Like Mr. Chow stated in his press release, "Small businesses and nonprofit services cannot compete with peak office rents." This is exactly what we are trying to provide to the Chinatown community."
1920C markets itself to tech firms as well as artists, writers, creatives, startups, nonprofits, students, freelancers, small businesses and more, and it advertises event space. Chan says 1920C is bringing more business into the neighborhood. Her website reads, "There are [sic] tons of amazing food right in the neighborhood, we especially love eating our neighbors [sic] $5 lunch specials." She plans to have a grand opening from 6–9pm Friday with lion dancers, music, free beer and a raffle.
While the existing rules have already resulted in a decision on this location, the questions around co-working spaces are sure to come up again. It's not just tech startups that are struggling to find cheap offices. Long-standing community organizations, non-profits, arts groups and many others have been getting squeezed out of their traditional city locations, and are looking for options. Stay tuned as we cover this issue in the coming months.