Local filmmaker James Q. Chan is telling stories of Chinatown via an unusual inspiration: idealized miniature versions of vintage scenes from the community, meticulously created by artist Frank Wong over a span of more than two decades.
The miniatures, which resemble doll houses, are part of the permanent collection at the Chinese Historical Society of America Museum at 965 Clay St. The seven miniatures include a kitchen, living room, dining room, laundry, SRO, shoeshine stand and herb store. Each depicts a romanticized version of the way Wong fondly remembers the Chinatown of his youth in the 1940s and '50s.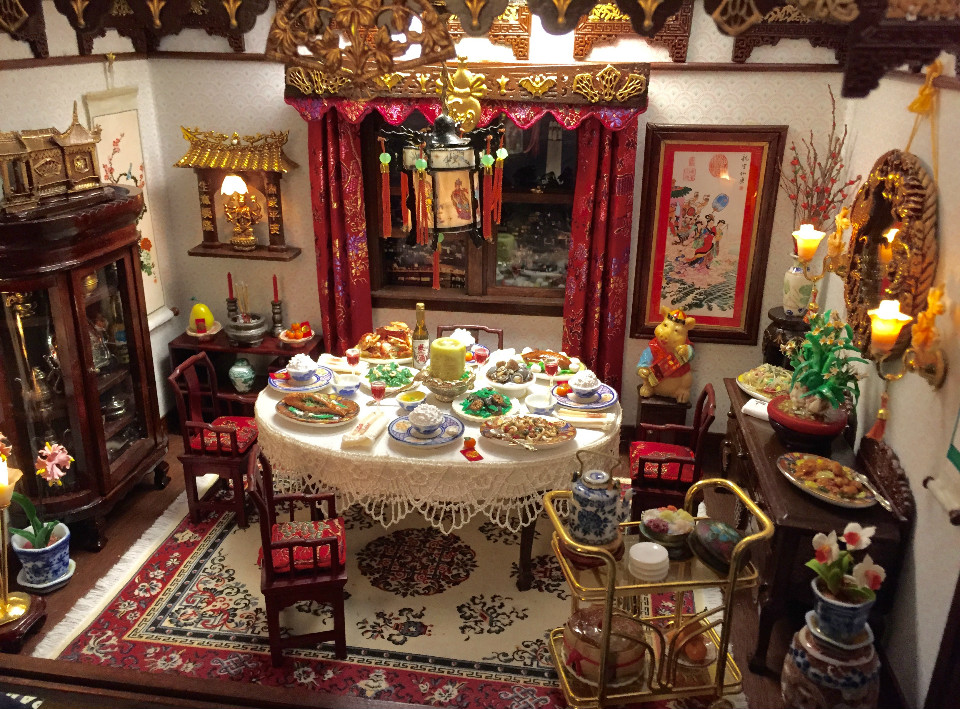 "Dining Room" by Frank Wong. (Photo: James Q. Chan)
Chan uses the miniatures and Wong's narration to open a door to look deeper into the community. "How the film unfolds is that the artist becomes our guide, loosely, and the miniatures are portals that transport us back in time." He added, "It's a subtle way of saying how places shape people and people shape places."

A work-in-progress screening of the nearly finished film, Frank Wong's Chinatown (a working title), will be shown for the first time publicly at the upcoming CAAMFest. It's a celebration of Asian American film, music and food running March 10th–20th at venues throughout San Francisco and Oakland. This preliminary cut of the documentary will premiere at 5pm March 12th at City College of San Francisco-Chinatown/North Beach Campus. Tickets will be $14, and $13 for students, seniors and the disabled.
The film as it is now opens by showing Wong working on components of the miniatures: an impossibly tiny Chinese take-out container filled with realistic-looking food; a "wok" made from a part found at a hardware store that he paints to look seasoned. Many of the scenes reveal the American influence, too: Wonder Bread and Oreo cookies coexist in the kitchen with pots of crabs. The scenes "have this amazing, lived-in quality," Chan says. "They look like the place has been occupied." Even the little light fixtures work when the miniatures are plugged in.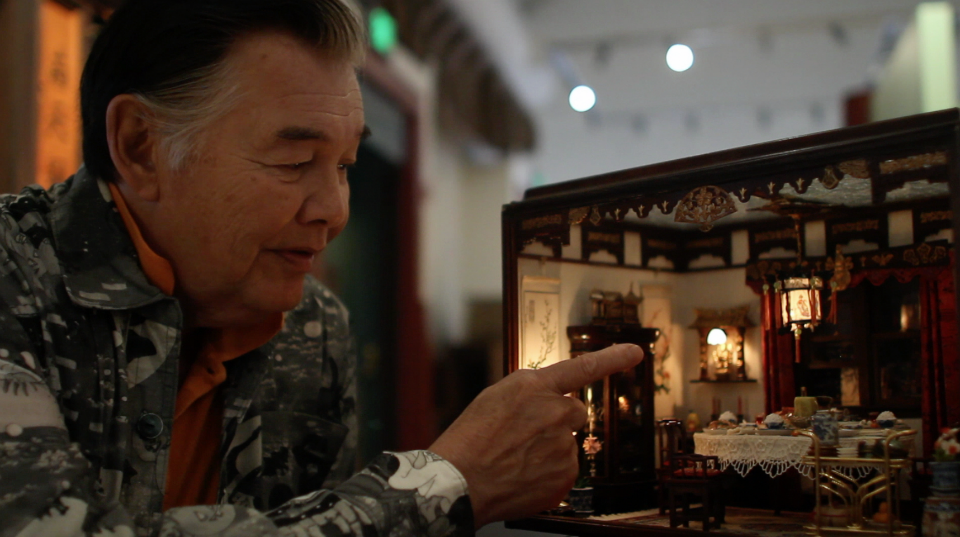 Frank Wong with "Dining Room." (Photo: James Q. Chan)
Wong's miniatures "are composites of his memories," Chan explains. "Most of it is through his unfiltered nostalgia of place and family." Like many of us, Wong has repressed the negative and accentuated the positive. Nothing in the dioramas is necessarily historically accurate, Chan emphasizes, but yet they provide a perspective on Chinese-American life that's familiar to those who grew up in Chinatown during the same era.
Incidentally, although Wong spent his childhood in Chinatown, he later moved to Los Angeles and now lives on the edge of Union Square. Chan, who is ethnic Chinese, was born in Vietnam, lived in Minnesota for a time and moved to the city as a child. He's lived in several neighborhoods and now calls Chinatown home. (Chan said it took about a year to build Wong's trust to agree to make the film, and even now, Wong declines to do interviews with the media.)
By not having any human figures in the miniatures, Chan notes, they become a canvas that others can project themselves onto. He personally felt drawn to the SRO miniature, because it reminded him of the studio apartment where his family lived when they first moved from the Midwest. It also is important to him because it paints a larger picture of Chinatown—from the 1970s activism surrounding saving the International Hotel to today's battles to preserve affordable housing, especially for families and seniors.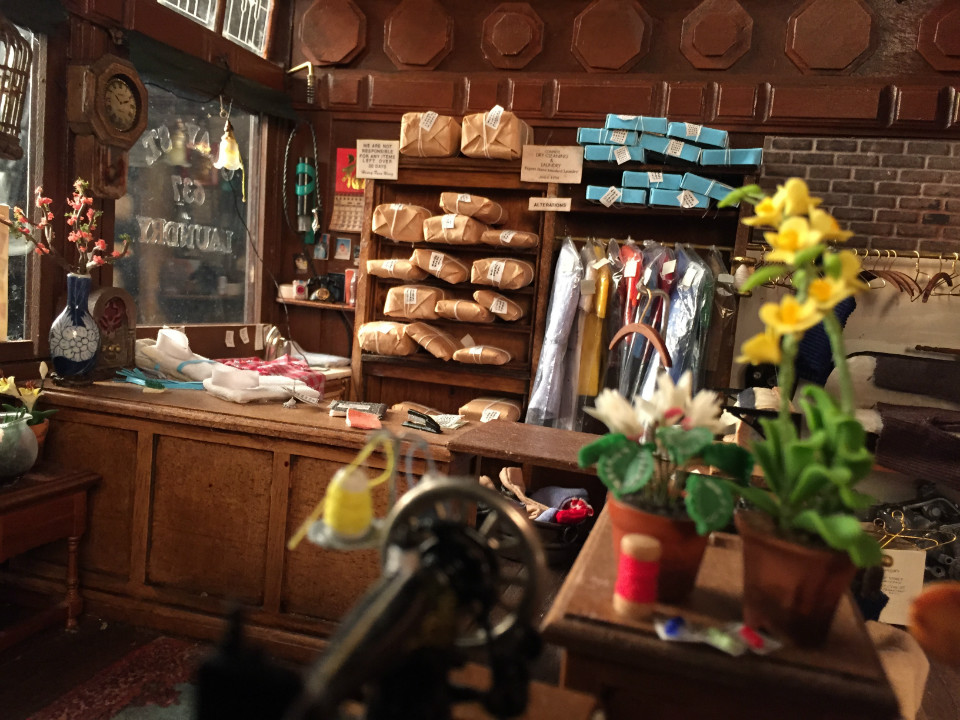 "Laundry" by Frank Wong. (Photo: James Q. Chan)
"I'm very cautious not to stay in the nostalgia world," Chan mentions, adding that he wants the film to be relevant today. He weaves in people who live in Chinatown currently, too. "I wanted to do a moving portrait of people in the community," he says.

Because this film opened up more and more threads into Chinese-American history and issues, Chan is now planning what he calls the Chinatown Preservation Project. It will include a series of films about the neighborhood, though perhaps not all will be as long as Frank Wong's Chinatown, which runs 35 minutes. This film was funded through various documentary production grants and will launch at film festivals this year prior to a broadcast on PBS later this year or in early 2017.