Summer officially started this week, and despite the chilly winds coming off the ocean the Panhandle is full of picnics, barbecues and cornhole on the weekends. But if you're looking to dine outside in a more formal setting, Divisadero's restaurants have a number of options—some of which are brand new. 
Ragazza, 311 Divisadero St.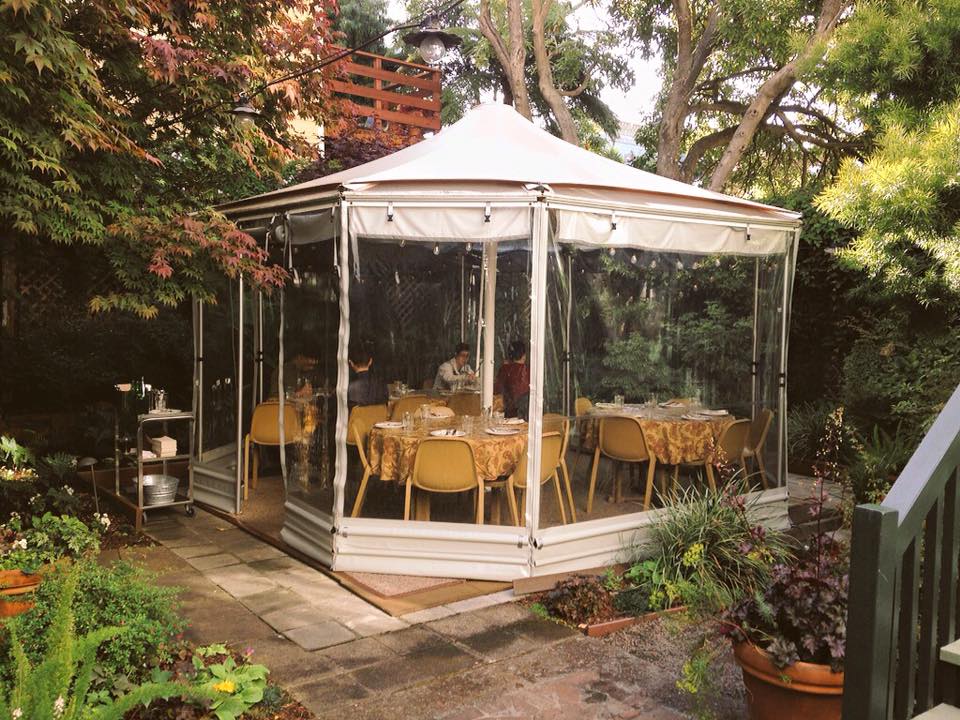 Ragazza's outdoor patio is arguably one of the best on the whole street. Despite the sign advertising their "heated patio" outside, it's often a surprise for diners when they're led through a full dining room to a beautifully landscaped back yard.
A small seating area to the left offers those waiting for a table a quiet place to chat, and a large gazebo can accommodate both groups and smaller parties. Heat lamps keeps the outdoor dining space warm during chillier evenings. The gazebo can also be reserved for parties of six or more, with a prix-fixe food menu coming out to $30-$40 a person. 
Souvla, 531 Divisadero Street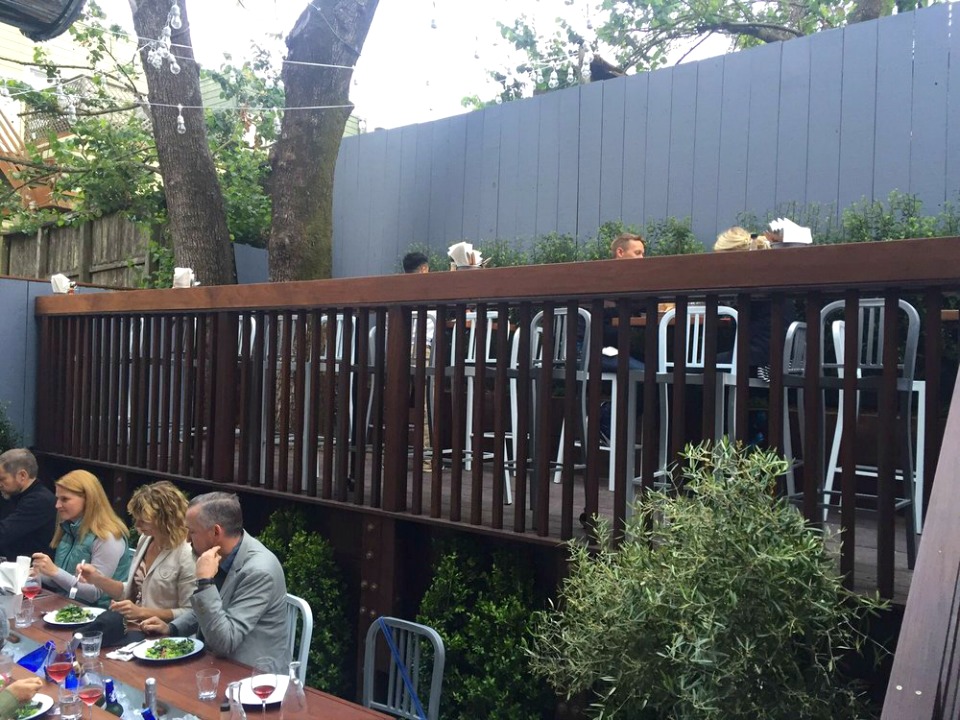 Divisadero's brand new Greek eatery includes both a small front patio facing the street, and a private, tiered eating area in the back. Several tables for two are set up, along with a long bar, which is great for eating lunch solo in the sunshine. 
The back patio can also be reserved for large parties. Do note that while dogs are allowed at the front patio, they're not welcome in the back yard. 
Horsefeather, 528 Divisadero Street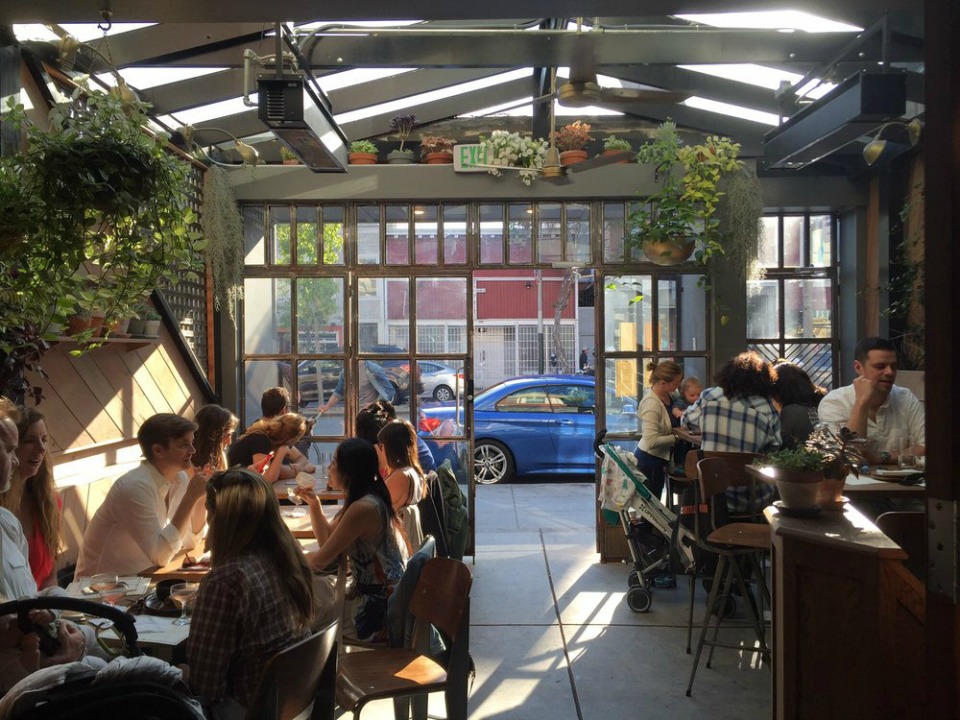 Ziryab's cocktail-focused replacement has brought new life to the large glass-ceilinged atrium at 528 Divisadero Street. Mid-century inspired wood paneling lines the walls, and leafy plants hang from the ceilings. Brunch, drinks and dinner are all welcome on the sunny patio, as are your canine friends.
Bean Bag Cafe, 601 Divisadero Street
It's rare to catch an empty table outside Bean Bag on a sunny afternoon. Although the narrow sidewalk running along Divisadero doesn't allow for much room, patrons, their dogs and their bikes regularly settle in to hang out with friends, chat with neighbors and drink the cafe's cheap draft beers. 
Last year owner Mike Zagah applied for a parklet to extend the outdoor seating options, which may overlap with business from the yet-to-open Mediterranean restaurant next door. 
Mojo Bicycle Cafe, 639A Divisadero Street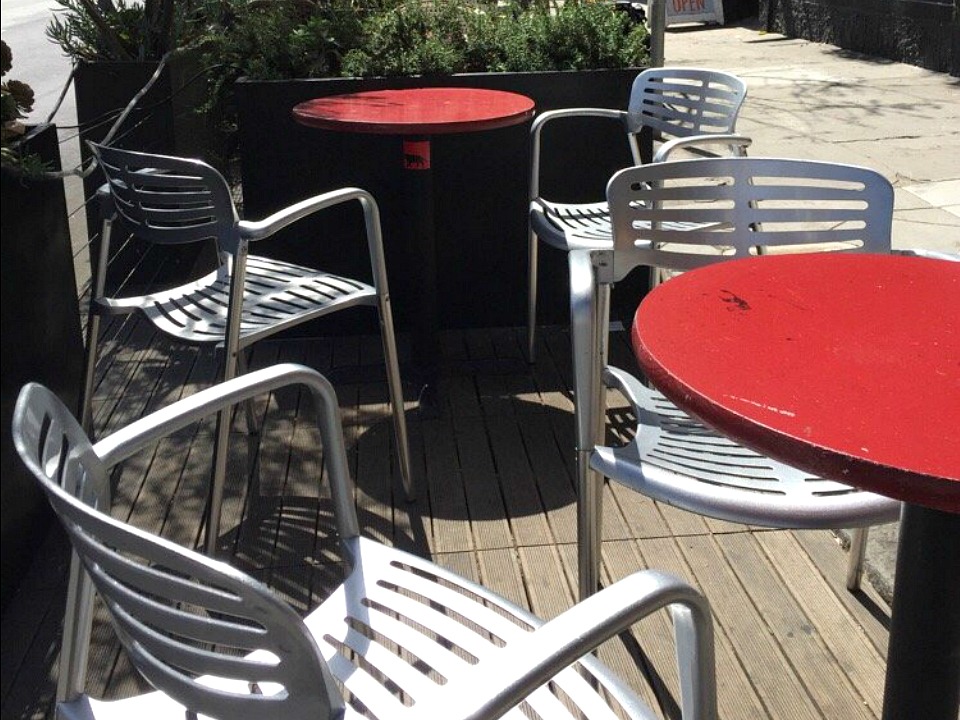 Mojo Bicycle Cafe was the first businesses on the corridor to install a parklet, way back in 2010. In the morning it fills up with people drinking coffee and reading the newspaper. By lunch the beers and salads come out, and in the evenings it's a popular spot for those attending Thursday's Rice Paper Scissors pop-up. Dogs are welcome outside, and a section of the parklet is reserved for bike parking. 
4505 Burgers & BBQ, 705 Divisadero Street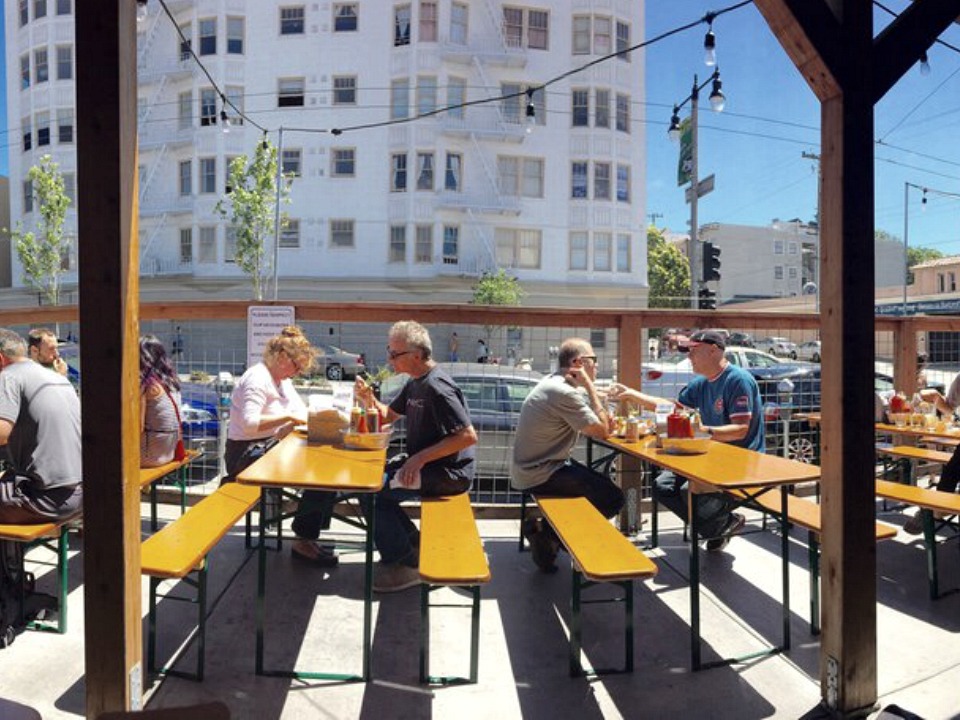 4505 Burgers & BBQ put the finishing touches on their indoor/outdoor dining area a little over a year ago, when they built out an old shipping container. The container blocks the wind from the west, and offers a sheltered dining experience during bad weather. It extends into a covered patio, and an open-air dining section.
Dogs, kids, and sports fans are all welcome. 
The Mill, 736 Divisadero Street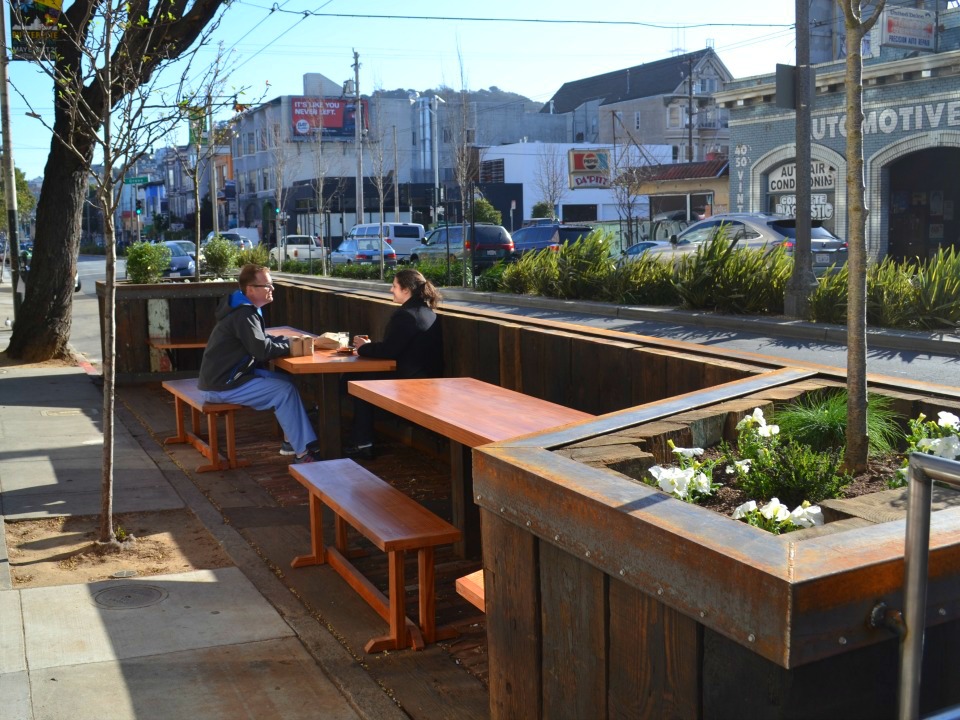 Bike racks and a parklet add real estate to the always-bustling bread shop on Divisadero. Built in 2014, the parklet is the second to come to the neighborhood, and while not protected from the wind, it offers a sunny place to read with a cappuccino and a slice of Josey Bakery's famous toast. 
Brenda's Meat & Three,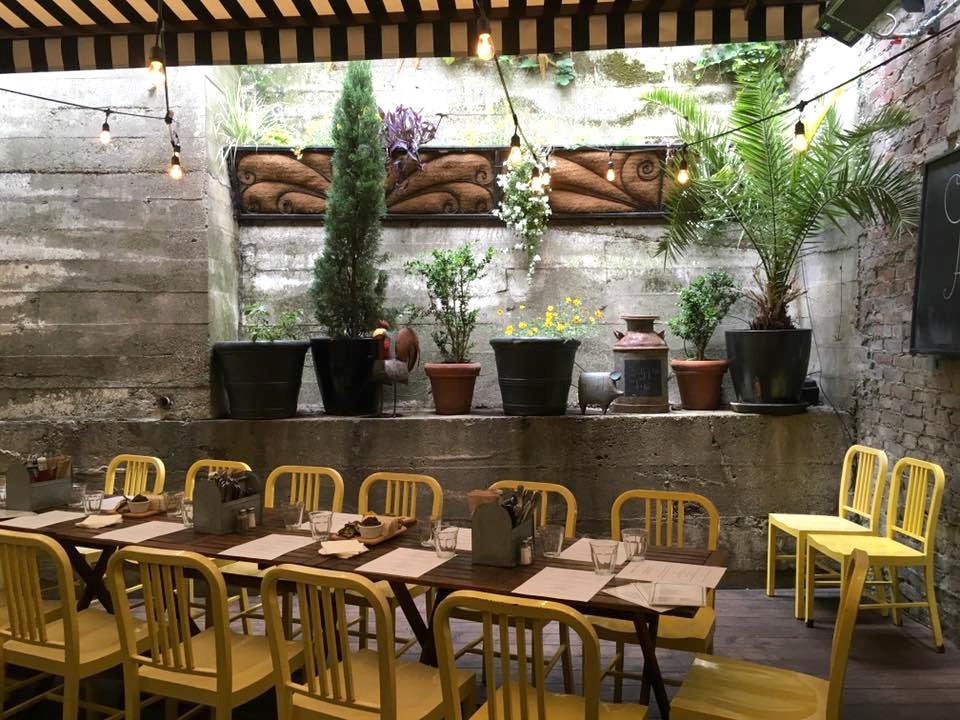 Chef Brenda Buenviaje's southern-style restaurant is at a quieter end of Divisadero, but it still draws a big line for brunch on the weekends. The casual indoor space is accompanied by a concrete-lined backdoor area, artfully landscaped with potted plants. It's open to the public on warm days, but can also be reserved for parties ranging in size from 12-20.