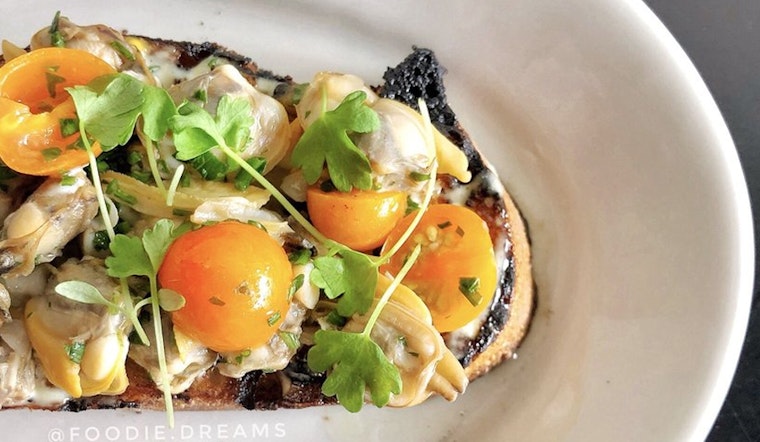 Published on August 24, 2018
Nothing beats seafood—and if you're in the mood to enjoy some fish, shrimp, crab or oysters in San Francisco, we've found a lineup of places that will excite your appetite. Here are the newest places to check out the next time you're in the mood for some seafood.
Violet's
2301 Clement St., Outer Richmond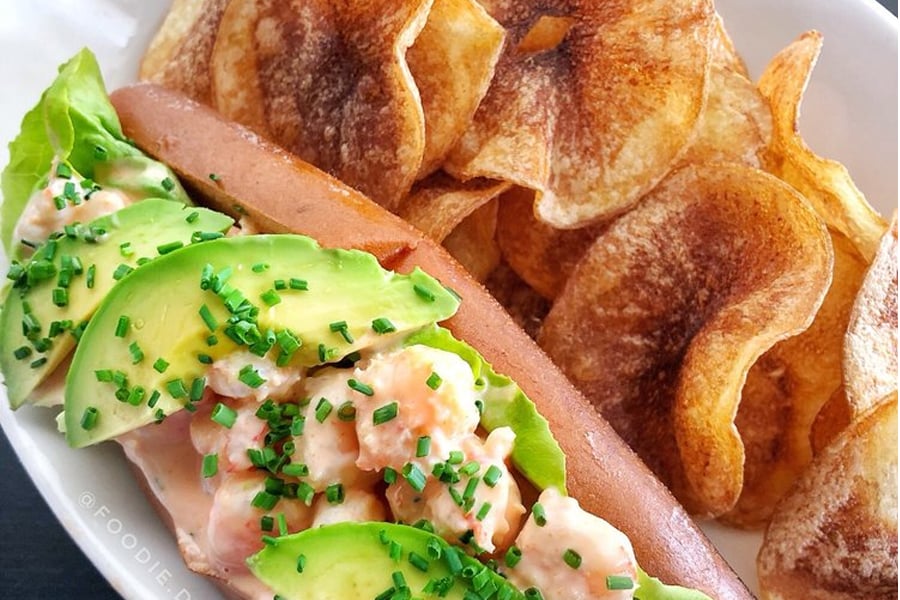 Violet's is a new Richmond District restaurant and cocktail bar with a sizable raw bar menu, which features oysters, shrimp, lobster and crudo. There are also some aquatic delights on the main dinner menu, like anchovy toast, a shrimp Louie roll and pan-roasted scallops. 
The spot is helmed by the owners of Fiorella, the Italian restaurant down the street: Boris Nemchenok, Brandon Gillis and chef Dante Cecchini. The two restaurants also share Melinda Turner as a designer.
Violet's currently holds 4.5 stars out of 43 reviews on Yelp, indicating good reviews.
Yelper Jen W., who reviewed Violet's on August 8, wrote, "What a fantastic addition to the neighborhood! The staff members were super friendly and engaging, especially the bar staff. Everything was delicious. The house chips were a perfect crisp and I loved the two sides of roasted onion and duck liver."
Yelper Holger B. wrote, "Great food for the most part! Scallops were terrific and came with a unique and tasty sauce. Oysters were great too, with three perfect toppings. Chips and dips were a hidden treat."
Violet's is open from 5 p.m.–11 p.m. from Monday-Thursday and Sunday, and 5 p.m.–midnight on Friday and Saturday.
Tarara Restaurant + Bar
191 Pine St., Financial District
Tarara Restaurant + Bar is a tropical, casual seafood restaurant and cocktail bar. Visitors start by selecting two sides, from options like French fries, papaya salad or roasted veggies. Then, select a protein, which includes items like salmon, seasonal fish, shrimp and more, before choosing a cooking method to complete the dish (fried, grilled or Cajun-style). 
With a 4.5-star rating out of six reviews on Yelp, Tarara has been getting positive attention.
Yelper Mark P. wrote, "Stumbling into Tarara restaurant is like finding an oasis in the desert. Tarara promises an inclusive island experience, fusing tastes from Cuba, Jamaica, Puerto Rico and islands around the globe. I was first drawn in by the decor. I felt like I had entered a restaurant at an all-inclusive resort, far removed from the hustle and bustle of San Francisco's Financial District."
Michael G. noted, "What a great addition to the Financial District! Tarara nails it with simple, healthy dishes and fantastic service. The bar and decor are inviting and comfortable. This Cuban-inspired venue is comfortable, lively and fun. It is abundantly clear that the owner, management and the entire team at Tarara are passionate about sharing the flavors of the once mysterious, island nation with their guests."
Tarara is temporarily closed while it waits for its alcohol license to be issued. It is scheduled to re-open September 30, 2018. Check its website for updates.  
Pearl
6101 California St., Outer Richmond
The former Golden Star Laundry & Dry Cleaners has transformed into Pearl, an employee-owned Mediterranean cafe specializing in seafood. In the morning, Pearl serves coffee from Andytown, pastries and fresh bagels; the evening menu spotlights fresh seafood, homemade pastas and ingredient-driven cocktails, as well as beer and wine.
Seafood fans should check out the cod fritters; grilled Gulf prawns with farrotto verde, sugar snap and pea shoot salad, preserved lemon and marscapone; and oven-roasted octopus with German potato salad, haricot vert, olive-almond relish and black garlic aioli.
Yelp users are generally positive about Pearl, which currently holds four stars out of 65 reviews on the site.
Yelper Mckenna H., who was one of the first users to visit Pearl on August 13, wrote, "The waitstaff and bartenders were very knowledgeable and patient. The décor, ambience and tableware made me want to stay all day. The halibut crudo, baked ricotta and cod fritters were excellent. Both the cocktail list and beer and wine menus are impressive. The sundae was the best, most delightful dessert I've had in recent memory."
Tiffany C. noted, "Great place to unwind with a few cocktails and great food. Similarly to its sister restaurant Pizzetta 211, the staff here is super friendly and nice. The drinks were solid and did not disappoint. The food, although simple, was packed with flavor.  "
Pearl is open from 7:30 a.m.–2 p.m. on Monday, 7:30 a.m.–2 p.m. and 5 p.m.–10 p.m. from Tuesday-Friday and 10 a.m.–2 p.m. and 5 p.m.–10 p.m. on weekends.
Ahipoki
1511 Sloat Boulevard, Suite A, Lake Shore
Poke bowl spot Ahipoki has taken over the former Nubi Yogurt space, which closed last year. This newcomer has multiple locations throughout the West Coast, including another San Francisco outpost at 2123 Polk St. in Russian Hill. 
Similar to other poke eateries, Ahipoki features a build-your-own bowl concept where diners start with a base of either white or brown rice, mixed greens or a combination of both.
Diners can then choose from 10 different protein options, like tuna, salmon or kimchi shrimp, then add sauces like garlic soy mirin, wasabi citrus or house spicy. To finish things off, there's an array of toppings like avocado, seaweed salad and crispy onion. (Check out the full menu here.)
Ahipoki currently holds 3.5 stars out of 26 reviews on Yelp, indicating fair reviews.
Yelper Bonnie C., who reviewed Ahipoki on July 29, wrote, "I'm glad I gave it a try. I got the regular size with two sides and with all the toppings, including the blazing salmon and the tuna luau. It was really fresh today. And the employee was super nice and helpful."
And Candace H. added, "The server was nice, but didn't explain the ordering process as I had hoped. I had asked for hot oil on the bowl. I think he thought I want the oil in place of the sauce so he never offered it. The fish was fresh, which was a plus."
Ahipoki is open from 11 a.m.–9 p.m. daily.