Published on July 30, 2021
Since the dawn of Silicon Valley, locals often identify Santa Clara County more with work (and tech campuses) than with play. But this South Bay county has plenty to offer in entertainment of all varieties. From rollercoasters to nature hikes, and from charming shopping districts to Ancient Egyptian artifacts, Hoodline's Bay Area Day Trips series is exploring Santa Clara County this week.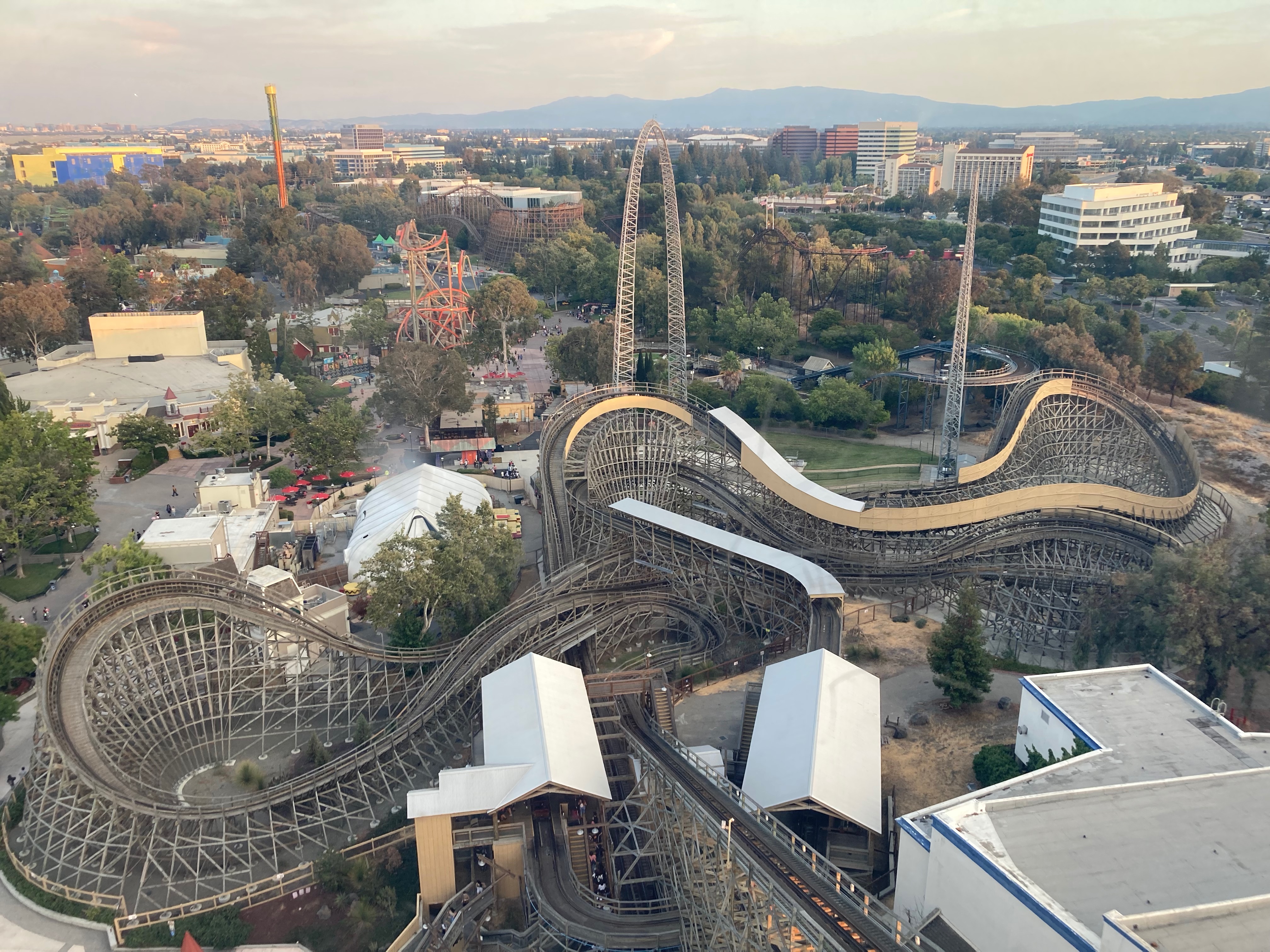 California's Great America | Photo: Laila Weir / Hoodline
Amuse yourself at a theme park
If amusement parks and carnival rides are your thing, the Bay Area's favorite park, Great America, is your local must-go spot. And with a new waterpark added to its already massive campus, the park is more popular than ever. Consider going on a weekday for slightly less crowding, though wait times will still easily top an hour or more on popular rides. Mix up your wait for rides with hanging out at the waterpark area's wave pool or other no-wait features for the best experience. (Or rent a cabana and just hang out at the waterpark for the day!) Admission to the park starts at $30.
For an amusement park experience pitched especially to families, try Gilroy Gardens Family Theme Park, which also features water play alongside a wide variety of rides. Happy Hollow Park & Zoo also has some sweet rides (as well as some very cute animals).
More information: www.cagreatamerica.com, www.gilroygardens.org, happyhollow.org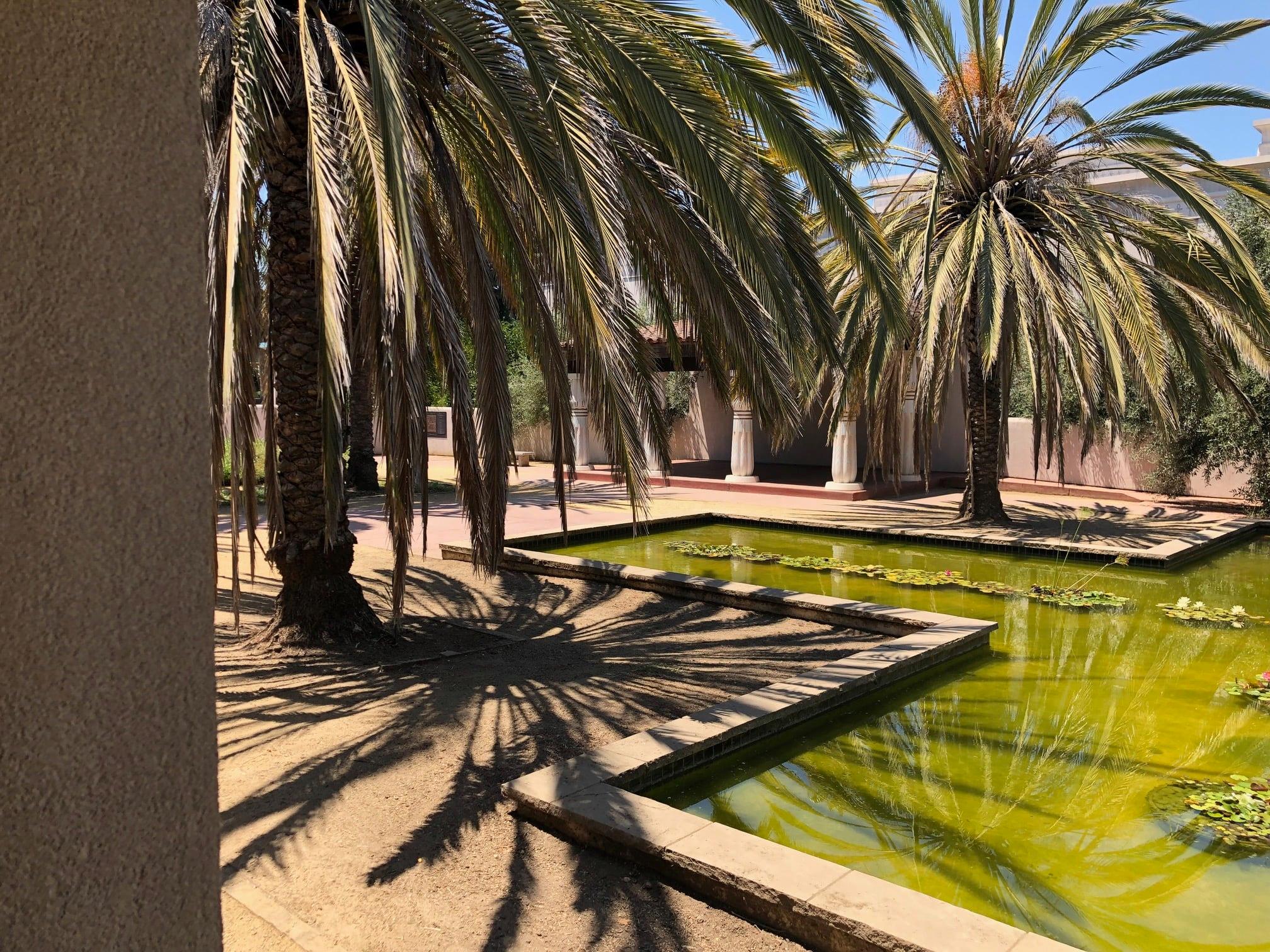 Rosicrucian Park | Photo: Rosicrucian Egyptian Museum / Facebook
Travel back in time ... way back ... at the Rosicrucian Egyptian Museum
This museum in San Jose boasts the largest collection of Egyptian artifacts on exhibit in western North America. If you can't make it all the way to Egypt this summer, or to the famed exhibits at European mega-museums like the Louvre, you might take a day jaunt to explore this charming spot that vividly brings the history and artistry of Ancient Egypt to life. Note that the museum is open only on Fridays, Saturdays and Sundays (Fri. 10-5 p.m.; Sat.-Sun. 11 a.m.-6 p.m.), so don't try to plan a mid-week escape around this destination.
In addition to the museum's extensive and fascinating collection, you'll find a labyrinth to explore and a garden to take a break in after wandering the exhibits. Relax and try out an Ancient Egyptian board game. You could even plan to go on a Friday afternoon for a free introduction to Senet, one of the world's earliest known board games, which was played some 5,000 years ago. All are welcome to attend the Senet Club at the museum on Friday afternoons, 2-5 p.m.
The Rosicrucian Egyptian Museum is located at 1660 Park Ave, San Jose. Admission: $10/$8 seniors, students, children/Free for kids 6 and under. More information: egyptianmuseum.org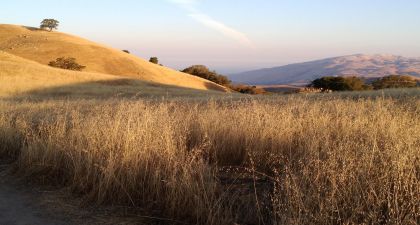 Aquila Loop Trail Photo: Santa Clara Valley Open Space Authority
Get back to nature in one of Santa Clara County's open spaces
A day in nature is a well-known antidote to modern living, and an increasingly popular pandemic-relief measure as well. Santa Clara County includes numerous natural areas to discover, including Almaden Quicksilver County Park, Sierra Vista Open Space Preserve, Santa Teresa County Park, and lots more. Just check the weather forecast, as the county can get hot in summertime, and plan ahead with plenty of sun protection and water. Visitors from San Francisco and the coastal Bay Area in particular can be taken aback by the change in climate.
Check out Hoodline's roundup of awesome hiking spots around San Jose to get you started, and for links and more information about the natural areas listed above. If you'll be hiking with a dog, you might also check out our tips for coyote safety, as these native wild inhabitants of the region have been making appearances all around the Bay Area.
Or for a more urban open space, side-by-side Vasona Lake and Oak Meadow Park in Los Gatos offer paddleboat and rowboat rentals, fishing, a creek to explore, miniature train rides, a carousel, a playground, and plenty of lovely spots for picnicking.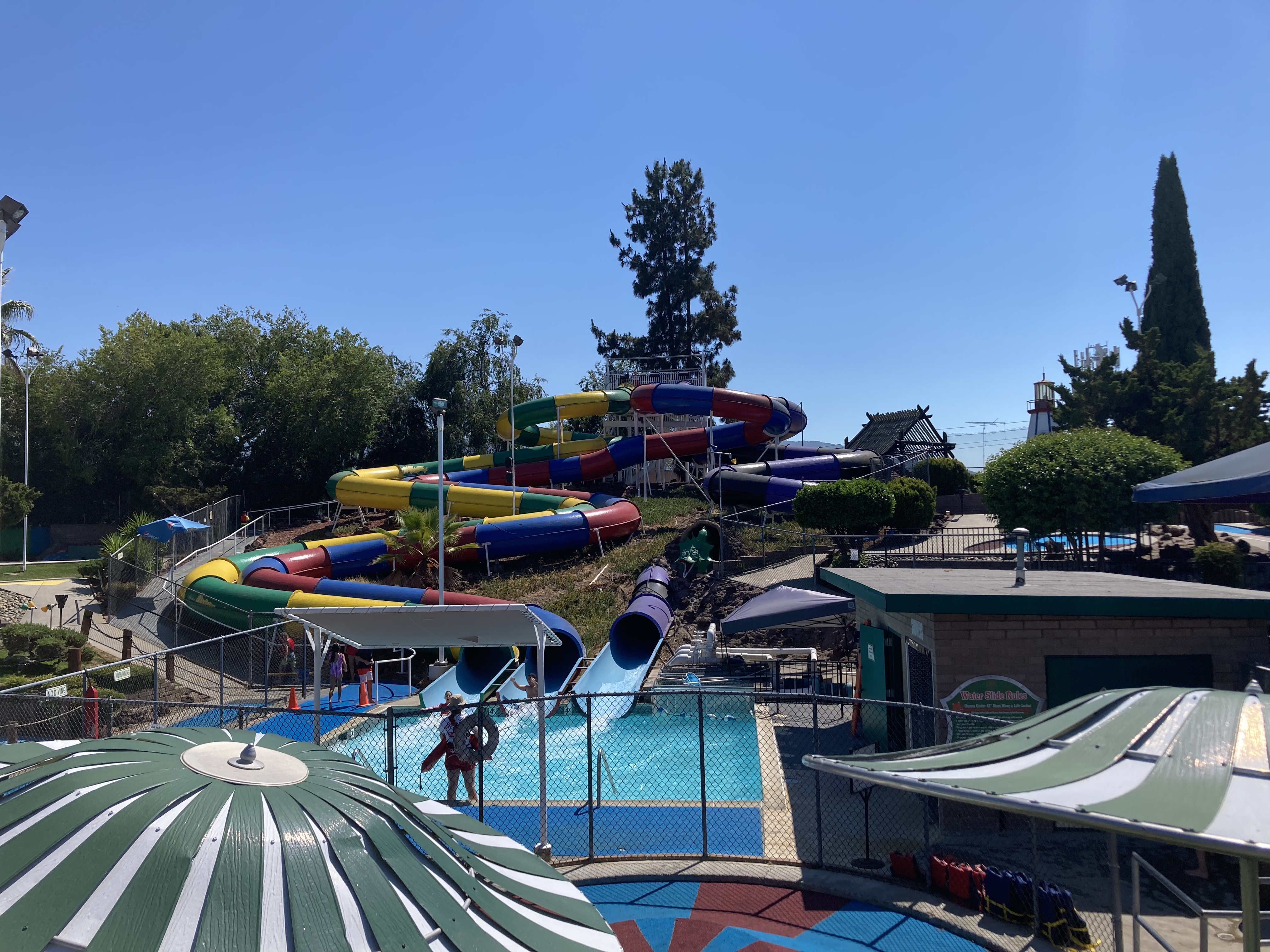 Golfland in San Jose | Photo: Laila Weir / Hoodline
Combine miniature golfing and water slides for a day of classic summer fun
Miniature golfing is a time-honored summertime entertainment, and Santa Clara County offers plenty of options. For the best day getaway, turbocharge your classic mini-golfing family outing by adding in water slides: Golfland's Emerald Hills location in San Jose features three water slides alongside a miniature golf course, video arcade, and snack bar. You pay separately for the different features, which gives you flexibility if you want to enjoy just one of them. Or just go whole-hog and get an all-day pass for both golf and water slides for $32/person. (Add 60 arcade credits for another $10 if you just can't stay away from the arcade games.)
Golfing enthusiasts may also want to check out the new Topgolf mega-venue in San Jose, where you can book tech-enhanced driving-range bays by the hour.
More information: www.golfland.com/sanjose/, topgolf.com/us/san-jose/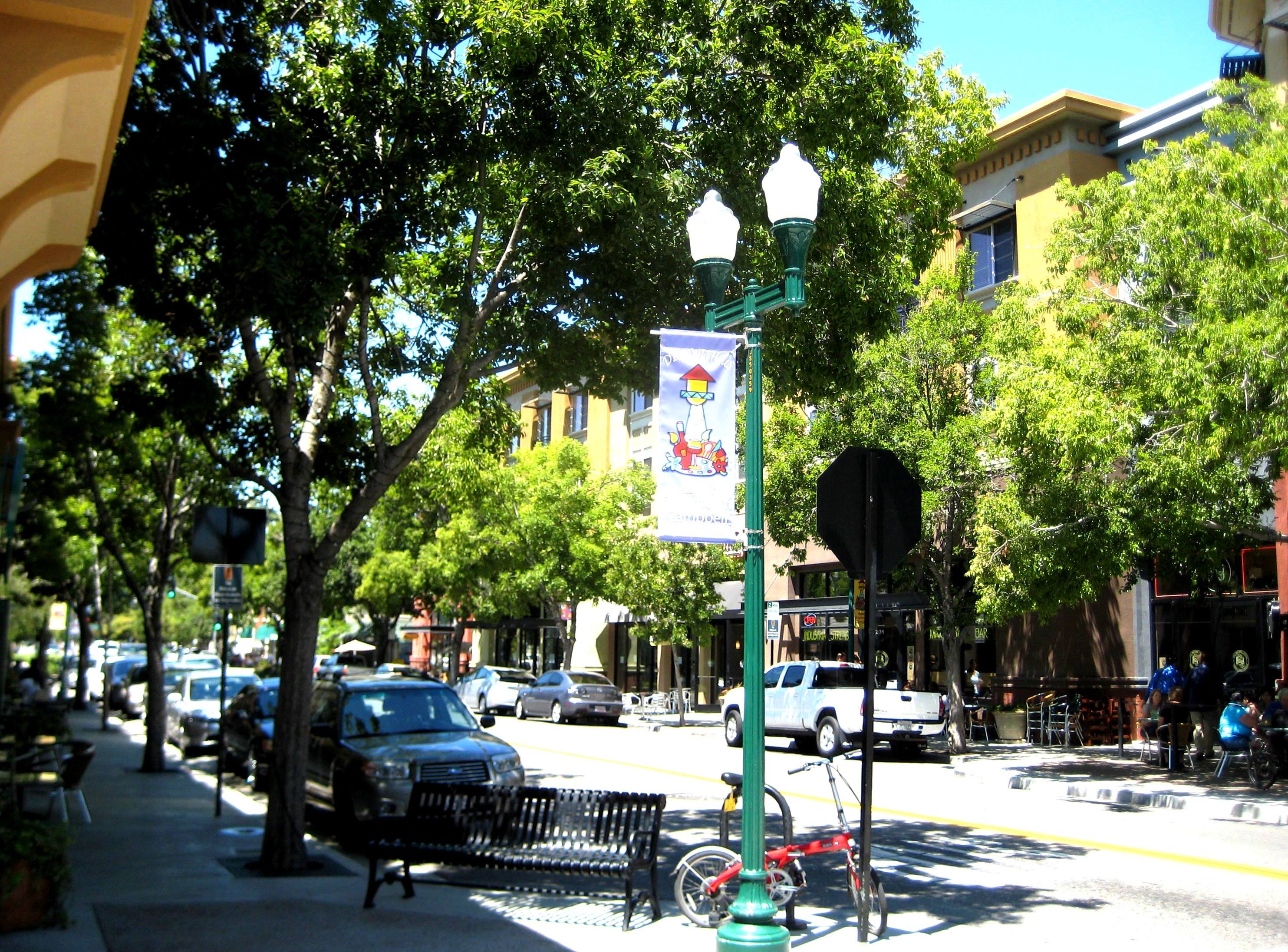 Downtown Campbell Photo: www.ci.campbell.ca.us
Take a shopping day and browse for some new reads, or some new threads
For the bookstore-and-coffee-crowd, an excursion to explore downtown Campbell can make a fun day trip. While you're there, be sure to pick up some new-to-you reads at Recycle Bookstore (a local institution), cool off with ice cream from the locally owned Campbell Creamery, and maybe take a stroll along the creek in nearby Campbell Park. You'll find plenty of restaurant choices, local favorites like Psycho Donuts, and some nice independent coffee and tea shops, including old-timer and Campbell 2020 Business of the Year Orchard Valley Coffee.
If shop-til-you-drop is more what you're looking for, or you just need to gear up for the return to work (and school) in person, the Gilroy outlets offer a huge selection of stores where you can snag some great deals.
More information: www.downtowncampbell.com/directory, www.premiumoutlets.com/outlet/gilroy
Bonus: Go wine tasting in Saratoga
If you're looking to indulge in some grown-up R&R, check out the winery tasting rooms of Saratoga or snag tickets to the Mountain Winery's 2021 concert series. More information: www.gosaratogaca.com/wineries/tasting-rooms/, www.mountainwinery.com