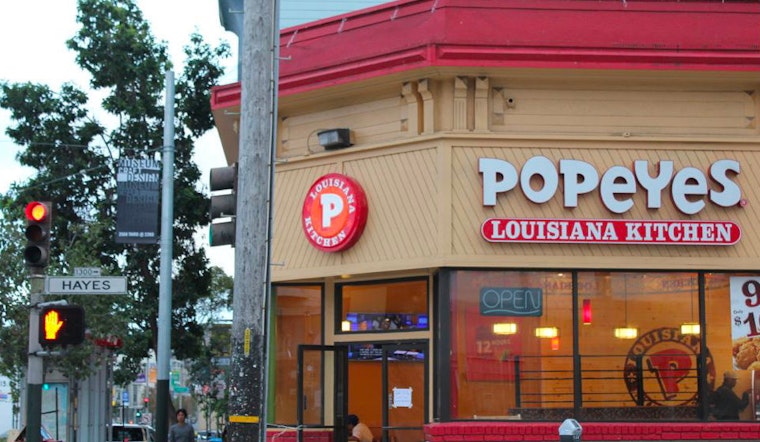 Published on March 30, 2022
Popeyes (599 Divisadero), the fried chicken joint at the intersection of Divisadero and Hayes, has sat in that spot through name adjustments, ownership changes, and the ongoing Valencia-fication of Divis. While other shops in that area struggled to stay afloat and saw rapid businesses turnover, spicy fried chicken and flaky buttermilk biscuits have remained a staple.
Now, after 36 years, the Popeyes Louisiana Kitchen at that southwest corner is endangered once again. The land that the 2,000 square-foot building sits atop is on the market, and the parcel is zoned for 65 feet in height.
When Popeyes set up shop at that corner in 1988, the land sold for $350,000, SocketSite reports. Now, 599 Divisadero Street is on the market for $2,395,000, according to Marcus & Millchap, a real estate investment sales brokerage company.
That price tag is considered below-market at $38 per square foot, and Socketsite notes that the site is considered "substandard".
Still, Marcus & Millchap describe the property as "highly desireable" and "ideal" with an expected 3.17% return on investment. It's zoned for mixed-use development, including residential uses.
"Bus lines are within a hundred feet," the listing brags. "Boasting a 98 walk score and over 100,000 residents within 1 mile, the property is a prime locale for a fast-food restaurant and offers a rare zero-management San Francisco investment property."
That Popeyes still has four years remaining on its lease, and it's unclear whether it could be in imminent danger — in these parts, it could take that long for a new development to get entitled and start construction. In 2019, Hoodline reported the San Francisco Department of Public Health briefly shut the restaurant down, citing "major violations that constitute an immediate danger to public health or safety and/or operating without a valid health permit."
In 2014, the leaseholder for the Divisadero location tested the waters for a long-term sublease, Hoodline reported. Instead, it closed for a quick renovation and stayed put.