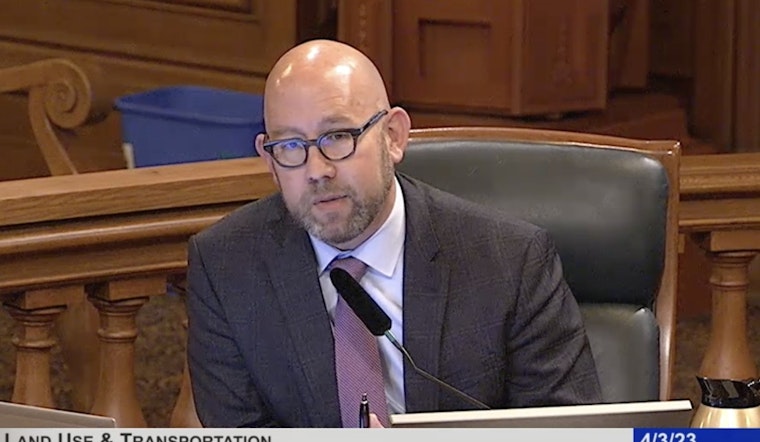 Published on April 04, 2023
On Monday, the San Francisco Board of Supervisors' Land Use Committee delayed its vote for two weeks on updating the landmark status of the historic Castro Theatre (429 Castro St).
In the intervening two weeks, committee members requested that all sides come together to find a compromise.
The committee, composed of supervisors Myrna Melgar, Aaron Peskin, and Dean Preston, voted 2-0 to continue its decision until April 17. While in attendance for much of the meeting including public comment, Melgar ultimately left before the vote took place.
The recommendation to delay the vote by two weeks was made by District 8 Supervisor Rafael Mandelman who said, "I have had fruitful conversations with APE and Castro Theatre stakeholders that lead me to be hopeful that we can get to the win-win-win I have described elsewhere, but we're not there yet." Mandelman also recommended that the joint hearing of the Planning and Historic Preservation Commissions set for April 13 be delayed until May 18.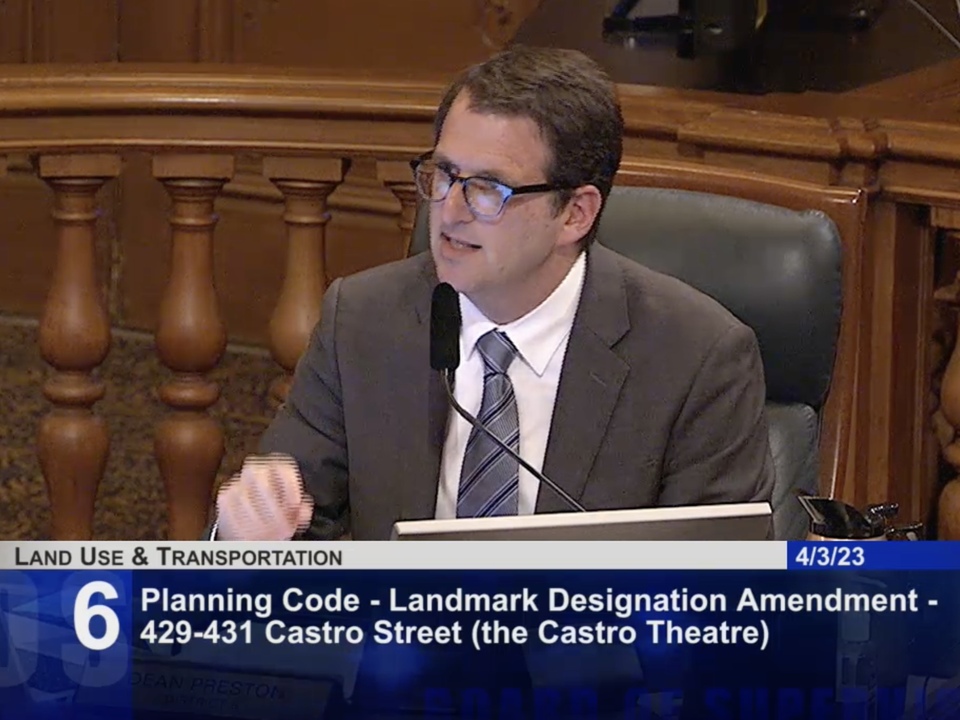 District 5 Supervisor Dean Preston speaking at the Land Use Committee meeting. | Image: SFGovTV
Last May, Mandelman proposed the update to the landmark designation to include "the full historical, architectural, aesthetic, and cultural interest and value of the Castro Theatre."
"From the outset, I have described this landmark update as a simple matter of good preservation hygiene," said Mandelman. "Something that would make sense to do regardless of the APE proposals to renovation of the building."
"The reality is that the great public interest in this update is inseparable from the project proposal that is currently scheduled for consideration by the HPC and Planning Commission on April 13," added Mandelman.
At Monday's hearing, supervisors considered whether or not to change the SF Historic Preservation Commission's (HPC) recommendation to expand the Castro Theatre's landmark designation. The Castro Theatre was officially designated as San Francisco Landmark #100 on September 3, 1977.
Currently, the Landmark Designation Fact Sheet refers to interior seating as a character-defining feature of the Castro Theatre. Castro Theatre Coalition members requested that the committee clarify language in the ordinance, shifting it from describing "the presence of seating" to "fixed theatrical seating configured in movie-palace style."
Preston stated he was prepared to propose this new language but ultimately decided to allow the City Attorney's office an additional two weeks to review the proposal.
Peskin shared his frustration in coming to a compromise with all parties and requested all groups come together. "I have to say Mr. Perloff: you got to walk the walk and talk the talk a little bit faster here," said Peskin about APE CEO Gregg Perloff who was not in attendance. "You can show the community more, sooner, and if you don't, don't be surprised. APE walked into this like the 300-pound gorilla and that's why you haven't gotten anything finished yet."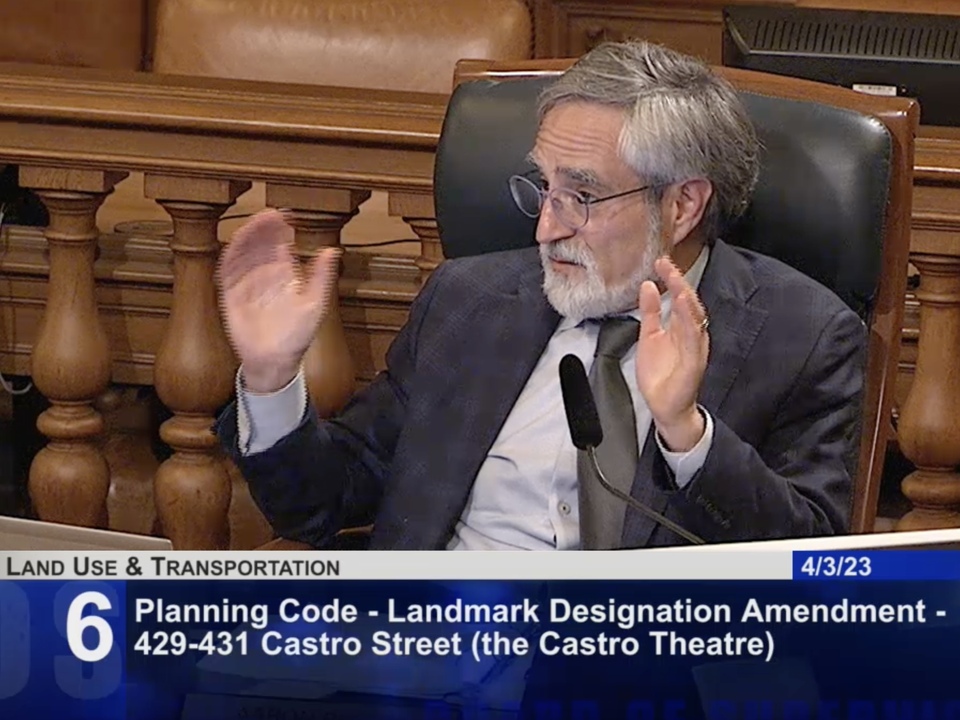 District 3 Supervisor Aaron Peskin speaking at the Land Use Committee meeting. | Image: SFGovTV
Public comment during the hearing lasted for an hour and a half and included comments both in support of and against APE's plans to remove the seats.
Speakers in support of APE included Castro/Upper Market Community Benefit District (Castro CBD) Executive Director Andrea Aiello and board members Ralph Hibbs and Desmond Morgan and former Castro Merchants board member Ray Connolly. Last week the Castro CBD circulated a petition amongst Castro area merchants in support of APE's plans.
At the hearing, Hibbs stated over 100 businesses had signed on. Hoodline reached out to Aiello for comment but did not receive a response.
Speakers in support of the language change included gay public historian Gerard Koskovich, Castro Theatre Conservancy executive director Peter Pastreich, and Castro LGBTQ Cultural District executive co-chairs Stephen Torres and Jen Reck, and Michael Petrelis. [Full disclosure: Steven Bracco, Hoodline's Castro reporter, is a board member of the CQCD and member of the Castro Theatre Coalition.]
Castro Merchants president Terrance Alan requested that an independent economic impact study be undertaken to evaluate the financial impact of APE's plans. Castro Merchants are set to vote at their monthly meeting on Thursday on whether to endorse APE's plans.
It's been over a year since APE has taken over the programming of the 100-year-old Castro Theatre, while ownership remains with the Nasser family and Bay Properties Inc.
APE has proposed much-needed renovations of the neglected Castro Theatre, along with removing the orchestra-level seating and replacing them with four-tiered sections of platforms with removable seats.
View this post on Instagram
In January, APE released new renderings of its proposed changes to the seating, which includes a motorized raked floor. Last month, APE released a summary of its community benefits package. Hoodline took a tour of the Castro Theatre in March which included prototypes of the proposed chairs.
APE states that it "pledges that 33% of programming at the theatre will be devoted to film screenings and film festivals." APE previously told the San Francisco Chronicle that it intends to host 175 events per year — leaving the theater dark for approximately 190 days.
Peskin took issue with the number of days the Castro Theatre would remain dark. "This is not a business model where the venue can be open every day. The theater is going to be dark about half a year," said Peskin. "I don't see any reason why we can't have our cake and eat it too and run the joint as a film operation with rich LGBT programming that 180 days."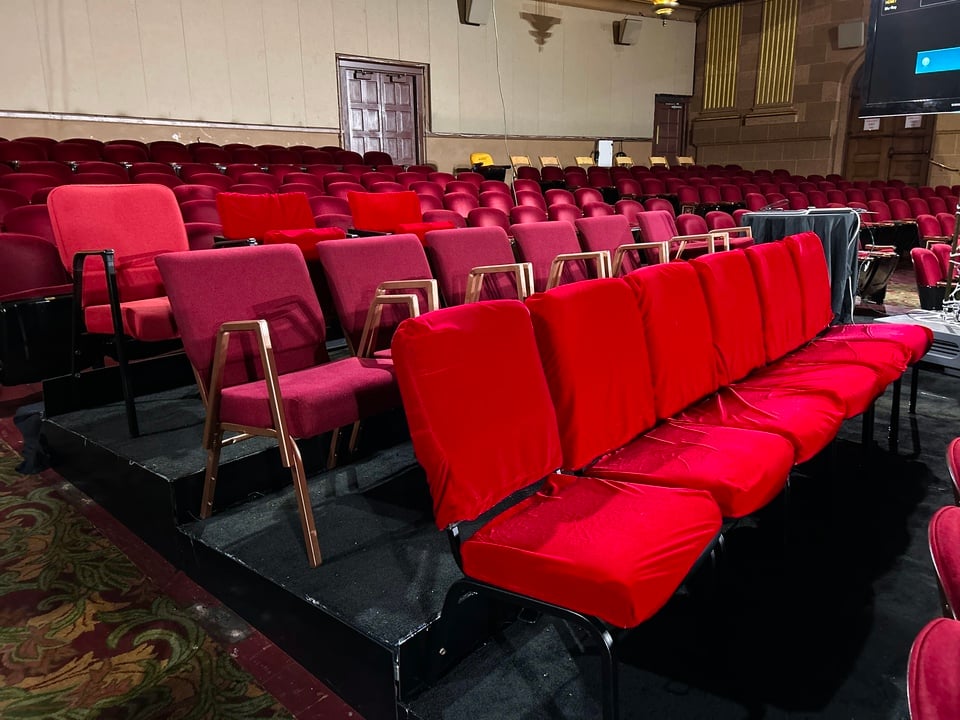 Four of the proposed seating options at the Castro Theatre. | Photo: Steven Bracco/Hoodline
Should APE not be able to find a compromise, Peskin suggested he would make a decision APE did not like.
"How about, in the intervening two weeks ... you guys work out the terms and then we can get back into the issue around the seats," said Peskin. "I don't know how much it costs to run a movie theater but I don't think it's that expensive and I don't think it has to be leased out to parties for $6,000-$10,000 a day."
"Don't be yelling at me when this whole deal tanks," said Peskin. "Just saying."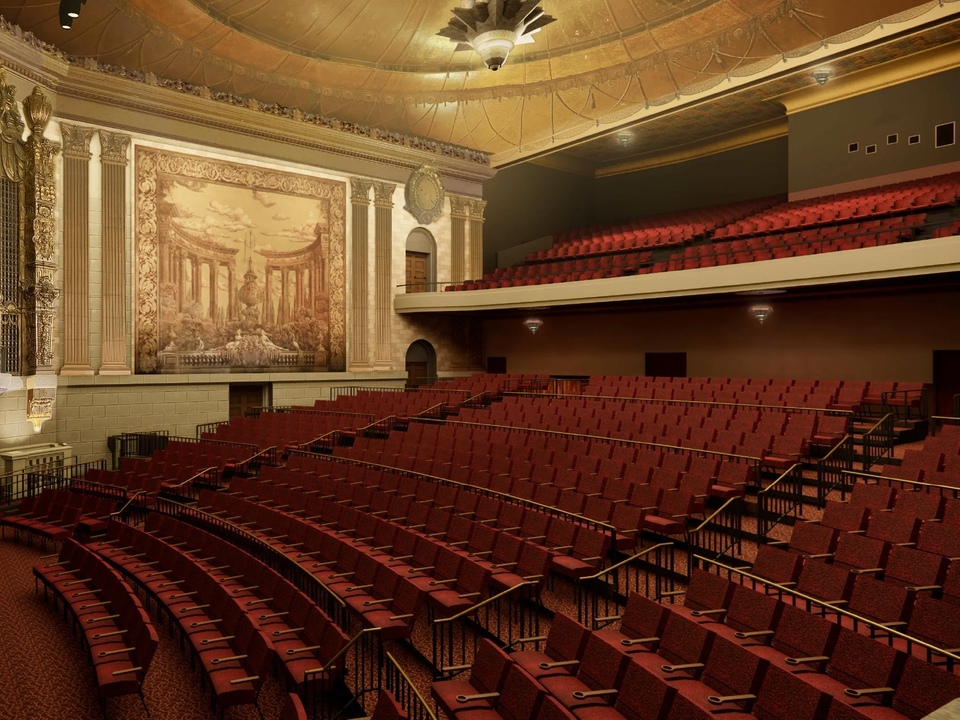 The latest rendering of the proposed seating floor plan. | Image: Castro Theatre
In response to the delay APE spokesperson David Perry told the Bay Area Reporter, "Our continued thoughtful and cordial discussions with the leadership of the Castro Conservancy have led to a better plan. Today's continuance gives us additional time to work with them, and with everyone, who truly understands what it will take to save the Castro for future generations." Perry did not respond to Hoodline's request for comment.
"Another Planet shares that passion, and is why we are endeavoring so hard to truly save the Castro Theatre and everything it represents, especially for the LGBTQ and film communities," added Perry. "We were encouraged today to hear the growing support for, and true understanding of those plans, which we encourage everyone to view on the Castro website."
In response to the continuance, Pastreich stated, "It was made clear that the Castro Theatre is a vital community asset, and that Another Planet Entertainment has the opportunity to act now and work with the community to find a compromise that ensures the theater does not lose the vibrancy for which it is known."
Update 4/5:
Castro CBD executive director Andrea Aiello shared the group's Castro Theatre petition with Hoodline.
"We, the undersigned, support Another Planet Entertainment's proposal to restore the historic Castro Theatre," the petition begins. "Another Planet is committing $15 M to restore the historic theatre back to its original glory. They have also committed to 33% of its programming devoted to film screenings and festivals and to 25% of its programming devoted to LGBT programming."
"We, the undersigned, believe APE's plan will deliver a world-class entertainment venue that will attract a large number of visitors to the Castro District, who will in-turn patronize our local businesses helping to revitalize the economic vitality of the Castro neighborhood," the petition ends.
Asked to clarify the statement "restore the historic theatre back to its original glory," Aiello stated "This includes a long list of improvements including restoring the frescos on the wall, restoring the ceiling to its original colors," said Aiello. They are in communication with the vendor who created the chandelier and that vendor has the original design plans still."
Aiello did not respond to Hoodline's question about the removal of the orchestra-level seating.