Since the Castro Merchants launched a broken-window recovery initiative and survey last Thursday, neighborhood business owners have reported 72 incidents of vandalized and broken windows at a cost of $135,472.74.
Castro Merchants President Masood Samereie tells Hoodline that the group launched the data-gathering survey in order to present a strong case to city officials to take action.
"We're trying to show the magnitude of the damage to small businesses," said Samereie. "Why are small businesses, who haven't been making money and revenue during the pandemic, being forced to cover the cost of broken windows."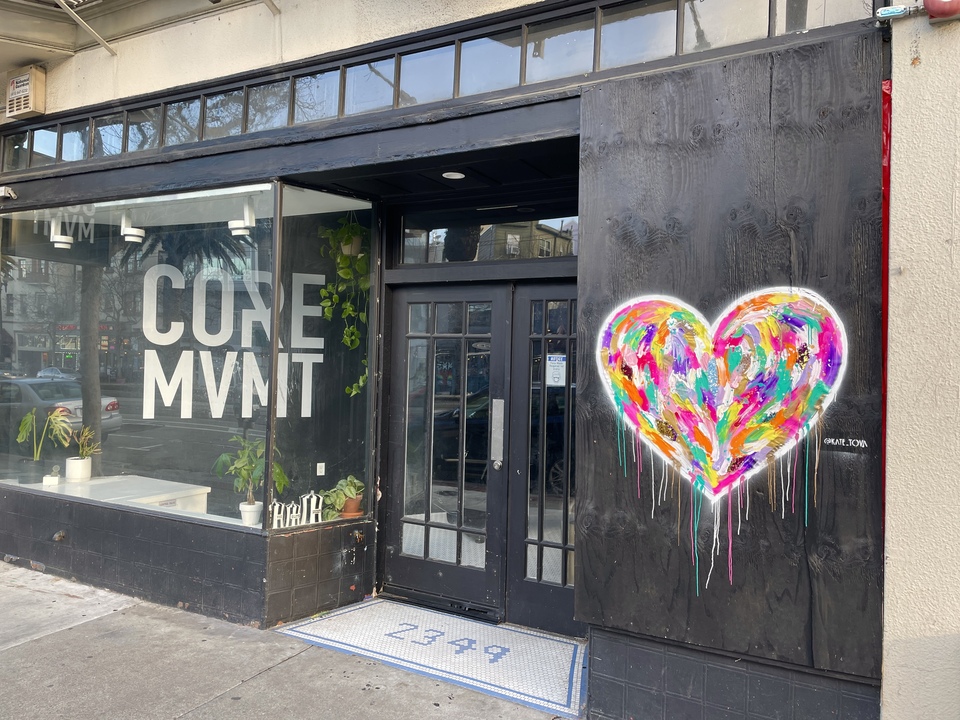 Core MVMT at 2349 Market St. has boarded up a broken window. | Photo: Steven Bracco/Hoodline
Castro businesses are being asked to provide data on all windows that have been damaged in the Castro due to vandalism or burglary since January 1, 2020. Data requested includes the date of the incident, cost of repair, insurance deductible amount, and whether an arrest was made. Castro business owners can submit data to [email protected]
Survey responses so far show the gravity of vandalized and broken windows across the entire Castro neighborhood. In a 13-month period, Walgreens at 18th & Castro Streets has reported 11 broken windows at a cost of nearly $18,000, by far the most of any Castro business. Multiple other businesses have reported between two and four incidents of broken windows including Castro Village Wine Co., Cliff's Variety, Crossroads Trading Company, Double Rainbow Ice Cream, Fable, For Your Eyes Only, Knobs, and Willkommen.
Samereie explained that many small businesses choose to not claim the damage because their insurance premiums will go up and after one or two incidents the insurance stops paying. "Most of these businesses don't claim it and it comes out of their pockets," said Samereie.
According to Samereie, he was encouraged to provide hard data after his monthly neighborhood walks with city officials including District 8 Supervisor Rafael Mandelman, former Mission Station Captain Gaetano Caltagirone, Assistant District Attorney and Castro Liaison Matthew Donahue, SFPD Safety Liaison David Burke, and Paul Lupino from the Mayor's Office.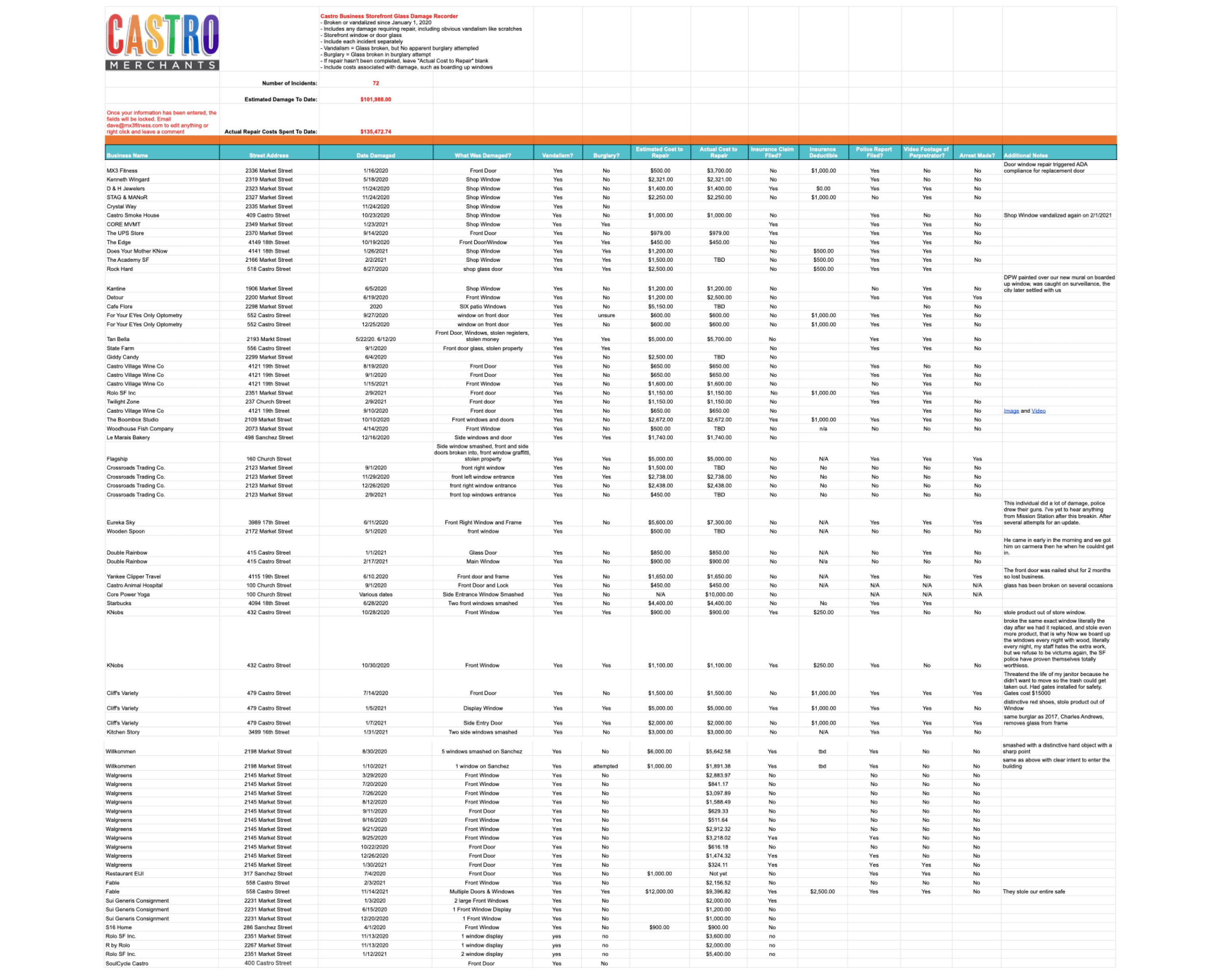 Survey responses as of February 23, 2021. | Image: Castro Merchants
"If I put a dollar amount on it, it shows the actual magnitude of damage small businesses have had to endure doing this pandemic," said Samereie.
Once the data has been collected, Samereie plans to make a larger announcement in early-March about future plans. "We are all hurting, hurting badly," said Samereie. "What we can do to support one another is bring this to light."
Right now Samereie is solely focused on gathering data about the Castro, but he acknowledges this is a citywide issue. "This Castro survey is just an example of how big the problem is," said Samereie.
"We're gathering information only in the Castro just to show city officials how large this problem is," said Samereie who also serves as Vice President of the San Francisco Council of District Merchants.
Samereie is hopeful that once this data is presented to city officials, they will launch a similar reimbursement program launched last year by District 5 Supervisor Dean Preston. Currently reserved for D5 businesses that gross less than $25 million annually, the program allocates $1,000 per incident to qualifying shops for up to two incidents a year to help shoulder the costs of replacing broken storefront windows.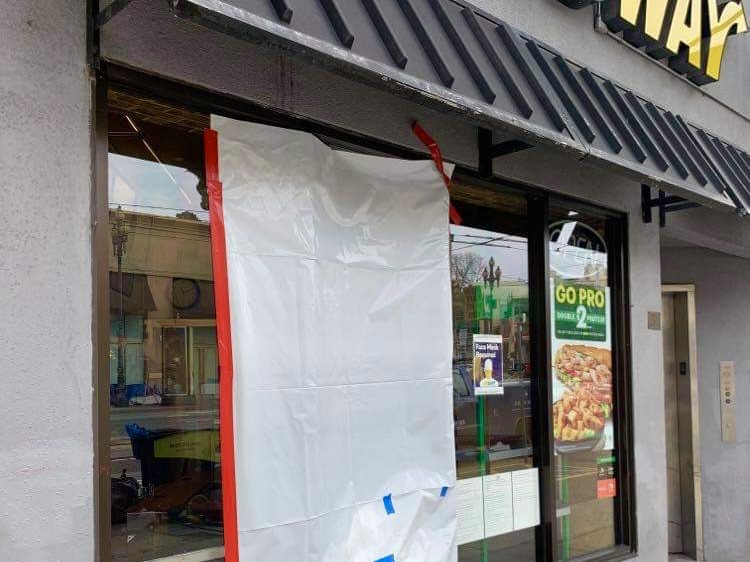 Subway at 2375 Market St. had its window smashed. | Photo: Dave Karraker
Samereie tells Hoodline he'd like the reimbursement amount increased in the Castro. "I'm going to shoot to get more from the city, donors, or sponsors for Castro Merchants," said Samereie.
While the survey is focused on the Castro, Samereie tells Hoodline that the Castro Merchants are working on taking the initiative citywide.
Last week, Dave Karraker, Castro Merchants board member and co-owner of MX3 Fitness, separately presented a legislative proposal to the Board of Supervisors calling on the city to reimburse small businesses city-wide for the repair and replacement of damaged windows.
"Though the City continues to issue business licenses and collect permit fees and taxes, it has failed to provide an environment that would merit anyone holding a business license with the prospect of running a successful business — an obvious dereliction of duty," wrote Karraker in a statement.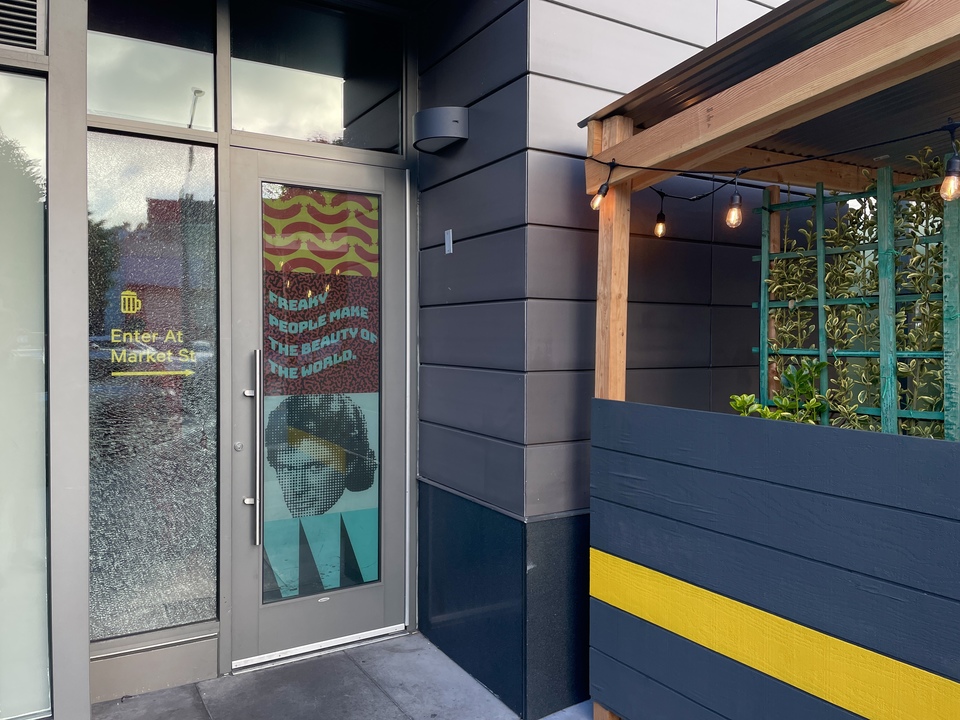 Willkommen has been a frequent target for smashed windows. | Photo: Steven Bracco/Hoodline
"The City's policies and approach towards the unhoused mentally ill and drug-addicted residents have made owning a small business in San Francisco, during the most challenging times in our nation's history, untenable," said Karraker.
In response to the smashed windows and call for a response from city officials, Supervisor Rafael Mandelman tells Hoodline, "It's a real problem for the neighborhood and the merchants in the neighborhood."
Mandelman confirmed that during the past year there has been a steep increase in the number of smashed windows.
"I've only been in this job for two years so I don't know what was happening before then, but my perception is that the pace has picked up," said Mandelman. "Partly I think it's the randomness and senseless of it, it doesn't necessarily appear to be connected to people trying to burglarize," said Mandelman. "Sometimes it's just windows are getting smashed by someone who walks by and thinks that it's a good idea at that moment."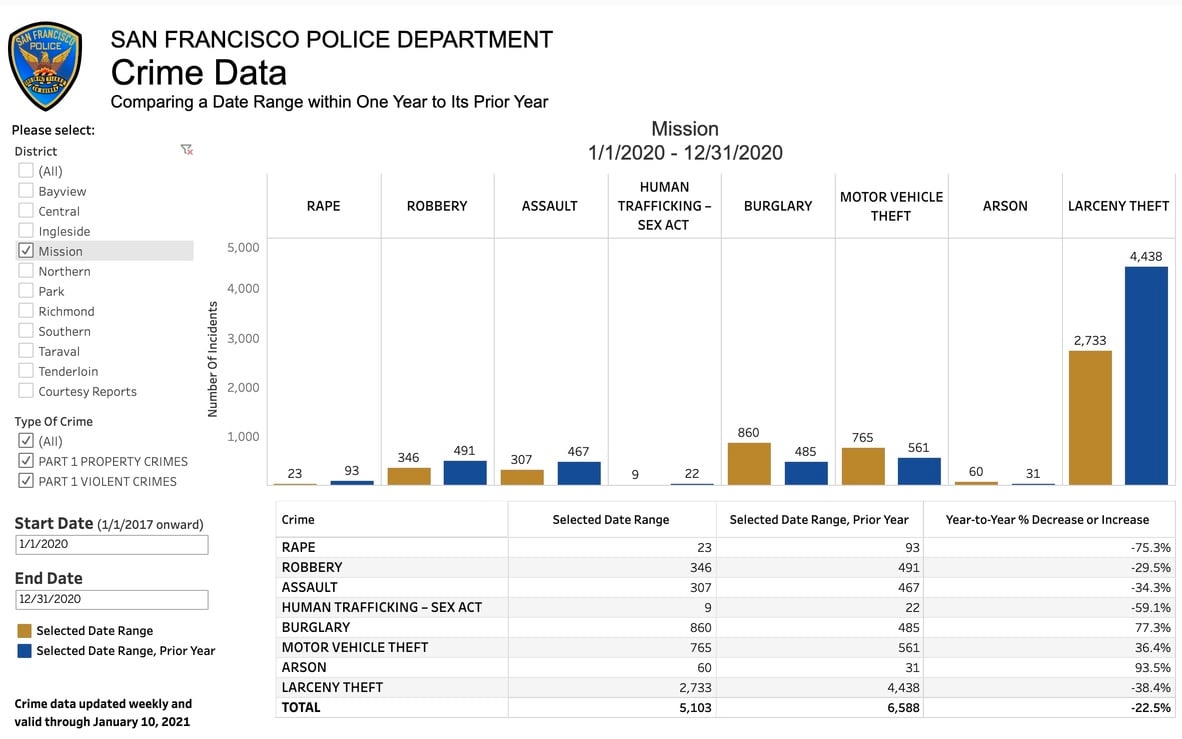 Year-over-year crime data from SFPD's Mission Station. 2020 crimes are in gold, while 2019 crimes are in blue. | Image: SFPD
Compared to 2019, burglaries in the Mission Police District (which includes the Castro) are up 77.3%. Vehicle thefts are up 36.4%, and arsons are up 93.5%.
"We've had outrageous levels of property crime for some time and street conditions have gotten particularly bad during the COVID year," said Mandelman.
"We have a lot of folks with significant behavioral health issues and some of these windows are getting smashed by folks who are struggling with addiction and mental health issues," Mandelman explained.
Mandelman called on the city to step up and do more to help those struggling with addiction and mental health issues. "I think there are longer-term solutions for which the city absolutely is responsible to get sick folks into treatment," said Mandelman. "And to do a better job of responding to and preventing property crime."
In the meantime, Mandelman recognizes that doesn't actually help a small business owner who finds their window has been smashed. "The merchants are looking for the city to step forward and say we share the responsibility and we're gonna pick up some of the costs," said Mandelman.
Finding money in the budget may prove difficult with the city facing a more than $500 million deficit over the next two years. "It's a question of priority," said Mandelman.
"At a time when small businesses are facing truly catastrophic conditions, this would be an excellent way for the city to show its support for small business," said Mandelman.