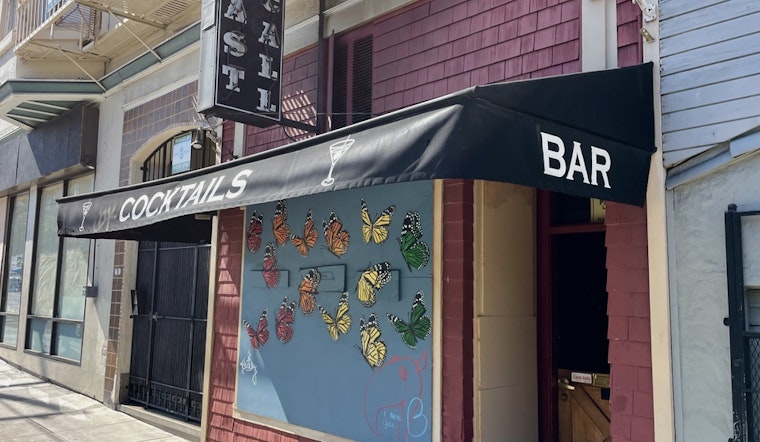 Published on August 17, 2021
Cozy Castro bar Last Call (3988 18th St. at Sanchez St.) is set to reopen next week under new ownership after a 17-month hiatus caused by the shelter-in-place restrictions. Last Call will officially reopen Monday, August 23.
Hoodline broke the news of the ownership change earlier this year.
Hoodline recently sat down with the wife and husband team of Tammy Soo and Kris Foster to talk about why they decided to purchase Last Call, and what they have planned for the reopening.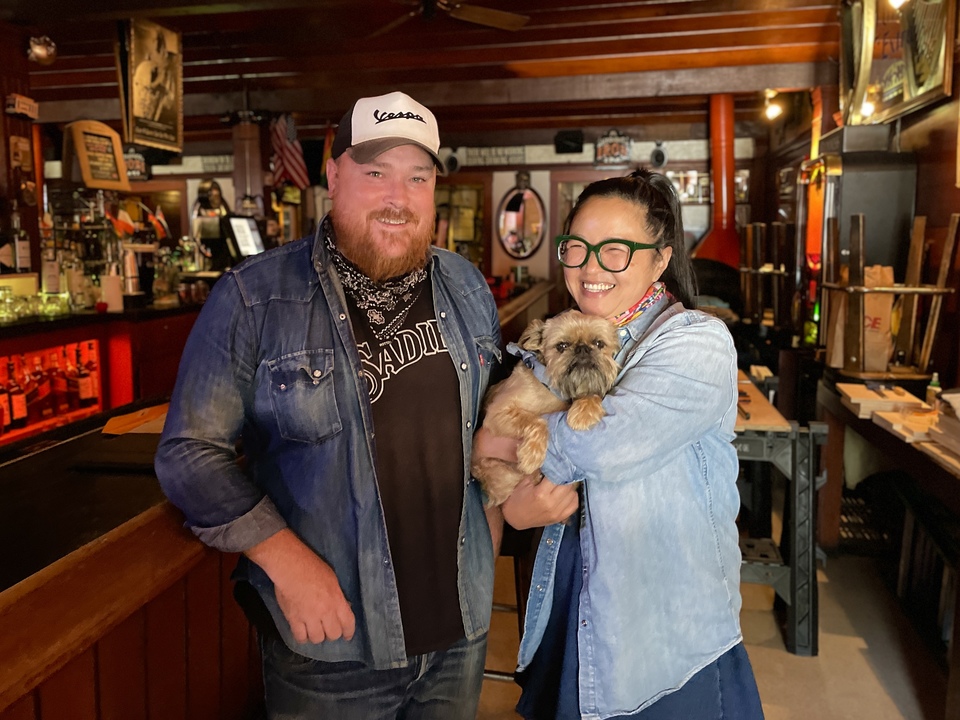 Last Call's new owners Kris Foster (left) and Tammy Soo (right). | Photo: Steven Bracco/Hoodline
"We're super excited about reopening," said Soo. "Ever since we started opening up and working on things, people have been popping in and telling us their stories about why the bar is important to them."
Originally from Canada, Soo and Foster have been married for 13 years and have a background in the tech industry. Soo explained that she recently started a new job and that her husband will be working full time at the bar.
"Everyone always has the idea of buying a bar," said Foster. It was last summer during lockdown that both Soo and Foster decided to get serious when they saw many of their favorite places start to board up.
Foster says they figured the industry was bound to bounce back. "If we're going to do our thing in the city, that was the right time," Foster says.
The couple specifically sought out a small, neighborhood bar. "Dive bars, that's our jam," said Foster. Some of their favorite dive bars around the city include the Mission District's 500 Club, SoMa's Tempest and Driftwood, and Mid-Market's Showdown (now Rumpus Room).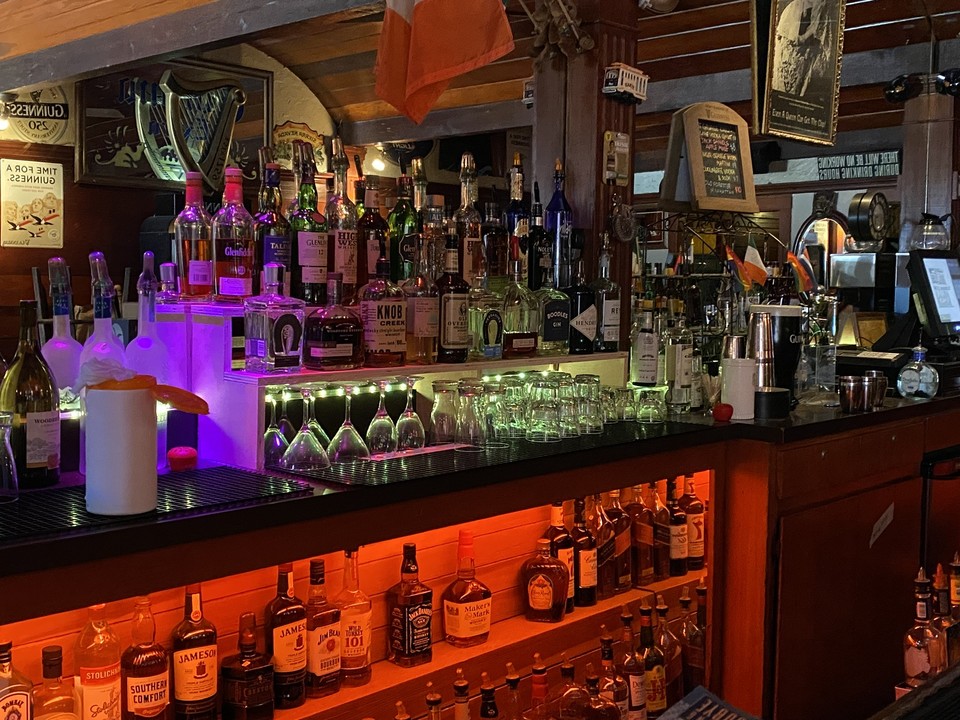 New shelves have been built. | Photo courtesy of Tammy Soo
Soo and Foster said they knew they had found the right place when they walked inside. "We know how much this place was loved," said Soo.
"It wasn't just any space was going to do. This place has been a bar for 50 years," said Foster. Previous owner Kevin Harrington opened Last Call in 2008, after purchasing the former Men's Room bar from longtime owner Lita Byrd.
Byrd owned Men's Room for over 30 years from 1977 until her retirement in 2008. Prior to Men's Room, the bar was known as Mistake from 1971 to 1976.
"If this bar went away, you can't build these anymore," said Foster.
Ahead of reopening, Soo and Foster said they have made some minor upgrades including repainting and adding some shelves. "It's still going to be Last Call," said Foster.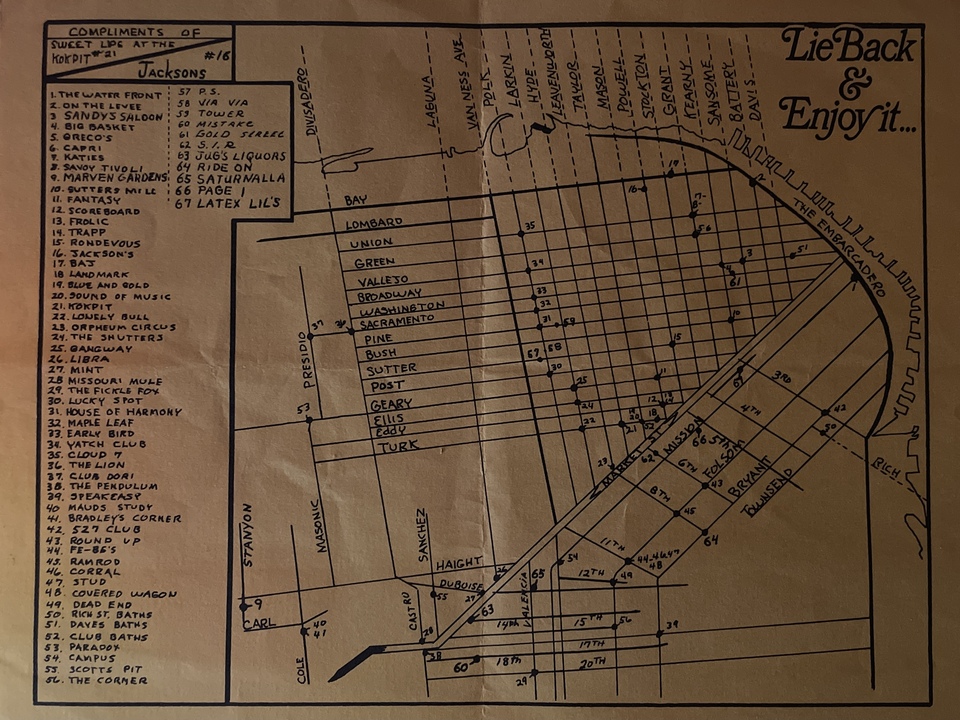 Historic map of gay bars in San Francisco. | Photo: Steven Bracco/Hoodline
Longtime customers should know the Queen Victoria poster above the bar will remain. "Even a Queen can get the clap," the poster from the Gay Service Project at City Clinic reads. Foster said one regular stopped by to make sure the poster wasn't coming down. Foster said previous owner Lita Byrd had put up the poster many years ago.
Fans of the Last Call's jukebox can rest assured it also isn't going anywhere. Foster tells Hoodline he was approached by the jukebox company to replace it with an internet-connected device, but he turned them down. "We were like no," said Foster. Instead, the jukebox will keep its wide selection of CDs, with a couple of special additions by Soo and Foster.
According to Soo and Foster, three bartenders who previously worked at Last Call will also be returning.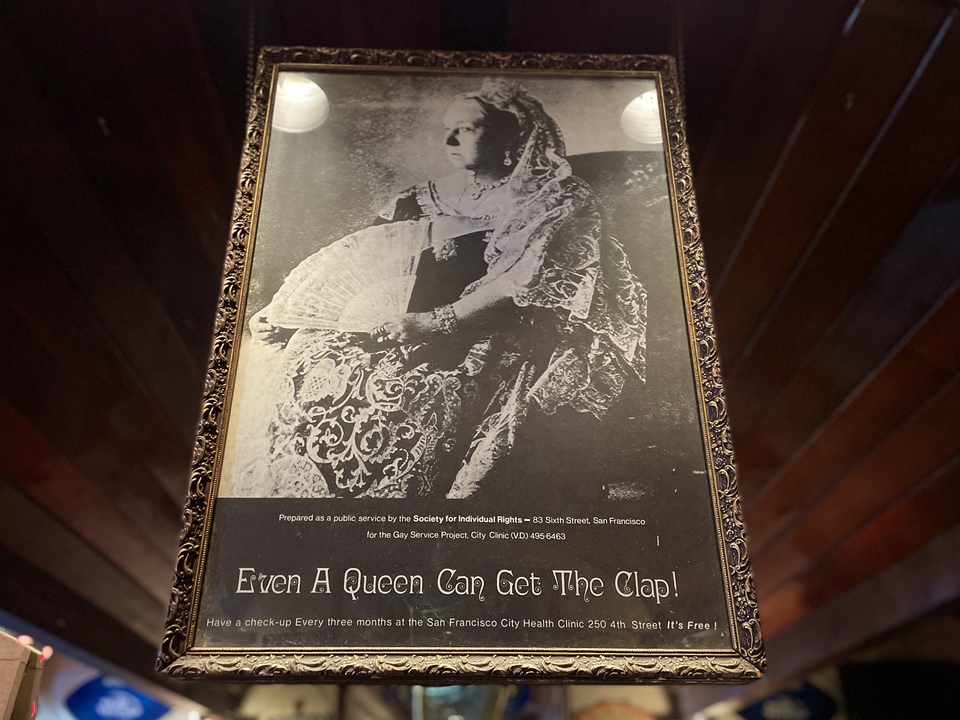 Poster of Queen Victoria. | Photo: Steven Bracco/Hoodline
While the plywood boards with monarch butterflies painted by artist Jeremy Novy will come down, Soo and Foster said they plan to integrate the butterflies into the bar.
Now that the Shared Spaces program was made permanent in July, Soo and Foster said they'd also like to add outdoor seating. The couple said they've been in contact with District 8 Supervisor Rafael Mandelman about the possibility of moving the bike-share rack in order to make room for outdoor seating.
"The only other thing that I think is one notch down is that Kevin [Harrington] was Irish," said Foster. "We're not Irish, so it's going to be a little less Irish."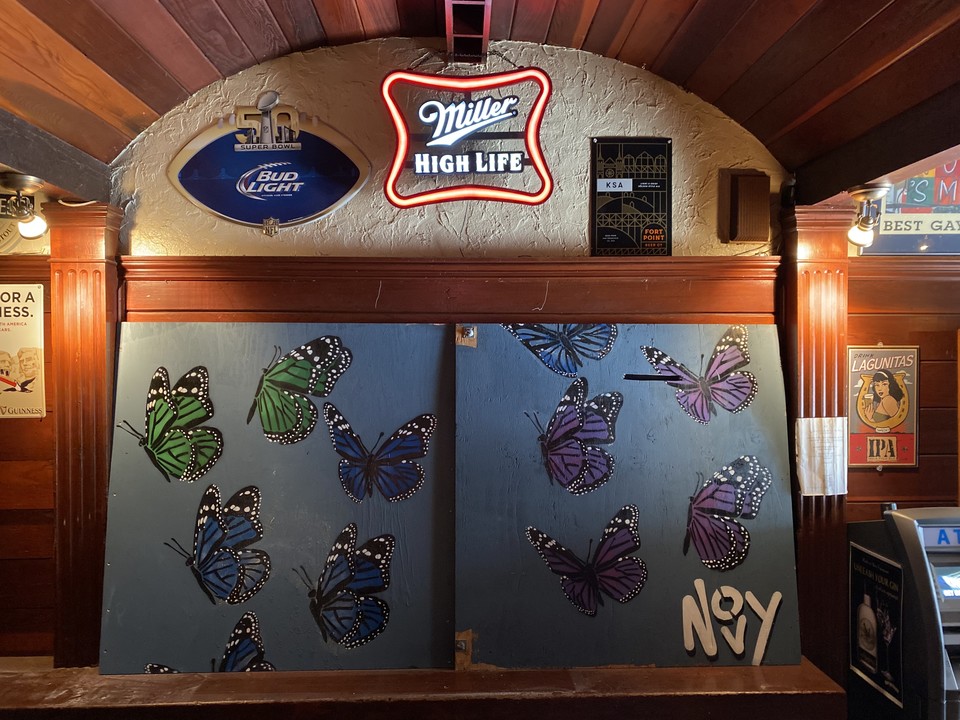 Street artist Jeremy Novy's monarch butterflies will be preserved. | Photo courtesy of Tammy Soo
Preserving the history of the bar is deeply important to both Soo and Foster. Recently they found some old photos of the bar and plan to put them up on the walls.
"We want to get more of that history out before it starts disappearing," said Foster. Foster said Bird is now in her 80s and living in Nevada.
Foster said that signing all the paperwork and taking over the bar was a long process. However, they were able to sign a five-year lease with the option to extend an additional five years. "The intent isn't to ever move this place," said Foster.
Once they settle in and get things running smoothly, Soo and Foster plan to have a grand opening and a proper send-off for previous owner Kevin Harrington.
Last Call was one of the few remaining Castro businesses that had not reopened. Two other longtime neighborhood bars reopened earlier this year. In May, nearby bar Moby Dick reopened, and in February, the Pilsner Inn reopened.
Four prominent businesses remain closed: Les Natali's video bar Badlands; restaurant Hamburger Mary's, also owned by Natali; Q Bar, which says it will reopen following a remodel; and The Café nightclub, which announced in June that it would be reopening, however no date has been set.
---
Last Call will be open seven days a week from 12 p.m. to 2 a.m.