Last week, the San Francisco Public Works Department replanted nearly half a dozen palm trees along the 400 and 500 blocks of Castro Street.
The trees were originally planted seven years ago as part of the Castro Street Improvement Project.
King Palms in front of Double Rainbow Ice Cream (415 Castro), Posh Bagel (495 Castro), La Tortilla (495 Castro), Walgreens (498 Castro), and Bank of America (501 Castro) have been replanted. A sixth tree well outside Castro Coffee Company remains vacant.
And this isn't the first time the King Palms have been replaced. In 2018, the palm outside Castro Coffee Company failed twice and the palm trees in front of Posh Bagel and Walgreens were replaced after they were vandalized.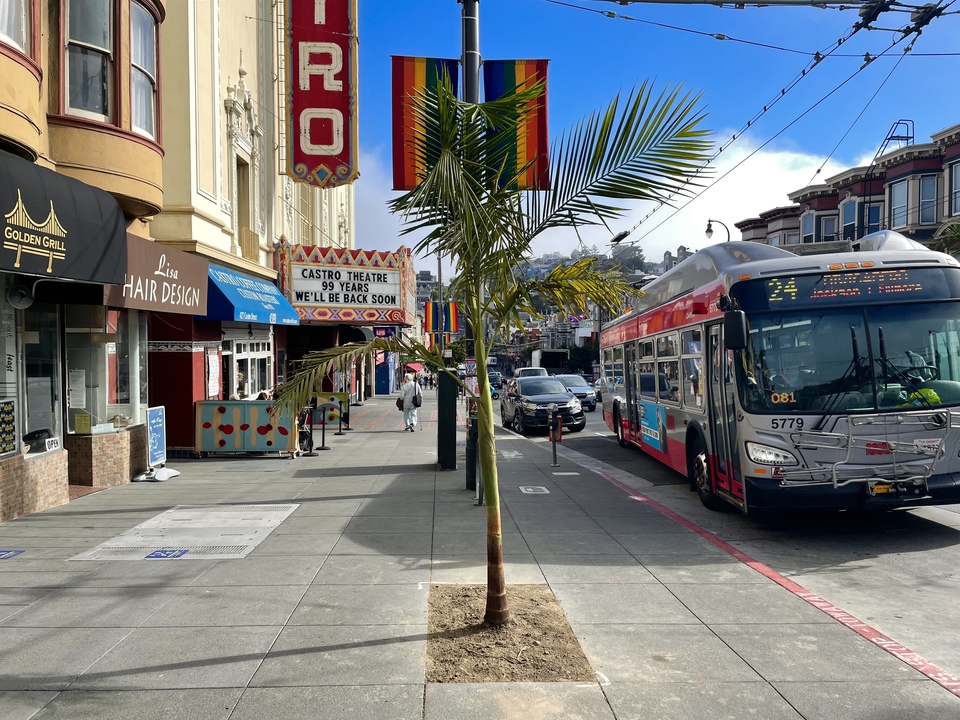 King Palm outside Double Rainbow Ice Cream was replaced. | Photo: Steven Bracco/Hoodline
"The King Palms that were replaced along Castro Street failed due to several reasons, including vandalism, car accidents, natural causes, and broken irrigation," said Bureau of Urban Forestry's (BUF) Nancy Sarieh. Sarieh said Public Works paid for the replacements.
The Castro CBD's Andrea Aiello told Hoodline the trees have been dead for two years. "The Castro CBD Beautification Committee invited the Bureau of Urban Forestry to go on a walk of Castro Street to talk trees in the fall of 2019," said Aiello.
"BUF's Stephen Keller joined us on the walk and we pointed out all the empty tree wells from all the King Palms that have failed," added Aiello. "Some of them multiple times."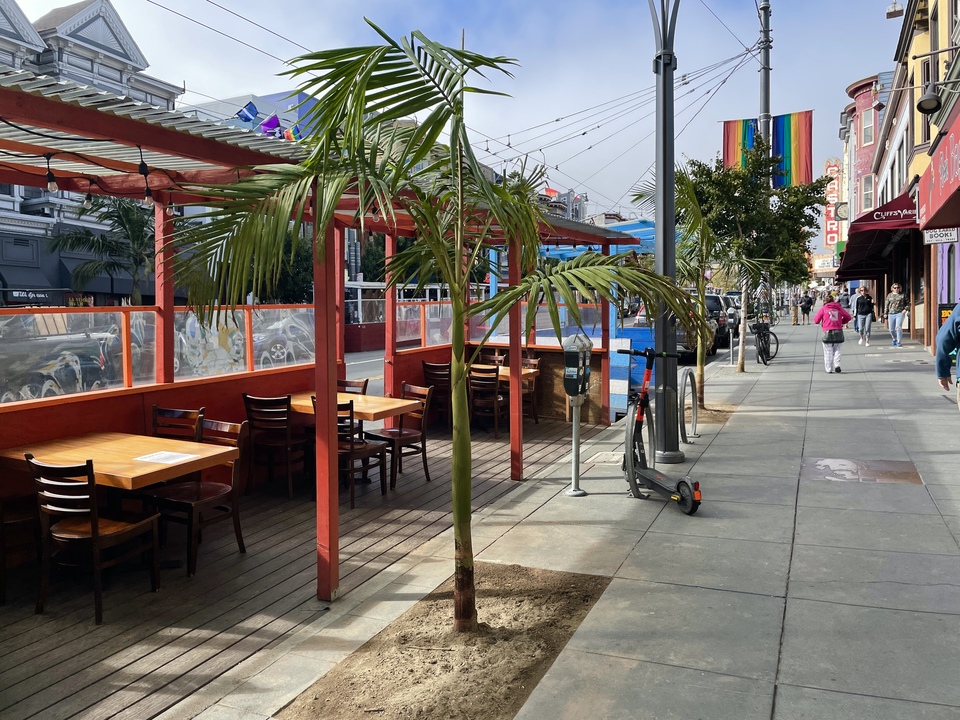 King Palms at Posh Bagel and La Tortilla were replanted. | Photo: Steven Bracco/Hoodline
"At the time, we also discussed the ginkgos on the 500 block of Castro Street, pointing out that they needed pruning," said Aiello. "Stephen [Keller] and his crew did prune the ginkgos within a month or two and assured us that they would order new palms for all the empty tree wells."
Waiting for warm September weather to arrive was also a factor in the timing.
"Palm trees prefer heat and should be planted when median temperatures are higher to avoid shock," said Sarieh. "If a palm goes through the stressful process of transplanting when it is already stressed by the cold, the chances of it surviving the planting are very slim, and we would find ourselves needing to replant again soon after."
"We also wanted the new palms to be planted as soon as possible but had to wait for the right time of year to avoid transplant shock," added Sarieh.

King Palm in front of Bank of America was replanted. | Photo: Steven Bracco/Hoodline
"While waiting, our landscape team spent a lot of time repairing broken irrigation lines and added an irrigation line to one site that didn't have it," said Sarieh.
Sarieh tells Hoodline the replacement of the King Palms was delayed due to the Covid-19 pandemic. "Covid-19 very much impacted our resources and ability to replant the palms as soon as possible," said Sarieh. "The limited resources we had went into a large project that required the planting of 60 trees along 24th St to replace hazardous trees that required immediate removal."
"Once that project was completed we were able to focus our efforts on the Castro Street palms," added Sarieh.
For the time being, the tree well outside Castro Coffee Company will remain vacant. "The King Palm outside of Castro Coffee was not replaced due to feedback from the Castro CBD and some community members," said Sarieh.
"Since that palm had failed twice, and if another palm planted in that location were to grow tall it would skew the view of the Castro Theatre sign, therefore it was suggested that the site remain empty for the time being," added Sarieh. "Additionally, the basin is sandwiched between two large utility vaults making it a difficult site to manage for planting."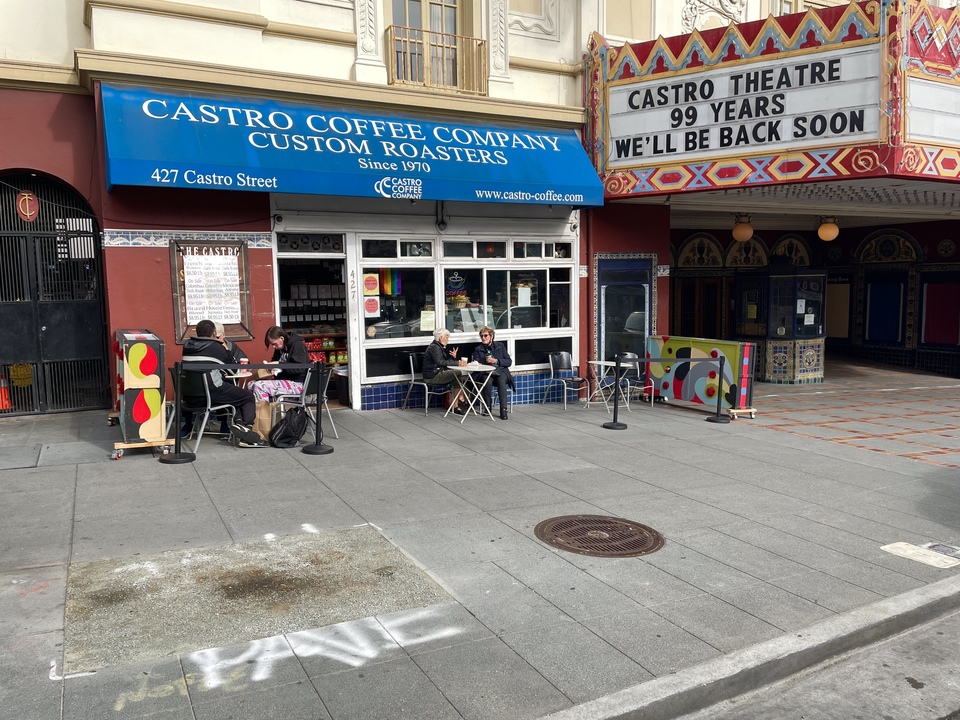 Tree well in front of Castro Coffee Company will remain vacant. | Photo: Steven Bracco/Hoodline
In order to protect the palms from vandalism, Aiello says BUF and Supervisor Mandelman's office are in discussion to put up protection. "Now that I see them in and see how small they are, I am worried about vandalism," said Aiello. "I hope they survive until they get the fencing up," said Aiello.
Mandelman thanked Public Works for replacing the failed trees and tells Hoodline his office is currently working with Public Works on a solution. "We haven't gotten a response yet," said Mandelman.
However, Mandelman acknowledged that a new solution may need to be found with the palm trees that have failed multiple times. "If this round fails, we may need to look at some other kind of tree," said Mandelman.
"I'm just really glad they are finally in and we really appreciate BUF and DPW and Supervisor Mandelman's office for getting this done," said Aiello.