The Castro's newest cannabis retail store, Flore Store (258 Noe), is now open while historic neighborhood restaurant Flore (formerly known as Cafe Flore) has remained shuttered for two years.
Flore Store co-owner Terrance Alan tells Hoodline that the cannabis store officially opened for business on December 17.
"A short four and half years in the making," said Alan. "It is a relief, and it's weird because it's my 25-year cannabis homecoming to the Castro."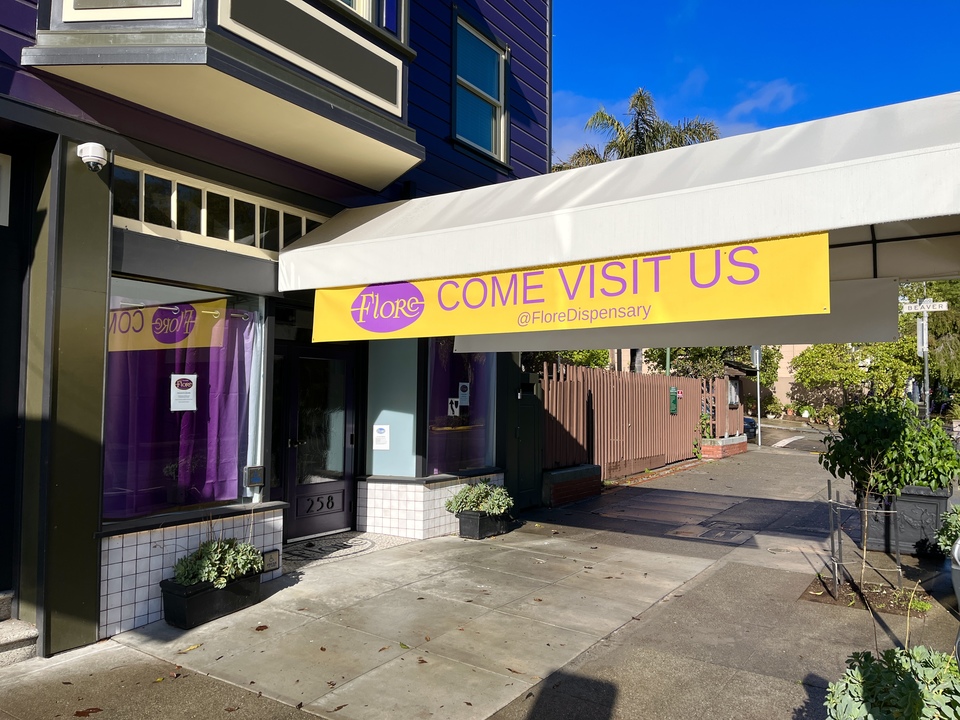 Flore Store is now open at 258 Noe St. | Photo: Steven Bracco/Hoodline
Hoodline readers may recall that Alan and co-owner Luke Bruner have been working to open Flore Store since 2018.
Alan had originally planned to open Flore Store on April 20, the unofficial national holiday for marijuana, however those plans were delayed by local and state permitting issues.
While Flore Store is now open, the 48-year-old historic neighborhood restaurant Flore remains shuttered since it closed in December 2019.
An active listing for the approximately 1,000 square foot restaurant space, including an off-site prep kitchen, for lease at an undisclosed price.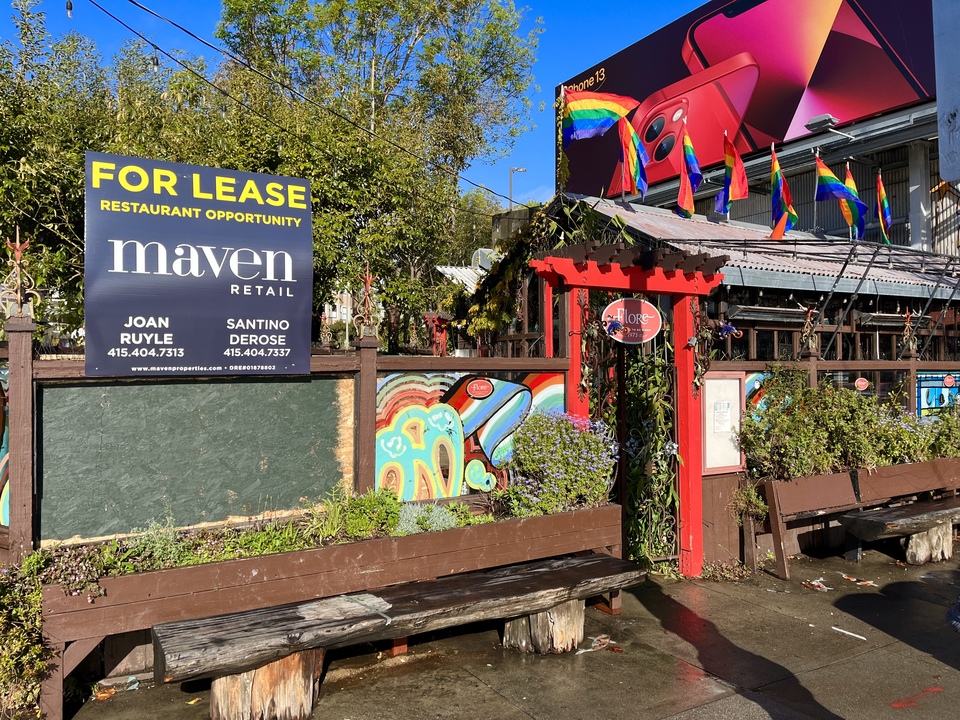 Cafe Flore is currently listed for lease. | Photo: Steven Bracco/Hoodline
Alan and co-owner Aaron Silverman took over Cafe Flore in 2017, and despite cutting back the cafe's hours and menu, "we couldn't make it break even," Alan told us last year. Alan also thought it might fare better as a private events space, but that idea was dashed by the arrival of the COVID-19 pandemic.
Alan tells Hoodline he's currently in discussion with four or five potential operators, and it's currently in the hands of the landlord.
"Standards are very high," said Alan. "We want someone who can breathe some life into the 75-year-old greenhouse, restore the fence, and do the necessary upgrades to make the place last another 25 years."
Hoodline readers will recall this isn't the first time Alan has said Cafe Flore might reopen. In June 2020 Alan said they were looking for a new chef however those plans never panned out.
Alan is no stranger to the cannabis industry, he previously chaired the San Francisco Cannabis State Legalization Task Force, where he advised the city on how to regulate the industry under State Proposition 64. In 1996, Alan co-founded CHAMP (Californians Helping to Alleviate Medical Problems) whose offices were at 194 Church St. (now Churchill) in the former home of Dennis Peron's San Francisco Buyers Club.
He is also currently a board member of the Castro Merchants. But despite his qualifications, getting Flore Store approved wasn't easy.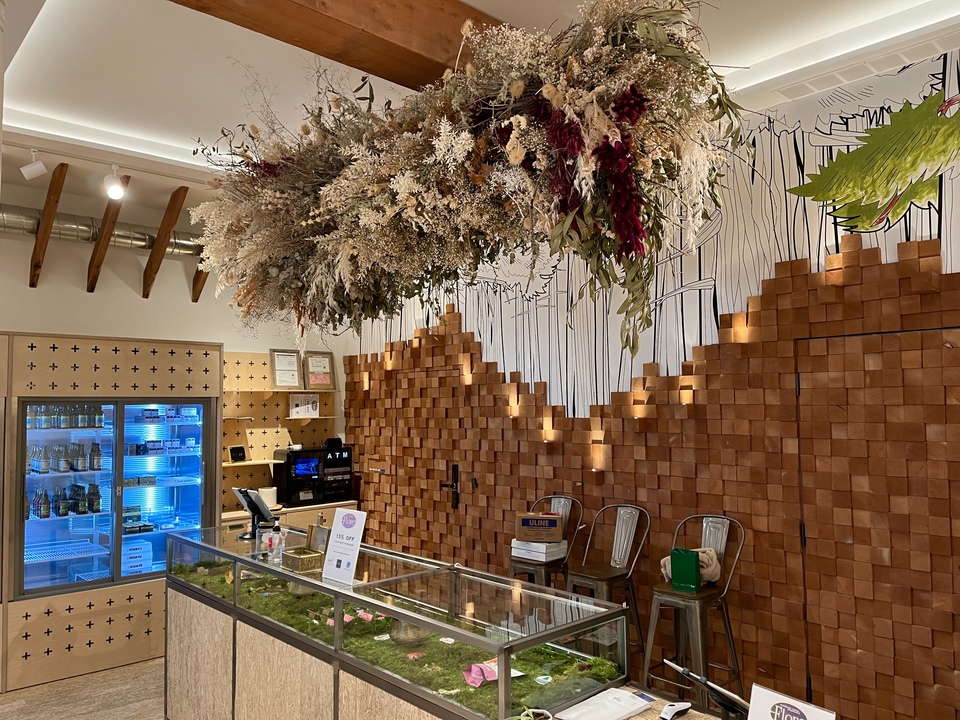 Inside Flore Store. | Photo: Steven Bracco/Hoodline
In 2019 the Planning Department gave the green light with several conditions, including painting a mural on the wall. Alan and Bruner agreed not to use any cannabis- or drug-related graphics or ads on its facade. "The mural will not be cannabis-themed," Alan told Hoodline. "It will be about this connection between cannabis, AIDS, the wasting syndrome, cancer, and chemotherapy."
Members of the Duboce Triangle Neighborhood Group (DTNA) set several other conditions for Flore Store's opening. On-site consumption of cannabis is barred, and on-site security will be required during regular business hours, along with 24/7 video surveillance.
Flore Store is the third cannabis retailer in the Castro, alongside Market Street's longstanding The Apothecarium and one-year-old Eureka Sky, which is adjacent to Jane Warner Plaza. A fourth retailer, Rose Mary Jane, was recently proposed just three doors away from The Apothecarium.
Alan says he supports the addition of Rose Mary Jane to the neighborhood. "We support competition to bring the best of everything — prices, product, and the freshest everything," said Alan. "If you're in competition it keeps your pencil sharp and that's good for customers."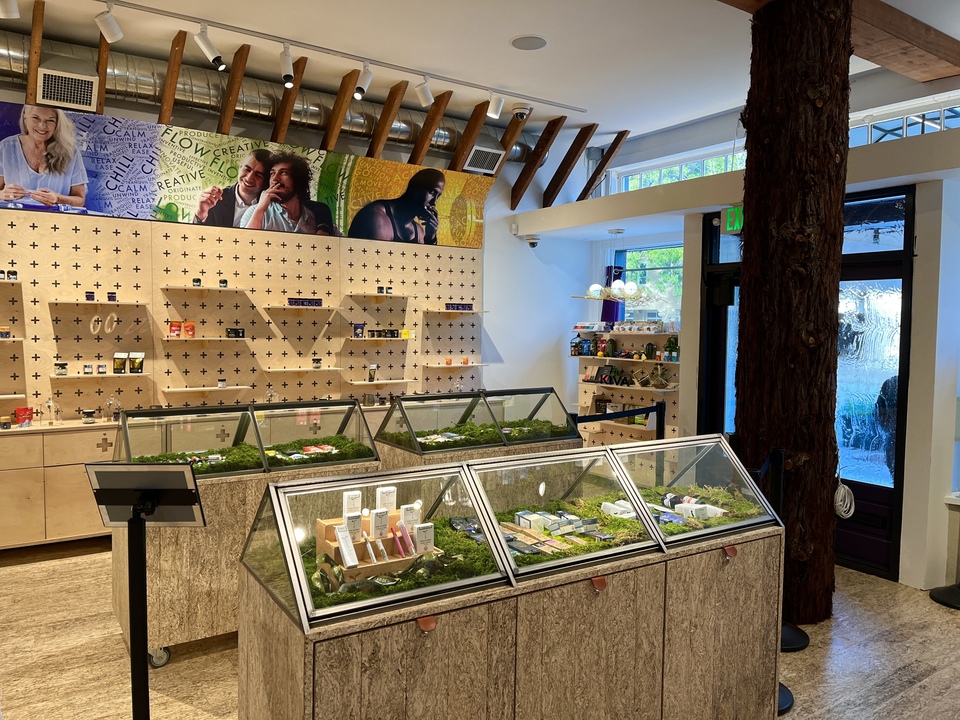 Selection of cannabis products at Flore Store. | Photo: Steven Bracco/Hoodline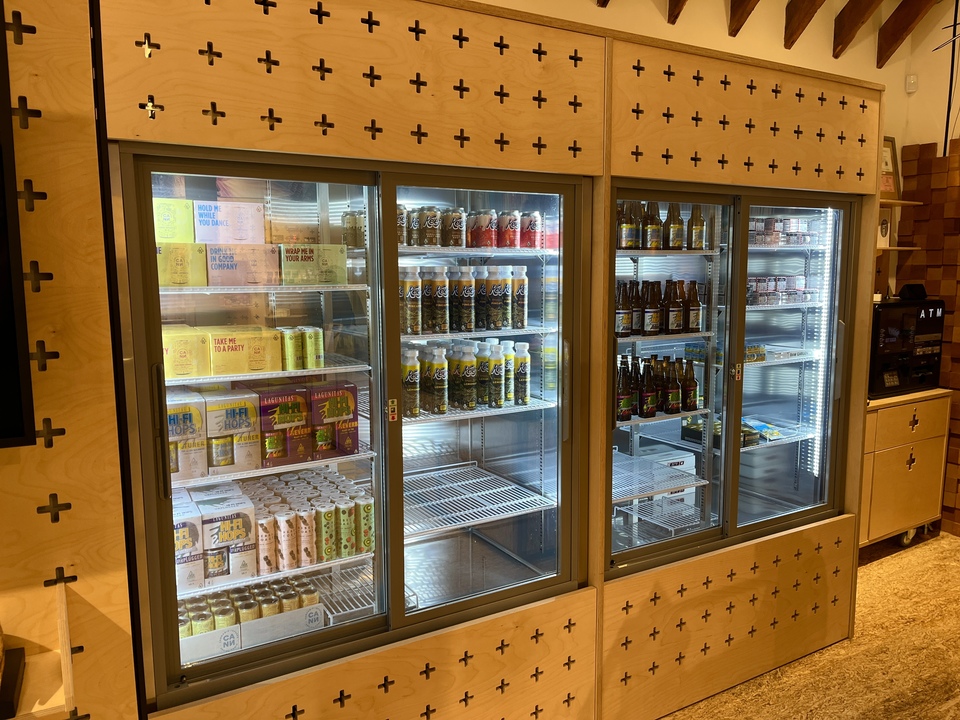 Flore Store offers a variety of CBD-infused drinks. | Photo: Steven Bracco/Hoodline
Alan tells Hoodline that Flore Store stands out from the rest because of its exterior design by Levy Art + Architecture and interior design by Dav Studio.
Inside, customers will find that the floor is made out of Kentucky-grown organic hemp and the cabinets were made with hemp by an Oakland-based LGBTQ+ designer.
Flore Store provides customers with a variety of cannabis products including cannabis flowers, edibles, pre-rolls, vapes, drinks, and concentrates with an emphasis on family farms.
A mural on the north side of the building, facing the Noe & Beaver mini-park, has already been installed and is tentatively scheduled to be unveiled at the grand opening on February 14, 2022 (Valentine's Day).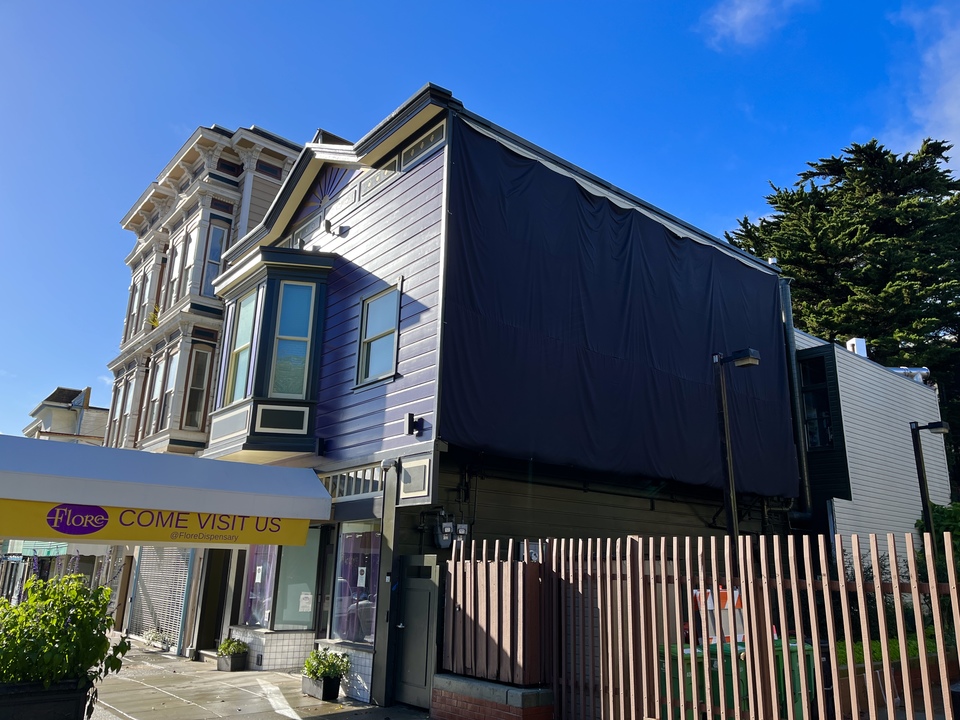 The mural will be unveiled next year. | Photo: Steven Bracco/Hoodline
The new mural was designed by artist Dave Van Patten, who was selected after an international competition. Alan says they received 17 submissions, which were judged by local neighbors and art experts. The 35-foot-by-16-foot mural has been digitally printed on vinyl and will be illuminated at night.
"It's the story of cannabis compassion," said Alan. "Where Humbolt farmers would usually give 10-20% of their crop to Dennis Peron, CHAMP, or other groups allowing cannabis compassion to begin."
"It's really a brilliantly told story of how Humboldt and San Francisco came together during a crisis," added Alan. "But there's no cannabis in it."
---
Flore Store is open seven days a week from 2 p.m. until 9 p.m.