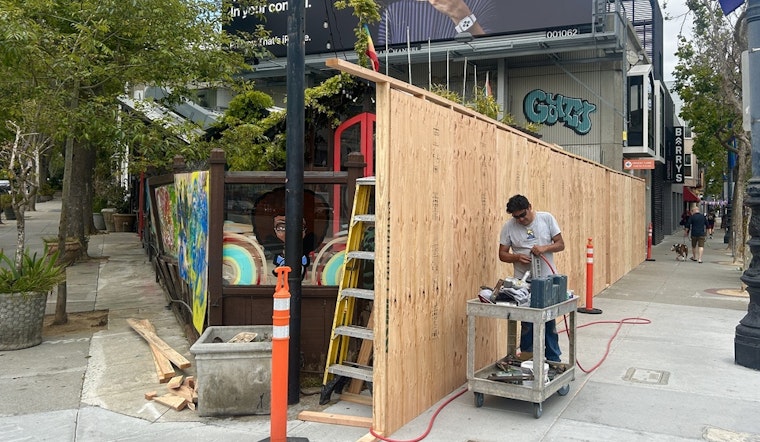 Published on June 23, 2023
The reopening of the Castro's historic neighborhood restaurant Cafe Flore (2298 Market St.), now to be called Fisch & Flore, has been delayed as construction officially kicked off two weeks ago.
Earlier this year new owner Serhat Zorlu shared his plans for the new sustainable fish restaurant concept. At the time Zorlu, said that the restaurant would open later this summer.
Just two weeks ago, shoring walls were installed around the restaurant and construction has been ongoing ever since.
Zorlu tells Hoodline that the reopening has been delayed until at least November after a variety of construction and permitting delays. Zorlu estimates that construction will still take approximately four to six months.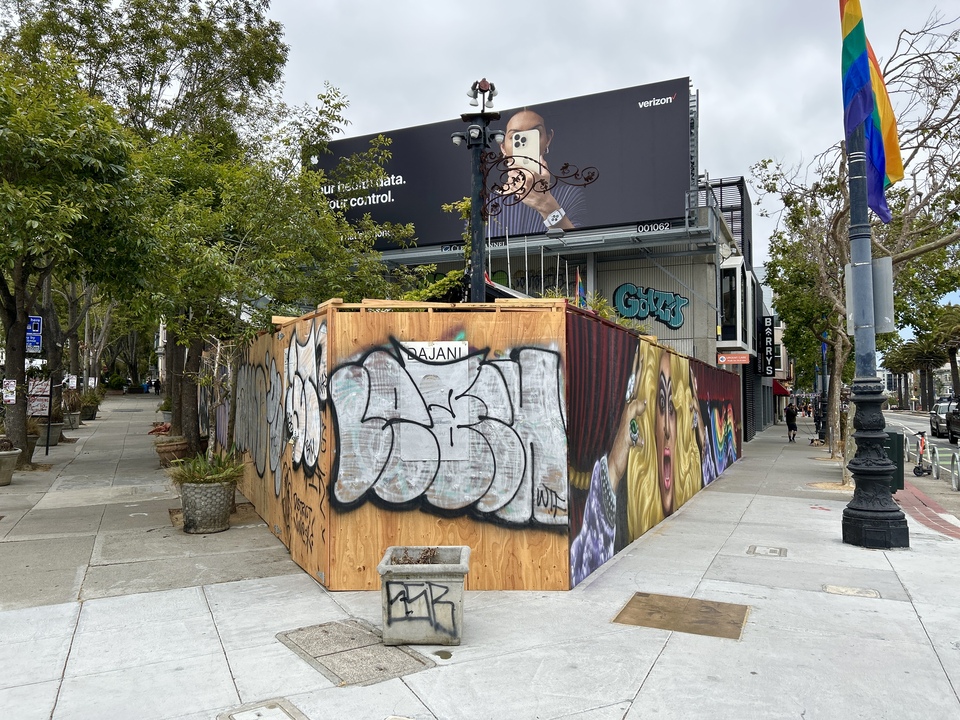 A wall has gone up around the exterior of Fisch & Flore. | Photo: Steven Bracco/Hoodline
"I'm happy that we started construction," said Zorlu. "There were some complications but we are done with and I'm happy that we started construction."
Since the walls went up around the restaurant, muralist Josh Katz painted a mural of the late drag icon and nightlife promoter Heklina.
As Hoodline previously reported, Zorlu will be remodeling the entire space and opening the sustainable fish restaurant Fisch & Flore.
"We are concentrated on sustainable seafood," said Zorlu. "We want to be one of the pioneers in the industry where we're going to be transparent about all the seafood we're going to sell."
Zorlu explained that Fisch & Flore will source its seafood from different certified sustainable wholesalers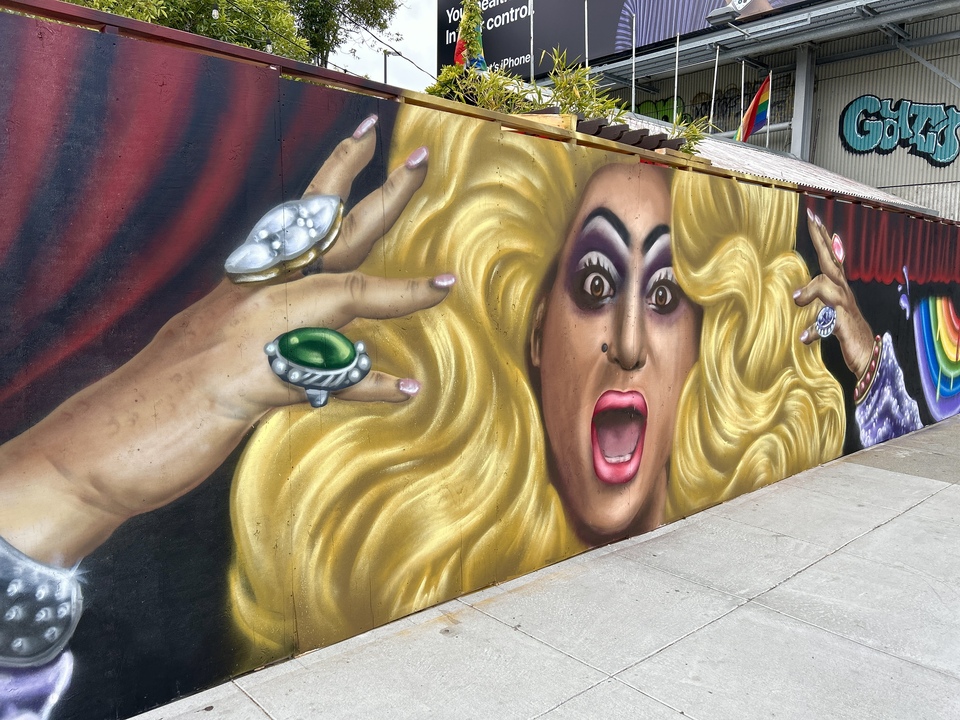 Artist Josh Katz painted a mural honoring the late Heklina. | Photo: Steven Bracco/Hoodline
The now 50-year-old restaurant space has sat vacant for three and half years after Flore closed in late 2019. Previous owners Terrance Alan and Luke Bruner attempted to switch to an events-only concept but that idea was quickly squashed by the onset of COVID-19.
Alan and Bruner were successful in opening sister store Flore Dispensary (formerly Flore Store) across the street from the restaurant.
Last May, Zorlu was announced as the new operator of the space. Since that time, Zorlu has been working his way through the planning and permit process.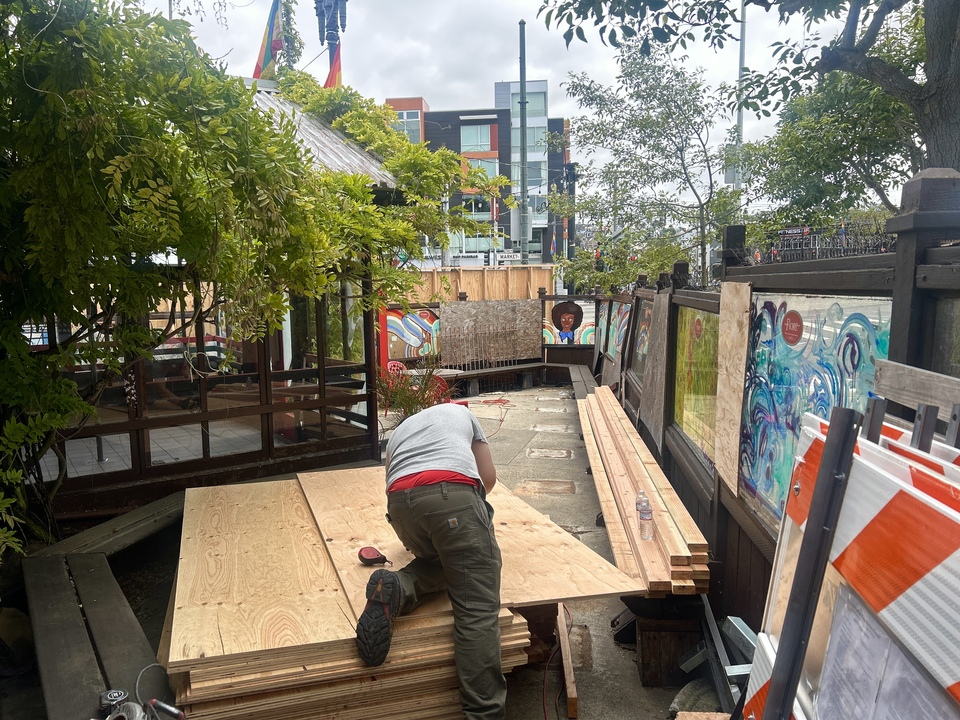 Construction workers building the wall around the restaurant. | Photo: Steven Bracco/Hoodline
Zorlu tells Hoodline that he applied to transfer the liquor license from Alan and Bruner. Public records indicate longtime owner JD Petras remains on the license.
Cafe Flore was built by the Finnila family back in 1973, next to Finnila's Finnish Baths. In 1977, it was sold to Mahmood and Ahmad Ghazi, who ran it for more than two decades before selling it to JD Petras in 2002.
The interior and exterior of Cafe Flore will be completely overhauled including remodeling the kitchen and dining area, adding an ADA bathroom, and repairing the restaurant's fence. Public records indicate construction costs are estimated at $453,600.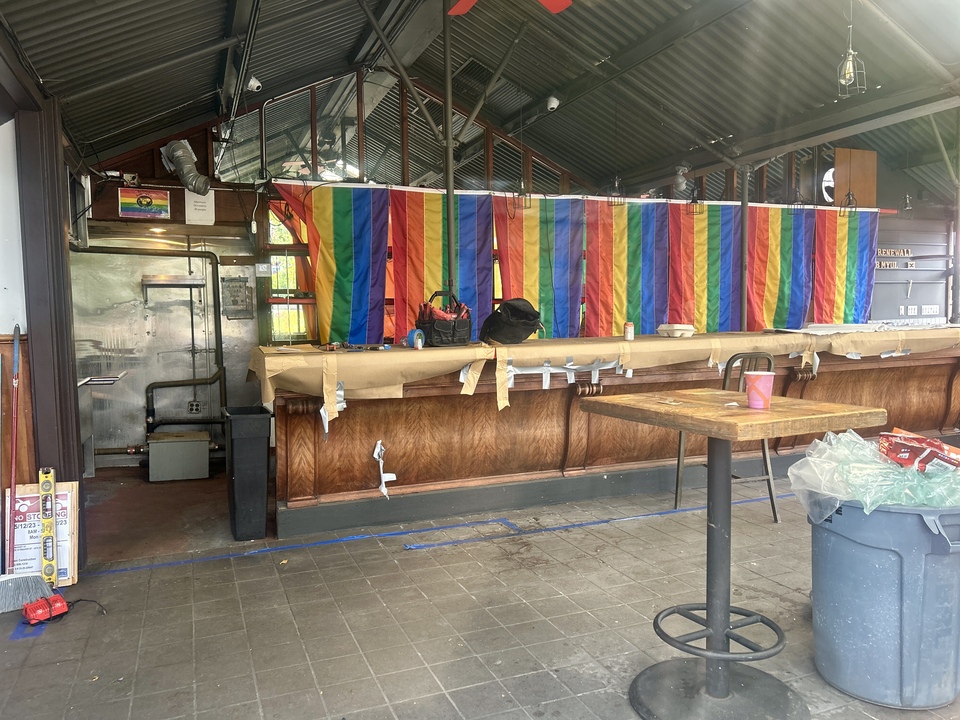 Inside Fish & Flore as it undergoes a remodel. | Photo: Steven Bracco/Hoodline
Zorlu says an off-site prep kitchen behind what is now Flore Dispensary will still be used by Fisch & Flore.
Since taking over, Zorlu says he's received an overwhelming amount of support from the neighborhood. "I'm proud to be in that location," said Zorlu. "I'm proud that I worked with all of the community members."
"Hopefully it will be sustainable for the next 50 years," added Zorlu.