On Monday, the Nasser family released a letter rebuking the Castro Theatre Conservancy's (CTC) proposal to take over the historic theatre.
The letter comes a week after the CTC proposed either buying the 100-year-old Castro Theatre outright or signing a long-term lease if given the opportunity.
It's been over a year since Another Planet Entertainment (APE) has taken over the programming of the 100-year-old Castro Theatre, while ownership remains with the Nasser family and Bay Properties Inc.
"This plan is the same as offered by CTC earlier this year that has been repackaged as a press release," wrote Chris Nasser Padian, grandson of one of the Nasser brothers who built the theatre. The letter is co-signed by Dan Serot, APE vice president of business affairs.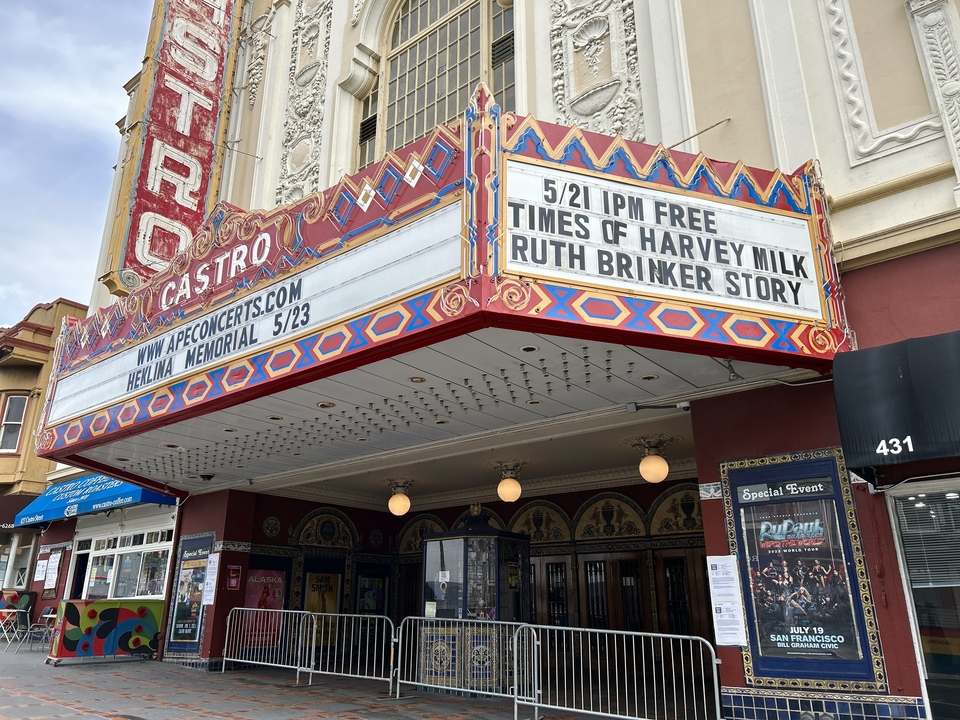 Photo: Steven Bracco/Hoodline
Nasser Padian explains that in November 2022 both APE and Bay Properties sent CTC a letter to discuss the group's potential of entering into a sublease agreement for the theatre.
"That letter detailed minimum capital investments that would be required of CTC as part of any lease agreement," said Nasser Padian. Improvements required included rewiring, installing fire and life safety systems, and restoring the Castro Theatre's marquee and blade.
"Unfortunately, CTC's response... did not contain any binding commitment to make those necessary investments," said Nasser Padian. Nasser Padian added that CTC proposed a 10-year sublease "with no requirement to make capital improvements."
Additionally, Nasser Padian stated that CTC, "acknowledged that it did not have the funds required to improve the theater."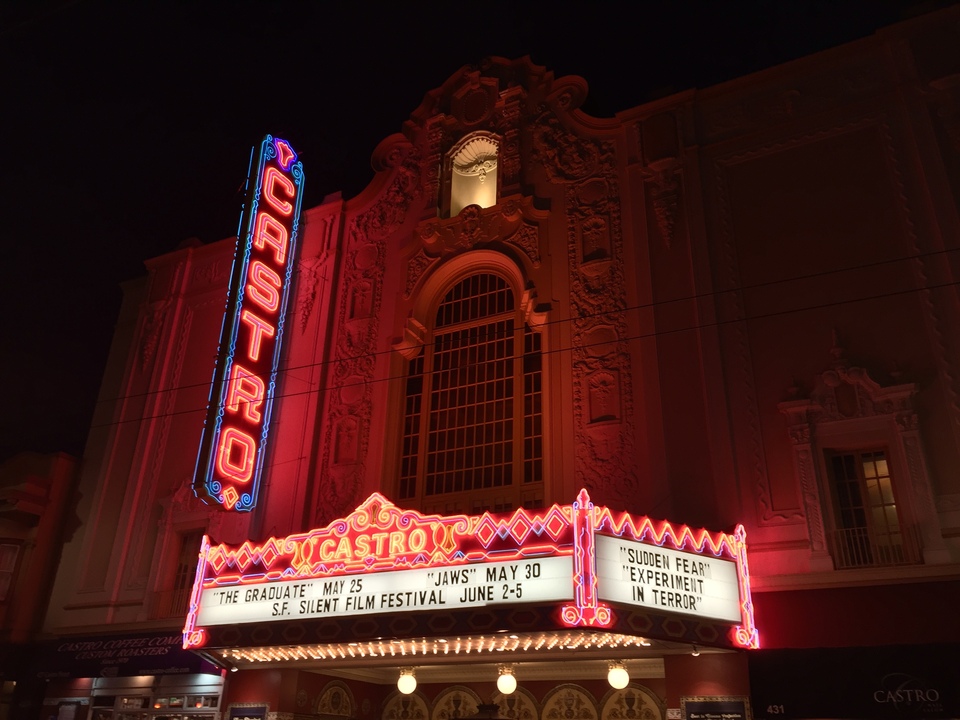 Castro Theatre marquee and blade fully lit. (May 2016) | Photo: Steven Bracco/Hoodline
Along with activating the theatre for daily events, CTC's 15-page proposal would make improvements and upgrades over a three-year period.
Improvements to be made include assistive listening and closed captioning devices, ADA seating, installing a Dolby Sound System, repairing the HVAC system, fixing basement flooding, fire safety upgrades, concession stand upgrades, and repairing the Castro blade (sign).
Capital improvements requiring the theatre's temporary closure like restoring the ceiling and murals, expanding the stage, and ADA upgrades would take place in year three.
The CTC has proposed fundraising of approximately $20 million to $40 million for improvements to the neglected theatre through a three-year campaign.
However, the Nasser family points to the fact that because the proposal doesn't commit to making necessary capital improvements, it "therefore does not meet the minimum expectations for investment, rehabilitation, and preservation of the building."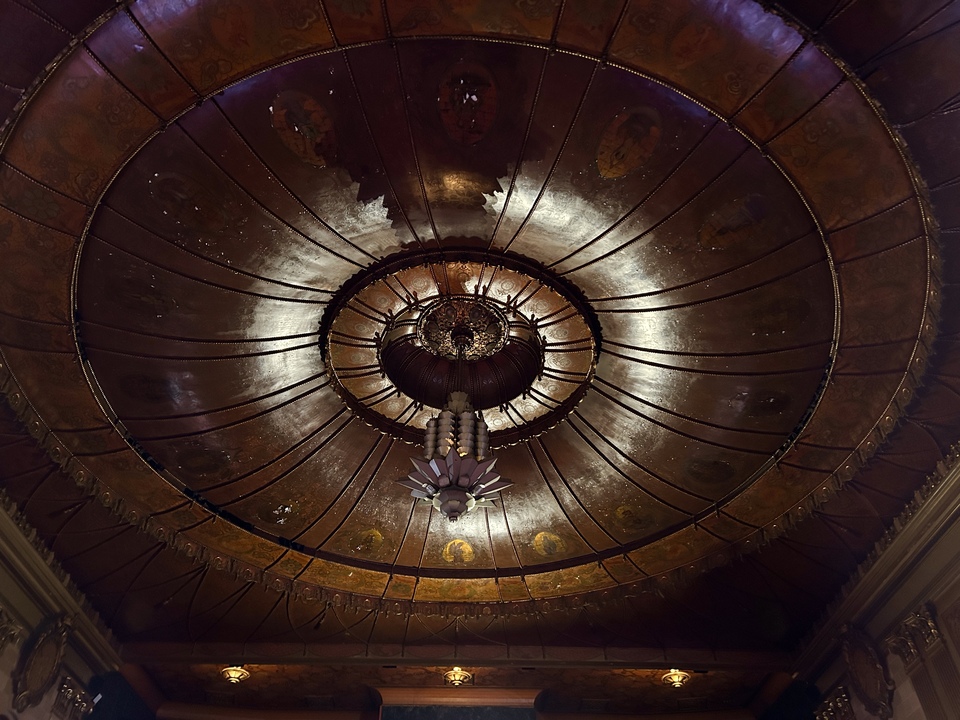 The Castro Theatre's ceiling needs to be restored. | Photo: Steven Bracco/Hoodline
"The Castro Theatre is a vital piece of our city's cultural landscape," said CTC board president Rob Byrne in response to the letter. "The Conservancy is committed to seeing it remain so. We know it can be operated as a financially sustainable community resource without desecrating a landmark."
The CTC along with the Castro Theatre Coalition, Castro LGBTQ Cultural District, SF Heritage, Harvey Milk LGBTQ Democratic Club, Alice B. Toklas LGBTQ Democratic Club, and others have opposed APE's plans to remove the orchestra-level seating and replace them with four-tiered sections of platforms with removable seats. [Full disclosure: Steven Bracco, Hoodline's Castro reporter, is a board member of the CQCD and member of the Castro Theatre Coalition.]
"While Another Planet Entertainment insists that they must remove the orchestra floor seating of the Castro, we know the theatre can accommodate diverse and varied programming — and real community benefits — without demolishing its interior," said CTC executive director Peter Pastreich.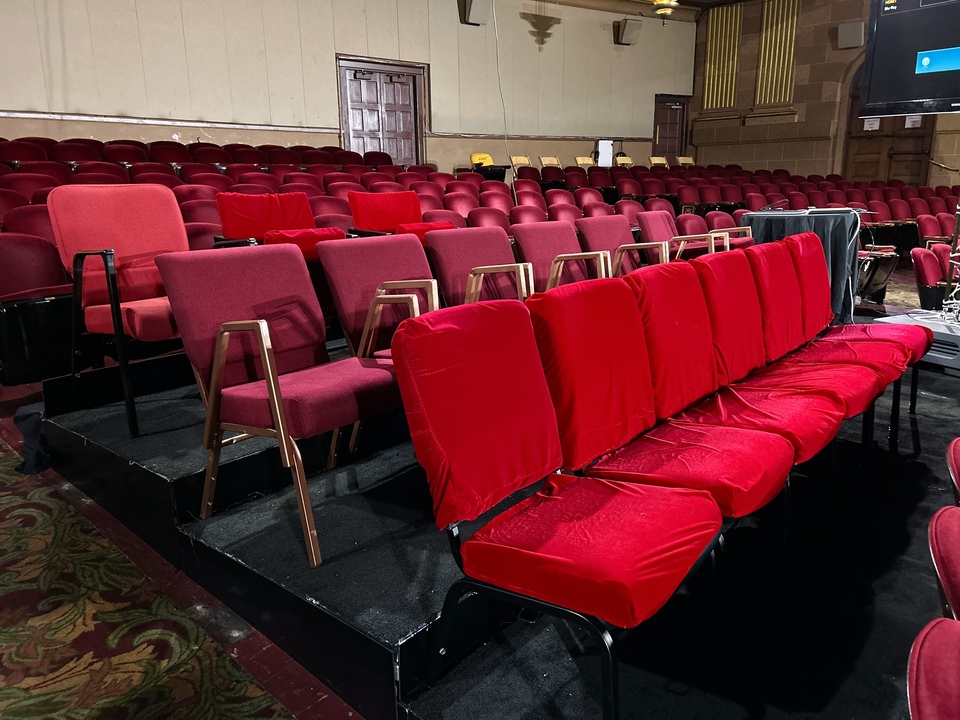 Four of the proposed seating options at the Castro Theatre. | Photo: Steven Bracco/Hoodline
Proponents of the plan include Castro/Upper Market Community Benefit District, Frameline Film Festival, SF Gay Men's Chorus, Castro Organ Devotees Association, and Movies For Maniacs.
'First lady of the Castro' Donna Sachet penned an article in support of APE's plans and on Tuesday, Castro CBD Treasurer Ralph Hibbs and Castro resident Brendan Smith published an op-ed in the Bay Area Reporter supporting the removal of the seats.
Last month, Castro Merchants president Terrance Alan wrote an op-ed requesting APE conduct an economic analysis. Then last week, former supervisor Michela Alioto-Pier and former state Assemblymember Tom Ammiano wrote a joint opinion against the plans.
On Monday, the SF Board of Supervisors Land Use and Transportation Committee will vote on updating the Castro Theatre's landmark designation and protecting the theatre's fixed seating.
It will then go on to the Board of Supervisors for final approval on May 16. A joint between the Historic Preservation Commission (HPC) and Planning Commission to consider a Certificate of Appropriateness is tentatively set for May 18.