Today the Friends of Harvey Milk Plaza (FHMP), announced the selection of SWA Group as the new design firm to redesign Castro's Harvey Milk Plaza (Market and Castro Streets).
In partnership with Parklab, FHMP selected landscape architecture firm SWA after a proposal process that included inviting 17 design firms to submit proposals and interviewing four shortlisted firms.
"Friends and SWA have already begun initial discussions around creating an unconventional and inclusive design process so these qualities of Harvey Milk and his legacy are inherently part of the design that is produced," said Brian Springfield, Interim Executive Director for FHMP, in a statement.

A fourth elevator stop will serve Market St. | Photo: Steven Bracco/Hoodline
"Some good things happened, but we didn't end up where we wanted to be," Springfield told the SF Chronicle. "Everybody's in favor of a memorial, and we're going back to that aspiration." According to Springfield, virtual community meetings will be held in the coming months.
"Throughout this process, we have heard from the community that they want a 'next generation' memorial as unique and unconventional as Harvey himself," said Springfield. "Now that SWA is on board, we are anxious to re-engage with the public to explore what's possible to honor Harvey Milk in a way that draws attention to the ongoing activism around issues of social justice, which Harvey championed during his lifetime."
"The memorial will be alive with Harvey's politics including his call to others to get involved," added Springfield.
SWA, which has eight studios worldwide, will be undertaking this project from both their Sausalito and San Francisco studios. The firm has previously produced significant high-profile memorial projects, including the Sandy Hook Memorial in Newtown, CT, the Harry Truman Memorial at the Harry S. Truman Presidential Library and Museum in Independence, MO, and the Grand Candela Memorial, dedicated to the victims of the mass shooting in El Paso, TX.
"SWA will lead a highly accomplished Bay Area team that shares their desire for an inclusive, pragmatic, and energetic design process," explained Springfield.
"We understand the significance of developing the site to become the focal point of Harvey's message and his importance not only for the Castro neighborhood but also for the national and international community", said SWA Project Lead, Daniel Cunningham. "We are excited by the potential for the redesign to properly capture the community's ambitions and hopes, and we are committed to a dialogue that will help express them."
SWA's team includes Civic Edge, an engagement firm that has cultivated partnerships with numerous SF agencies, and Volume Inc., a creative agency known for its skill in leveraging visual communication and experience-based design to tell the story of a place.
SWA's engineering team includes Peoples Associates Structural Engineers and Telamon Engineering (Engineer of Record). For lighting design that balances safety, security, and sustainability needs, SWA will be working with WSP.
"The team brings the necessary creativity, vision, and experience both to realize bold and unconventional ideas and to ensure a successfully built project," said Springfield.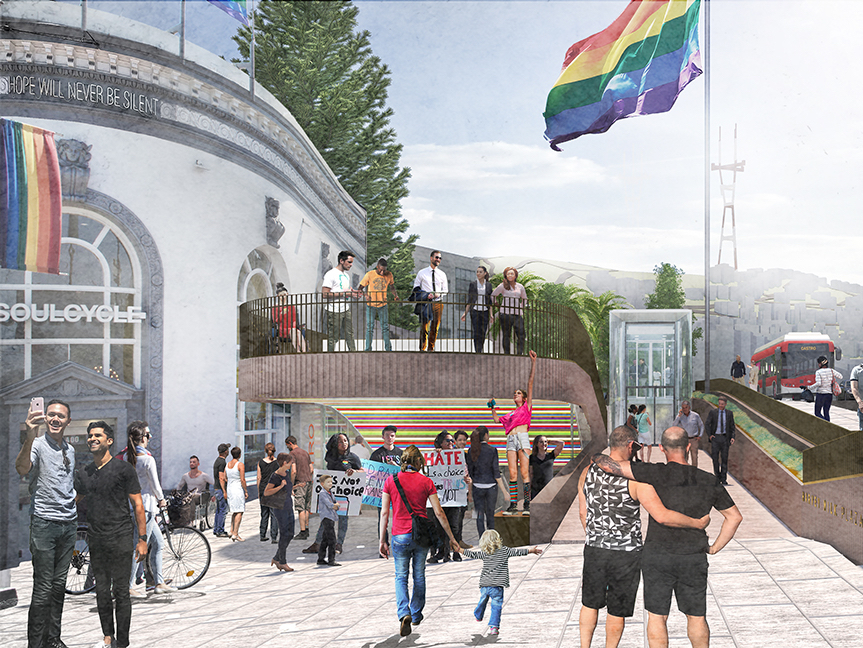 A proposed elevated terrace met with pushback and has been removed from the design. | Image: Perkins Eastman
Castro station officially opened to subway service on June 11, 1980, less than two years after Supervisor Harvey Milk and Mayor George Moscone's assassination. Last year marked the 40th anniversary of Castro Station and Harvey Milk Plaza.
Hoodline readers will recall FHMP first kicked off the plaza redesign process in 2017, selecting local firm Perkins Eastman's design after an international competition.
FHMP's controversial redesign of Harvey Milk Plaza was supposed to occur in twain with the construction of a new glass elevator at Castro Muni station at Harvey Milk Plaza. Andrea Aiello, president of FHMP, previously told Hoodline her group realized about three years ago that doing the two projects together would be unachievable, due to design and CEQA approval delays.
At the request of FHMP, a fourth stop was added which will serve the Market Street sidewalk. Then last fall Hoodline learned that SFMTA's $14.5 million, 18-month Castro Station Accessibility Improvements Project was delayed until fall 2021.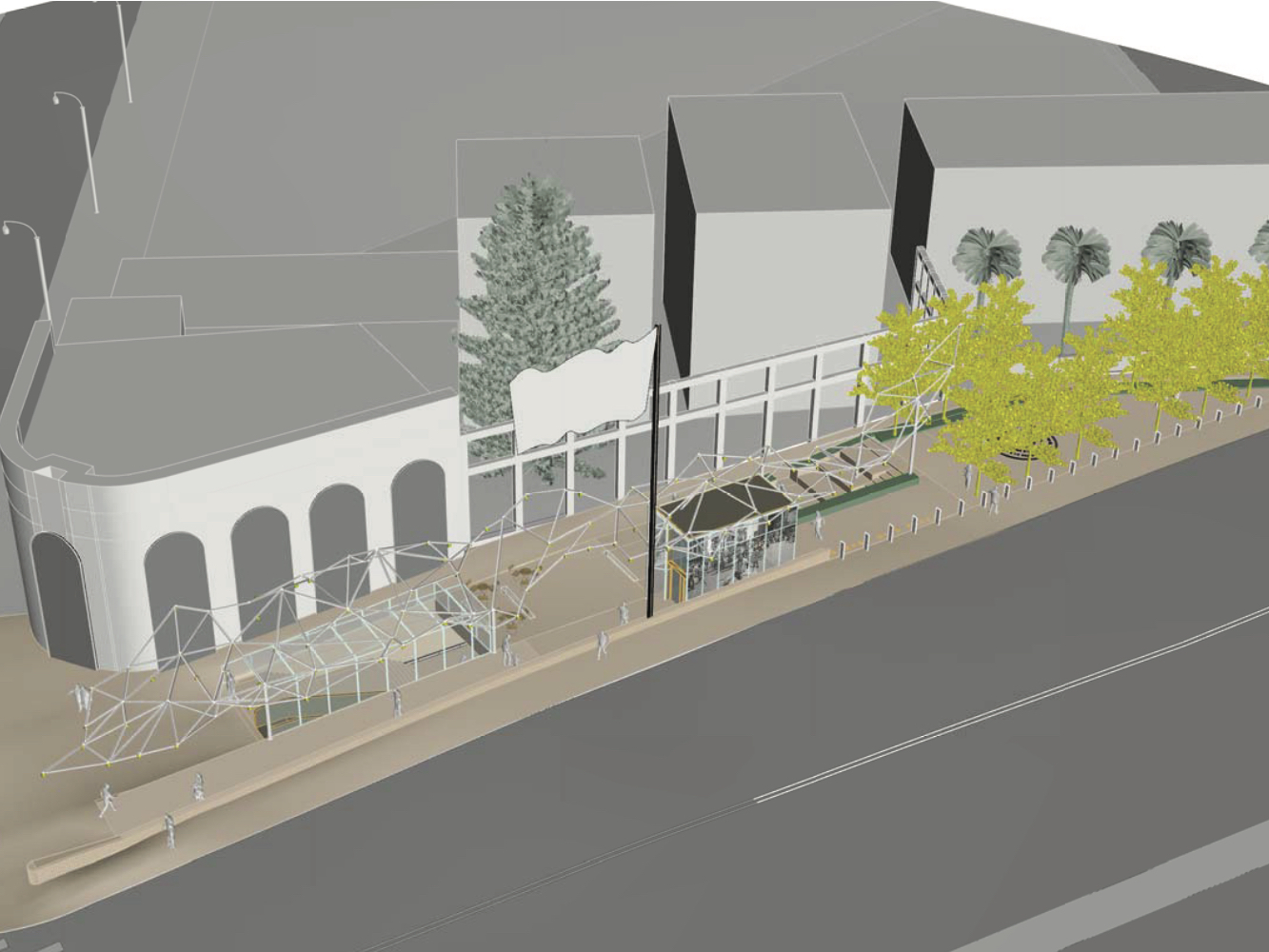 The freeform structure has been removed. | Image Perkins Eastman
Since selecting Perkins Eastman in 2017, the project has seen many design revisions. After significant community pushback, plans for a large on-site amphitheater were abandoned. A pink free-form structure, intended to take its place, has also been nixed. Critics of the proposal have long questioned whether to fully demolish and replace Harvey Milk Plaza, or simply update the existing layout.
Howard Grant, designer of the current Harvey Milk Plaza, has been a vocal opponent of the revamp. "I am opposed to spending $10 million or more to demolish & replace a site dedicated to Harvey Milk that embodies a significant period of our LGBTQ+ history," said Grant, noting that the revamp would expose thousands of Muni riders to "an unnecessary, prolonged demolition and heavy construction."
Another critic of the plaza project, John Goldsmith, created an online petition and website arguing that it should be preserved and updated.
The San Francisco Chronicle's architecture critic, John King, also chimed in with criticism of the plaza in 2018.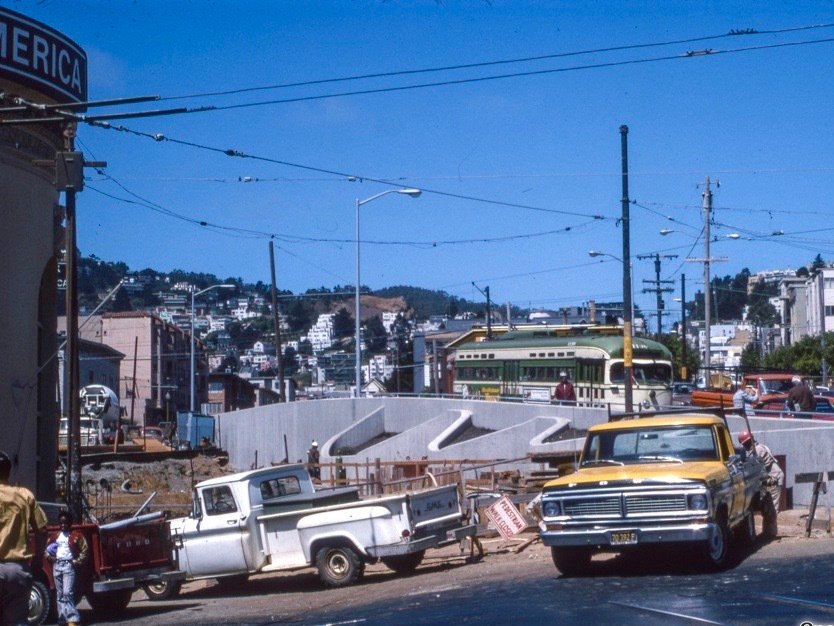 Castro Station and plaza under construction (1977). | Photo: OpenSFHistory
"The location is awkward, at best, in terms of a plaza intended to be a tourist destination and local gathering space, especially in a neighborhood with so many other draws," King wrote. "It might be easier to freshen up the current plaza and create an ongoing fund for its maintenance."
In December 2018 the proposal received Phase 1 approval from the SF Arts Commission. Then in January, the project was awarded a $1 million state grant from the planned redesign. The grant was initiated by State Senator Scott Wiener's office and is being managed by the San Francisco Parks Alliance.
The proposal then received a Phase 1 Historic Resource Determination from SF Planning in July.
Last summer FHMP parted ways with Perkins Eastman who had been contracted to help with the schematic phase of the project.