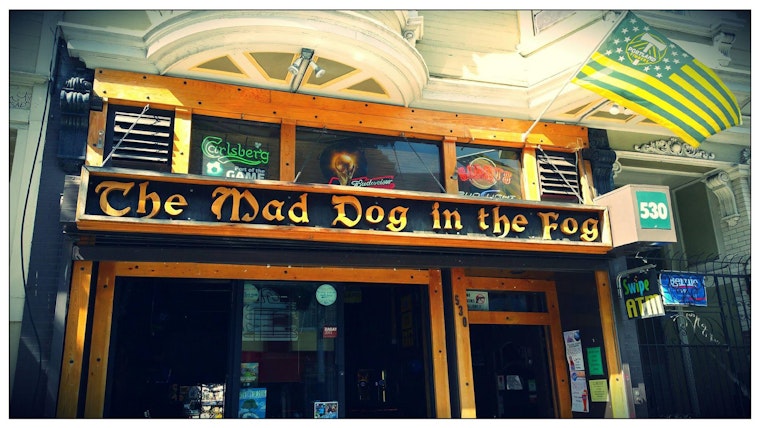 Published on November 03, 2021
It was an ominous closure, even if no one realized what was ahead, when 30-year-plus Haight Street sports bar institution Mad Dog in the Fog closed in early March 2020. The next weekend, San Francisco would shut down every bar with a capacity of more than 100. Three days after that, the full COVID-19 shelter-in-place orders were announced and completely upended our lives.
But owner Cyril Hackett, who also owns the Kezar Pub, promised in the March 2020 Facebook post above, "The Mad Dog In The Fog is taking a nap. We will return louder and more wicked at a new location."
And it looks like he's making good on that promise. Mad Dog in the Fog has applied for a license to serve beer, wine, and liquor at 1568 Haight Street (at Clayton Street), in the former home of Martin Macks, and more recently, Michael Collins Irish Bar.
Someone on Twitter who claims to not be author Gary Kamiya posted the image above Tuesday, an application for liquor license notice on the window boards of the now-shuttered location. Hoodline has confirmed the notice's authenticity, and that the applicant is Mad Dog in the Fog, Inc., with Cyrill Hackett listed as the owner. The notice was posted October 14, and was reported the next day by new-ish restaurant news site WhatNowSF.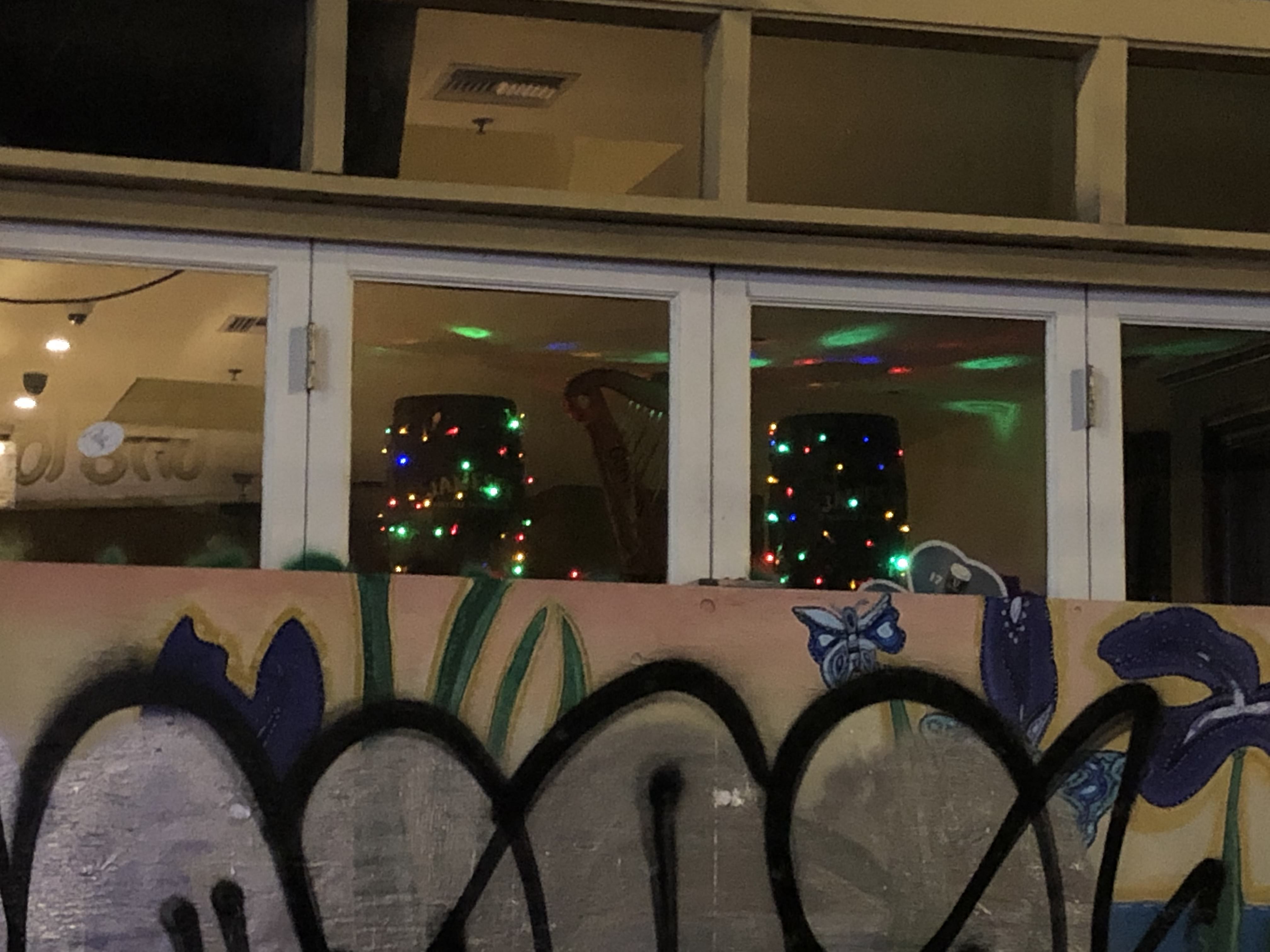 We passed by Tuesday night and numerous lights were on inside, with the old Michael Collins prop harp and Christmas lights very much visible. We've reached out to Hackett and the bar, and will update this post with any response.
Mad Dog in the Fog's alcohol license application is for a transfer of a restaurant license to serve beer, wine, and liquor, plus the transfer of a caterer's alcohol permit. Both are transfers from HQ Bar & Restaurant, the most recent iteration of the former Martin Macks' long strange trip on Haight Street.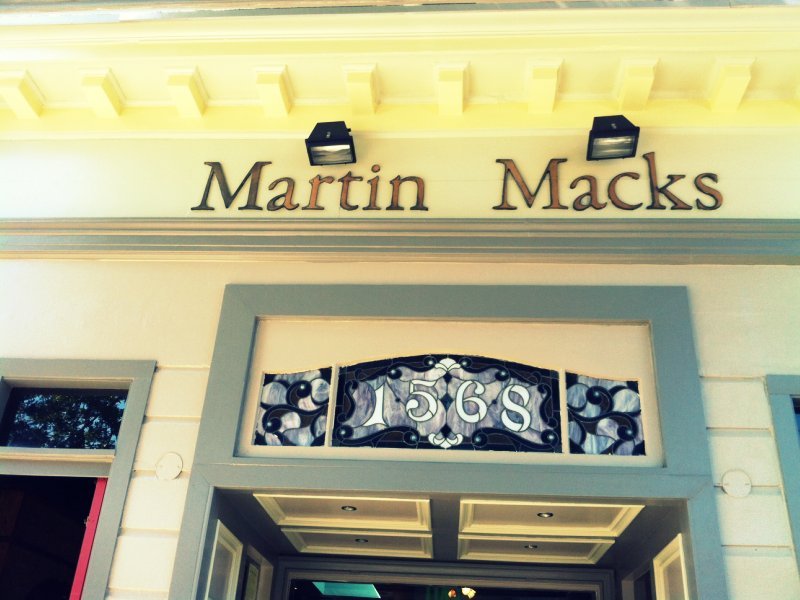 Back in Hoodline's early days when this blog was known as Haighteration, we reported in 2012 that a bizarre legal dispute upended Martin Macks and ousted former owner Brian Maloney. The Irish gastropub reopened with new management under a court-ordered receiver, but never quite recovered. The two warring ownership groups battled over who had to maintain their outdoor parklet (these were pre-COVID parklets), and the parklet fell into disrepair. Hoodline described it as "rarely used, except by incense-peddlers, guitar-strummers and the like," while Eater SF called it "an open-air toilet."
That would become the first parklet that the city ordered removed in 2013.
Martin Macks struggled to find a new identity, or even decide on its name. They called themselves Joplin's for a brief spell, then changed the name to HQ and attempted to become a live music club in 2015. New ownership christened it Michael Collins Irish Bar, in early 2018, but that club, too, closed permanently once the pandemic hit.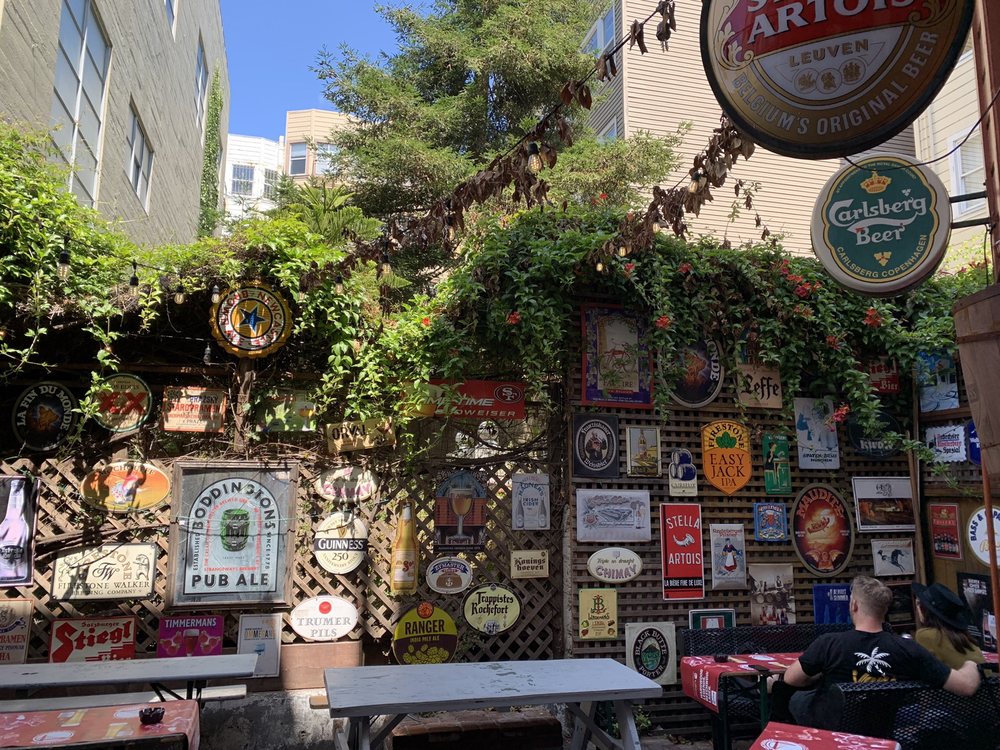 Meanwhile, in the Lower Haight, Mad Dog in the Fog had a remarkably stable run for over 30 years. Its early morning soccer broadcasts drew devoted footie fans, the place excelled at Halloween decorations and parties, and their Tuesday and Thursday Quiz Nights ran for more than 20 years. The bar did shutter for a period in 2019 for a seismic retrofit, and since the sudden pre-pandemic closure, its former Lower Haight spot has reopened as part of the upscale chain Woods Beer & Wine Co.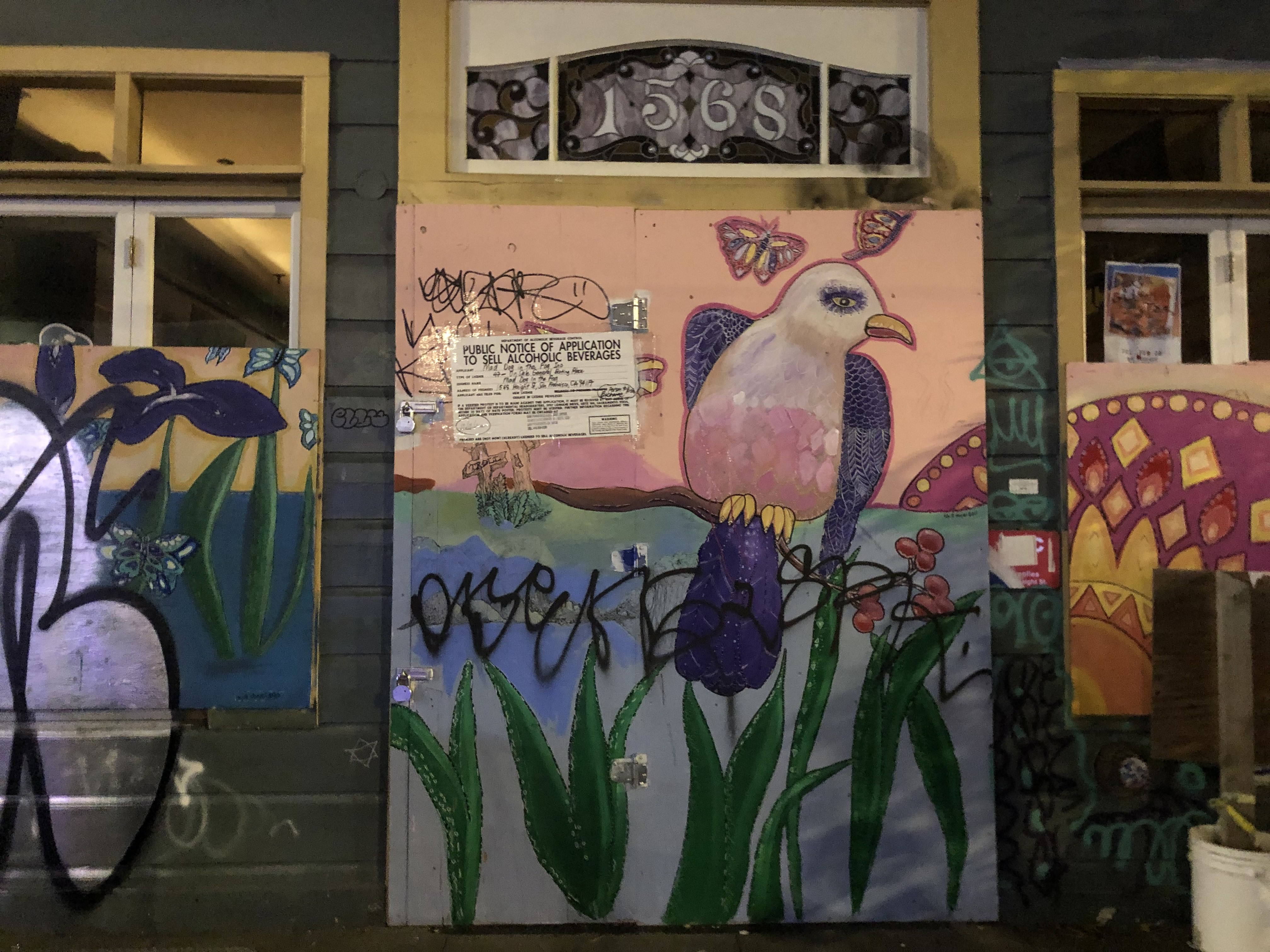 At what may be the new Upper Haight home of Mad Dog in the Fog — and these are merely license applications, and the new license transfer has not been awarded — the shuttered location is covered with wooden boards with a mural by local artist Deirdre Weinberg. Being on a shut storefront on Haight Street, that mural is often tagged or covered with graffiti.
But seeing that mural now covered by a Notice of Application to Sell Alcoholic Beverages, with the applicant name Mad Dog in the Fog, is some of the best news San Francisco sports bar and pub trivia fans have seen in a long time.