Here's a brief roundup of recent changes to Castro area businesses. In this edition: a hot chicken and ramen restaurant and pet grooming store open in the Castro, a designer clothing store extends its stay, and a longtime Thai restaurant closes its doors.
Opening
Nash Hot Chicken (3970 17th St.)
Nash Hot Chicken & Ramen recently opened in the former Me & Tasty space at 3970 17th St.
Me & Tasty closed in November after four and half years in the Castro, as we previously reported.
At the time, Hoodline reported that Nash Hot Chicken & Ramen would be taking over the space, and the new restaurant officially opened back in December after a brief remodel.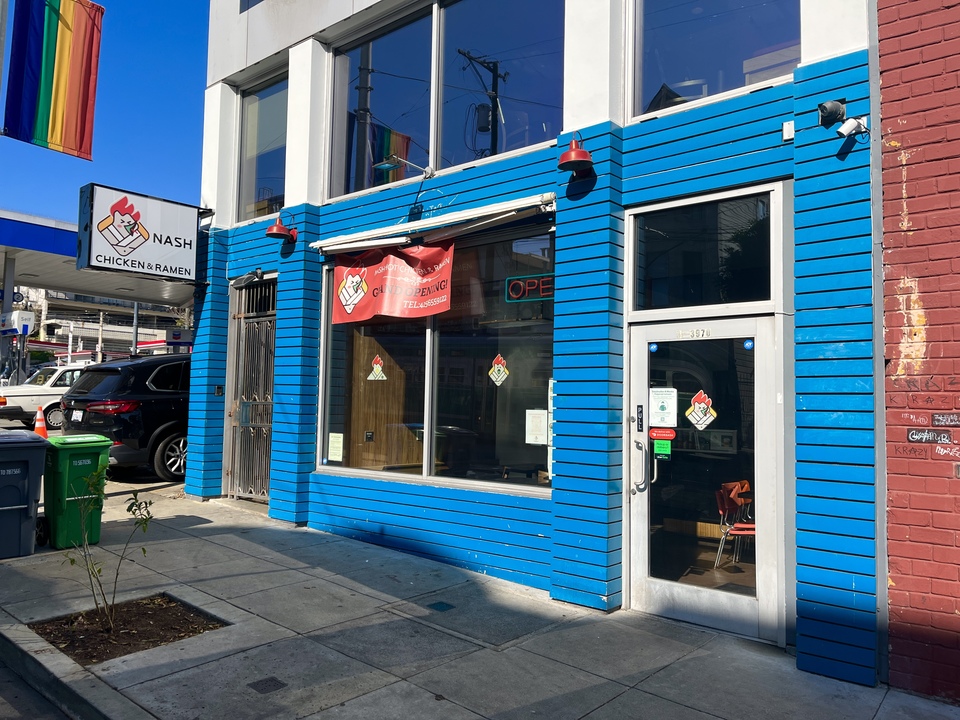 Nash Hot Chicken & Ramen is now open at 3970 17th St. | Photo: Steven Bracco/Hoodline
"We always love how Castro is inclusive and diverse," said owner Aaron Lai. "We happened to find this lovely place for rent, so here we are."
Lai said opening a restaurant at this time presented many different challenges. "It is very challenging, especially during this pandemic time," said Lai about the opening. "Many things need to be taken care of at the same time, but we are happy to serve our customers in Castro,"
Ramen combo options ($15.95) come in three bases - tori, red tori, and black tori - along with either chicken tenders, katsu, chashu, or karaage. Each combo also comes with three sides dishes — gyoza, edamame, and coleslaw.
Customers can also choose from a selection of chicken tender baskets - Thai Festival, Honey BBQ, Garlic Monster, Nash Tender, Honey Butter Cheddar, and Spicy Soy Garlic.
Chicken sandwich combos ($12.95) include - Honey BBQ sando and Bacon Mac Sando.
Since the restaurant was added in 2009 when Castro nightclub The Cafe expanded, the space has seen a fair amount of turnover. Original occupant Pica Pica Maize Kitchen opened in 2013 and lasted just nine months. Replacement Manos Nouveau closed in 2016 after less than two years; it was succeeded by Thai and brunch restaurant Me & Tasty, which opened in 2017 and closed less than five years later.
Now one month into operating, Lai said the support has been overwhelming. "Our customers have been nothing but nice and kind to us," said Lai. "We are grateful to be in such a wonderful community,"
En Vogue Elite Pet Grooming (3903 18th St.)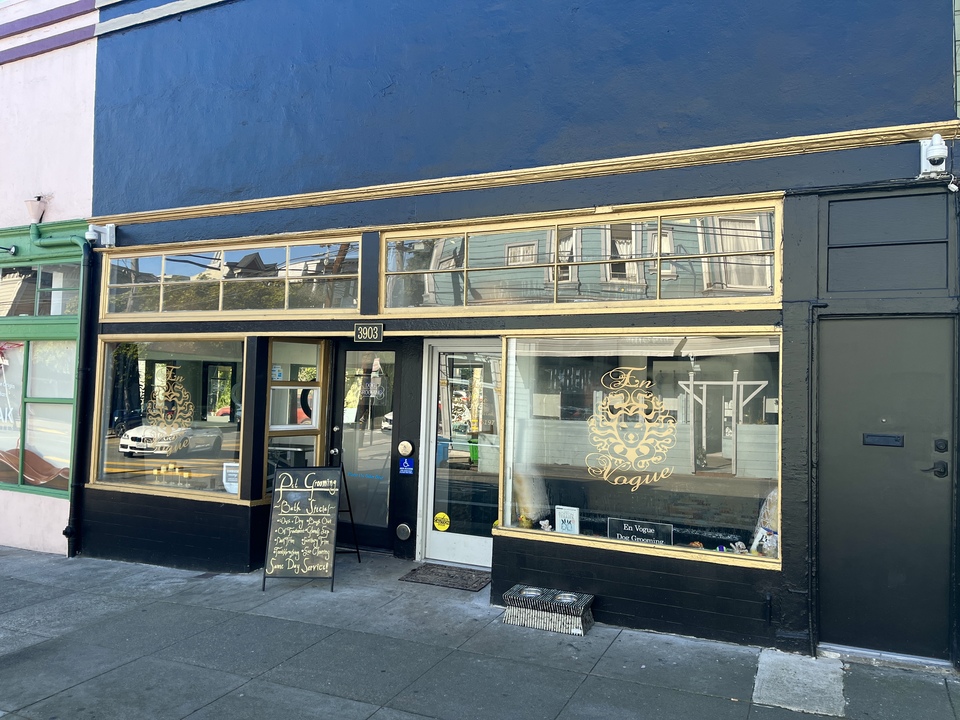 En Vogue Elite Pet Grooming is now open at 3903 18th St. | Photo: Steven Bracco/Hoodline
En Vogue Elite Pet Grooming is now open at 3903 18th St. at Sanchez, formerly Healing Cuts.
Hoodline broke the news of the new pet grooming store back in October after Healing Cuts owner Ismael de Luna moved after being unable to come to an agreement with his landlord over missed rent payments caused by shelter-in-place restrictions. Healing Cuts is now located at 2350 Market St.
En Vogue offers an array of upscale professional pet styling and coloring. "With our professional groomers, your furry friend is sure to enjoy the luxury grooming services En vogue has to offer," says En Vogue's website.
Update
Freeborn Designs (463 Castro St.)
Men's designer fashion store Freeborn Designs (463 Castro St.) has inked a deal to remain in the Castro for an additional two years.
Owner James Freeborn had initially opened in July as a six-month pop-up store through December however due to the store's success he's decided to stay longer.

Freeborn Designs has signed a two-year lease to remain at 463 Castro St. | Photo: Steven Bracco/Hoodline
"The community has been so supportive and seems to be very excited to see a brand new store that provides a unique, one of a kind shopping experience come to the neighborhood," said Freeborn. "I am really excited for what the future might hold and feel so fortunate to be able to play a small roll in helping bring this street back to life."
"This is a crazy time to be running a small business, but now is a really great opportunity for small independent designers like myself to negotiate an affordable storefront in the city," added Freeborn.
Freeborn says he has cut store hours to mostly weekends during the winter months but plans to open full time in the Spring. Customers are invited to schedule an appointment for a private shopping experience.
Closing
Thailand Restaurant (438A Castro)
Castro's Thailand Restaurant (438A Castro St.) has quietly closed after nearly 30 years in the neighborhood.
Thailand Restaurant occupied the second floor above Castro bar 440.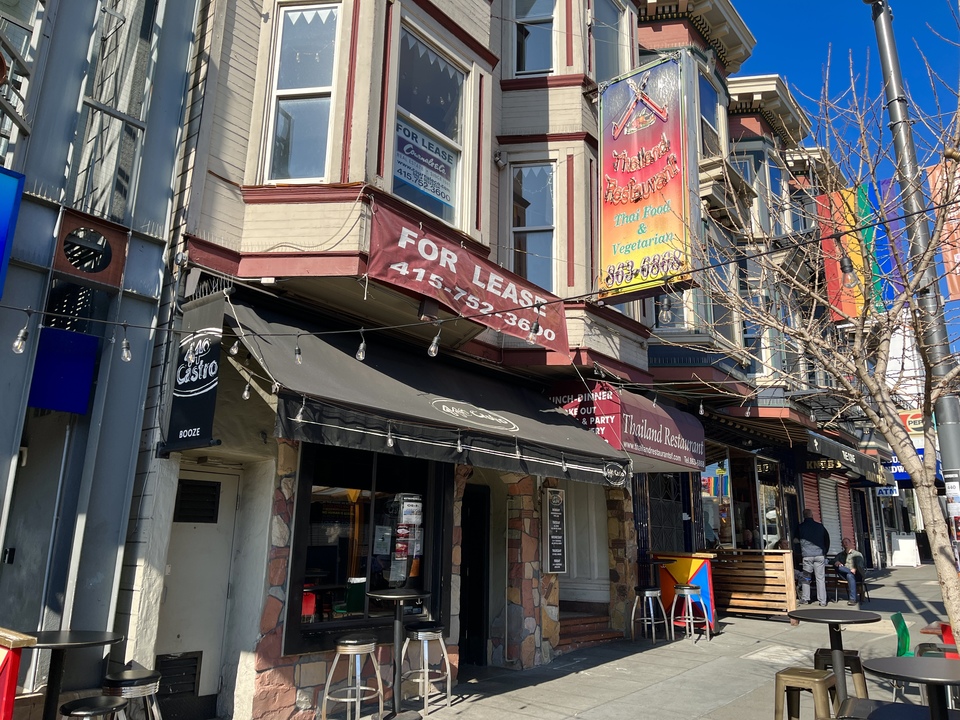 Thailand Restaurant at 438A Castro St. has closed. | Photo: Steven Bracco/Hoodline
Hoodline reached out to Thailand Restaurant for comment but did not receive a response.
Thailand Restaurant was owned by Narongchai and Nopparat Wirattigowit who also own Thai Chef (4133 18th St. at Castro) which remains open.
An active listing shows the approximately 1,800 square foot space for lease at $3,900 a month.