Plans for the return of a Pink Saturday event in the Castro have been canceled just four days before Pride Weekend.
On Tuesday, the San Francisco Municipal Transportation Agency (SFMTA) revoked the permits for 'A Touch of Pink', a Pink Saturday event that was set to take place in the heart of the Castro.
'A Touch of Pink' was being organized by Soul of Pride. For years, Soul of Pride has hosted the Global Village on both days of Pride Weekend at Civic Center's Pride Festival, and will continue to do so this year.
In an email obtained by Hoodline, SFMTA temporary street closure manager Nick Chapman stated, "the ISCOTT (Interdepartmental Staff Committee on Traffic and Transportation) permit for the 'A Touch of Pink' event that was to have been held this Saturday around Castro and 18th has been revoked for failure to meet permit conditions."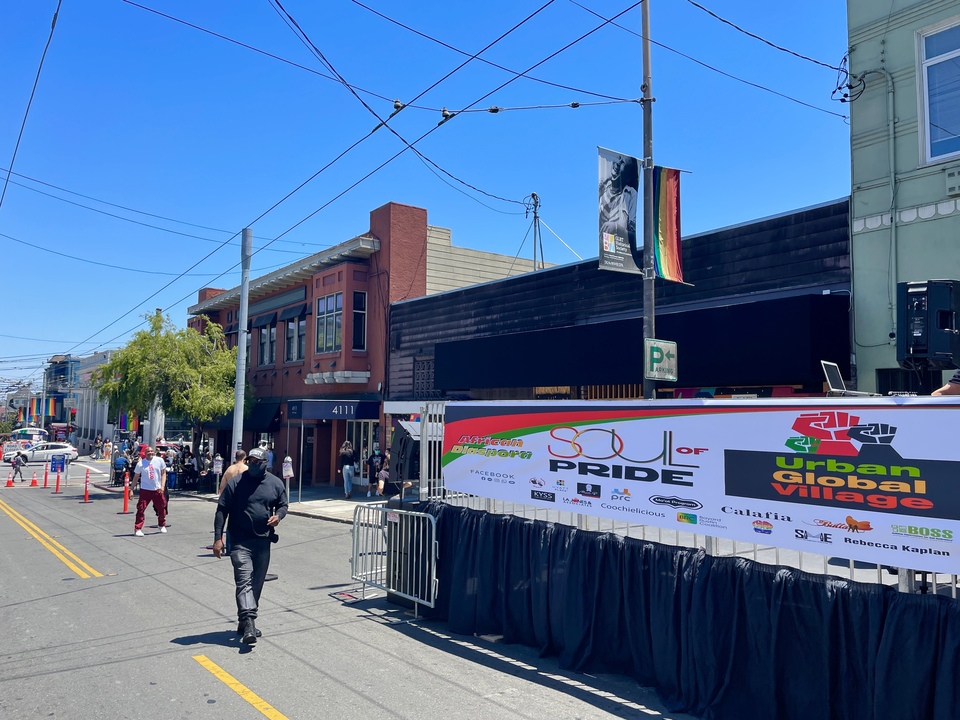 Soul of Pride's 2021 Urban Global Village stage along 18th St. | Photo: Steven Bracco/Hoodline
"The event will not be allowed to set up stages or otherwise activate the area," added Chapman.
A separate daytime block party organized by the Castro Merchants, at Market and Noe streets, featuring a Castro Drag Performer of the Year contest and a petting zoo will take place.
According to Soul of Pride's website, Touch of Pink was set to kick off at 3 p.m. with Mario B. Productions' Pretty and Pink Fashion Show followed by music and performances from 4 p.m. until 8 p.m. The event was set to take place at the intersection of Market and Castro streets.
Hoodline reached out to Soul of Pride for comment but did not receive a response from venue producer Lisa Williams.
Earlier this month, Soul of Pride's Tim Parker was scheduled to discuss Touch of Pink at the Castro Merchants June meeting but Parker left the meeting prior to the event being discussed.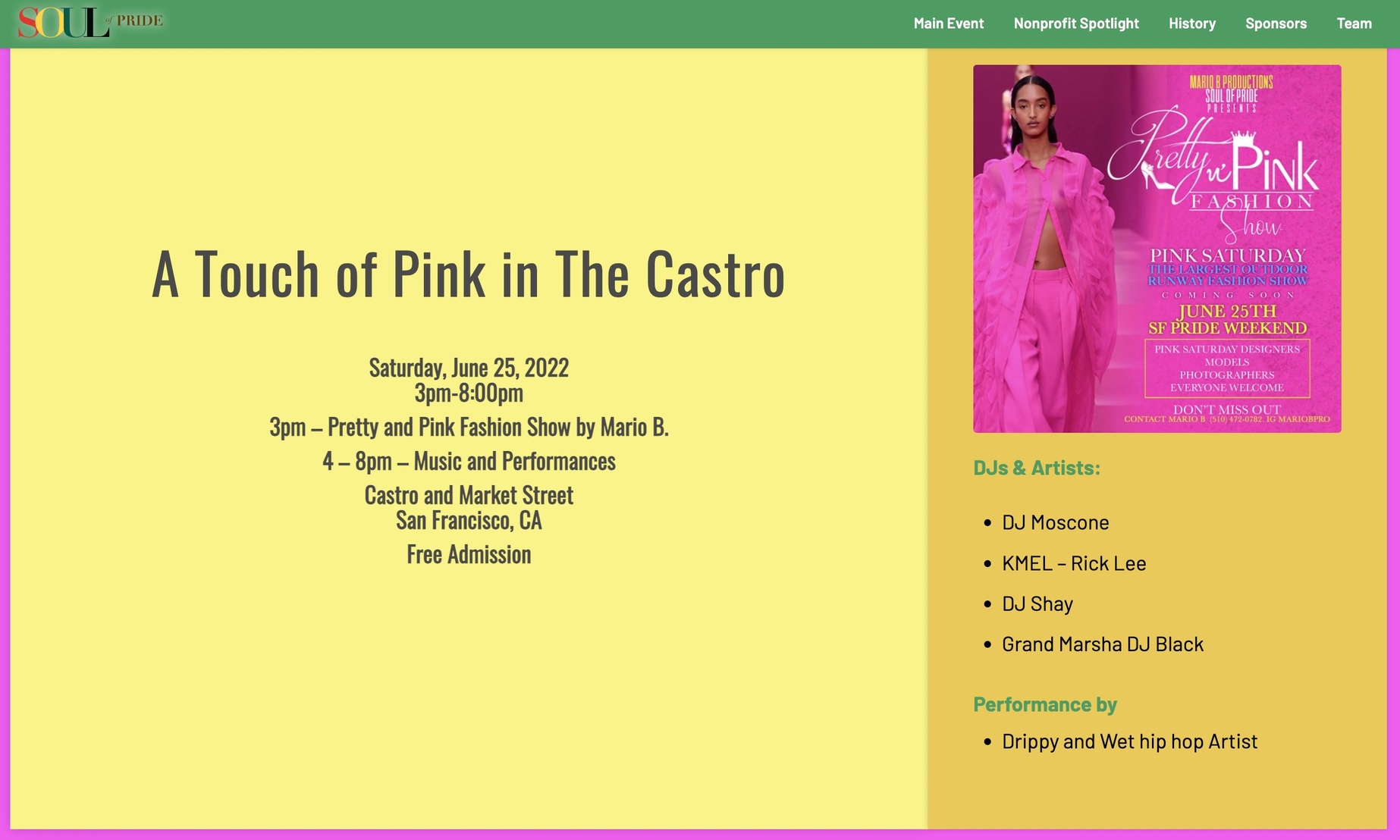 Touch of Pink event description on Soul of Pride's website. | Image: Soul of Pride
Chapman acknowledged that like in prior years there will still be an influx of Pride celebrants to the neighborhood. "SFPD will manage any necessary public safety closures in the area," said Chapman. "Muni reroutes will be implemented."
"A key time maybe around 8 p.m., when the (unpermitted) Dyke March arrives at Castro and Market," added Chapman.
District 8 Supervisor Rafael Mandelman tells Hoodline that he supported the return of Pink Saturday to the Castro, however it would require more planning and organization. "While I support reviving Pink Saturday celebrations in the Castro, they must be properly planned with sufficient notice and community engagement," said Mandelman.
"I was concerned that this event applied for their permits late in the game, and deferred to the City's public safety agencies on whether it could proceed safely," added Mandelman. "I believe they made the right decision, and this is the ideal time for organizers to refocus on planning a fun, safe Pink Saturday for 2023."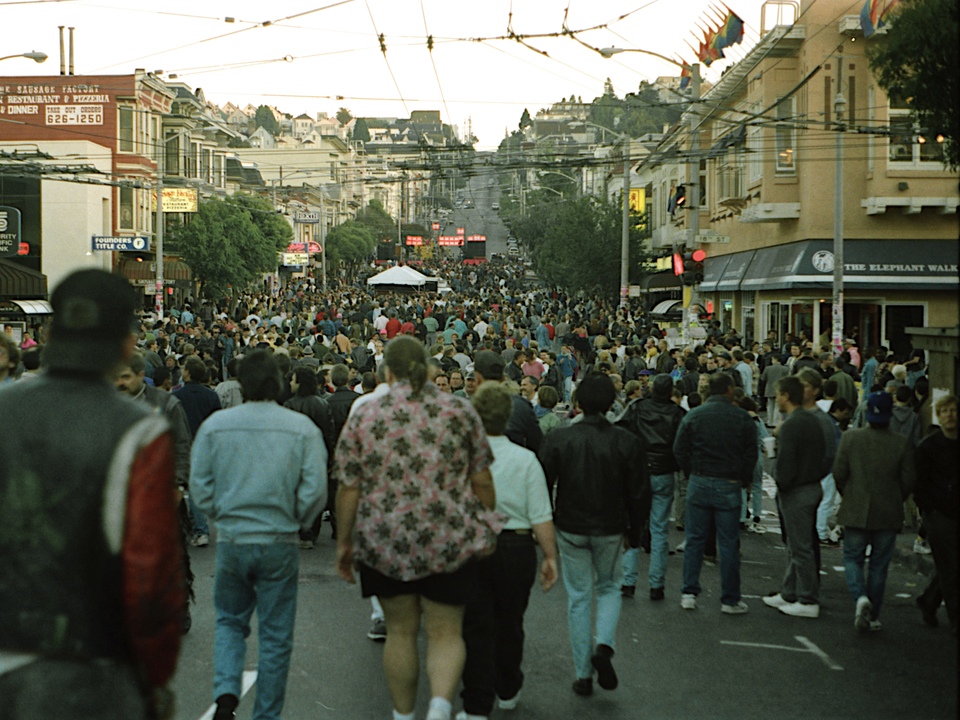 Pink Saturday at Castro and 18th streets in 1991. | Photo: David Prasad/Flickr
Last year, Soul of Pride set up its Soul of Pride Urban Global Village on 18th Street between Castro and Collingwood streets. The event was a part of Castro Merchants' car-free 18th St.
For 10 months, starting in August 2020, two blocks of 18th Street from Hartford to Collingwood streets went car-free on weekend afternoons as part of the city's Shared Spaces program.
In November 2020, the program was expanded to include the Slow Streets Noe Art Mart on Saturdays. Ultimately car-free 18th St. was ended after Castro Merchants cut ties with its event producer IDK Events.
Longtime Castro residents will recall that Pink Saturday was officially canceled in 2016 and the event hasn't taken place since.
In 2015, the event was renamed "Pink Party" after the Sisters of Perpetual Indulgence, who had traditionally hosted the event, bowed out and The San Francisco LGBT Center took over as organizer.
The Sisters had organized the event for 20 years, which drew thousands of party-goers to the Castro on the eve of the Gay Pride Sunday.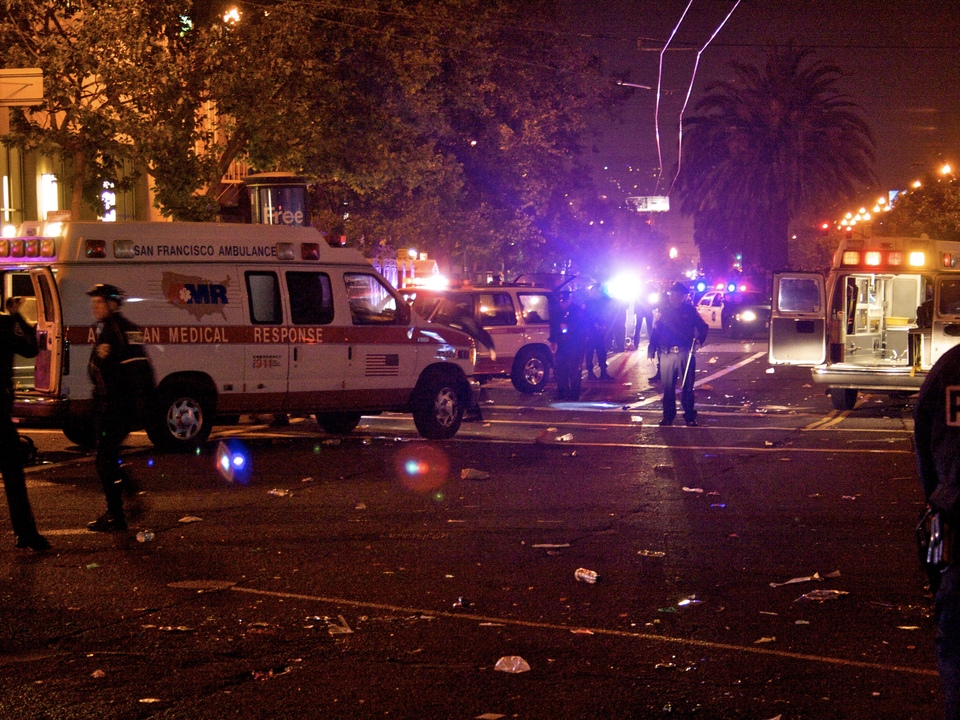 First responders on scene at Market and Castro streets in 2010. | Photo: Matt Baume/Flickr
Violence plagued the last few years of Pink Saturday. In 2010, 19-year-old Stephen Powell was killed and two others were wounded in a shooting at Market and Castro streets.
In 2012, there was a violent beating of a woman near the Pink Saturday celebration and in 2014, one of the Sisters and his husband were attacked at 18th and Castro during the party.
After the attack, the Sisters announced that if they were to continue sponsoring the event—which raised tens of thousands of dollars annually—they would have to come up with a "new vision" for the event, said Sister Selma Soul at the time. Unfortunately, that event never came to be.