Castro residents and visitors will soon be able to stop in to the visitor center and gift shop called Welcome Castro, opening at 525 Castro Street, which was formerly the Levi's Store.
The pop-up shop will open in April and is funded in part by a $50,000 grant from the Castro Merchants. The Castro Merchants received a $100,000 Vacant Storefront Activation grant from the Office of Economic and Workforce Development (OEWD) last September.
Welcome Castro is being helmed by Castro resident Robert Emmons. Emmons owns and operates two similar stores in the Haight — boutique gift shop San Francisco Mercantile (1698 Haight St.) and visitor center Welcome Haight & Ashbury (1500 Haight St.).
Emmons tells Hoodline that he's currently working on building out the store and plans to open by mid- to late April. The opening was delayed after Emmons was injured in an accident.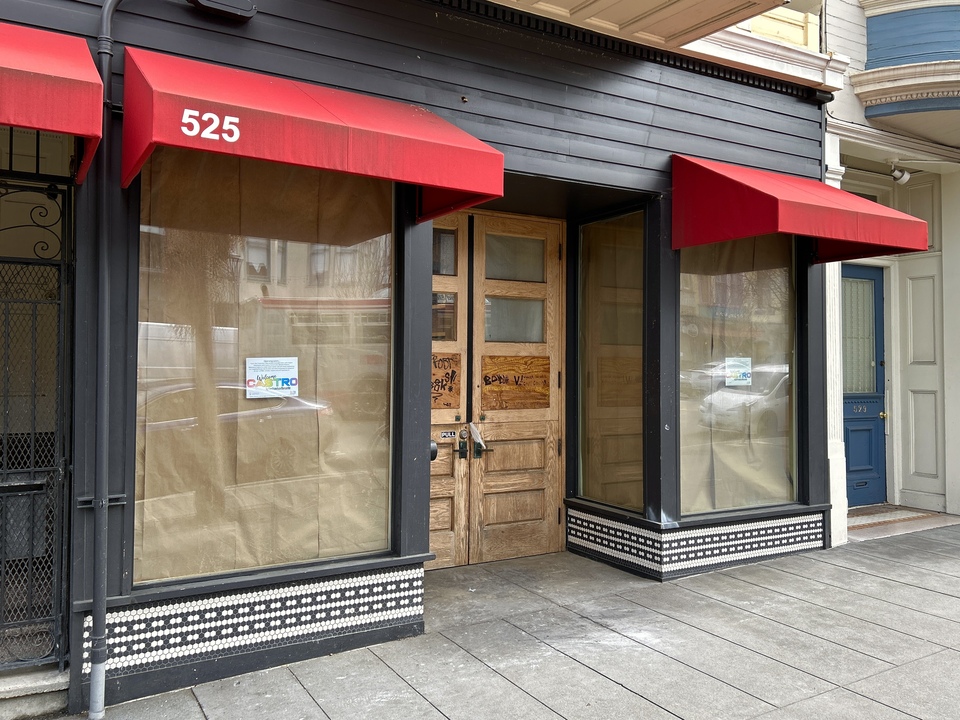 Welcome Castro will be opening next month at 525 Castro St. | Photo: Steven Bracco/Hoodline
Welcome Castro will be a combination of Emmons's Haight store concepts, offering visitors information about the Castro and a wide selection of locally sourced items. The pop-up is expected to last 10 months.
Emmons originally got started back in 2008 with his wholesale business SF Mercantile designing and manufacturing his own line of local interest gifts and souvenirs. In 2016, Emmons opened San Francisco Mercantile on Haight St.vAt the shop, Emmons has his own product line, all designed by local artists, and also stocks collections by other California designers, with an emphasis on Bay Area-focused merchandise.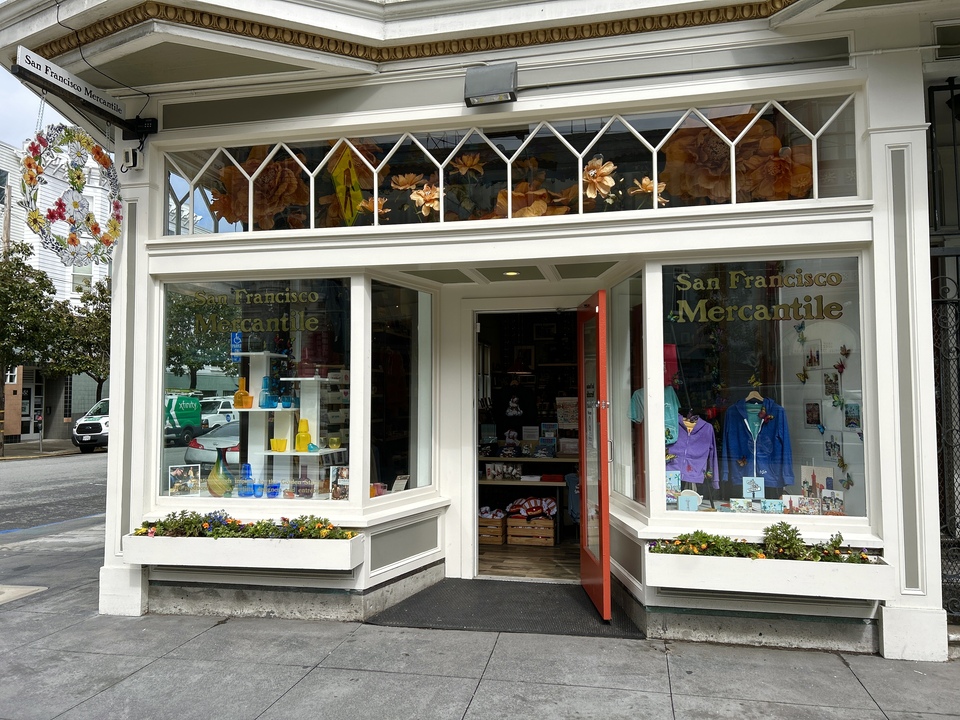 San Francisco Mercantile at 1698 Haight St. | Photo: Steven Bracco/Hoodline
In June 2021, Emmons opened Welcome Haight & Ashbury in partnership with SF Heritage at the site of Haight-Ashbury T-shirts shop which closed in 2020 after 43 years.
Welcome Castro will focus more on being a visitor center than a gift shop. "We want to make it a visitor center for the neighborhood," said Emmons.
Emmons says he got the idea for opening Welcome Castro after speaking with Castro Merchants board members about how they wanted to allocate the grant funds.
At first, they planned to activate the long-vacant former Pottery Barn space but Emmons said, "it got to be a little bit too much." "I wasn't comfortable trying to take over that much space."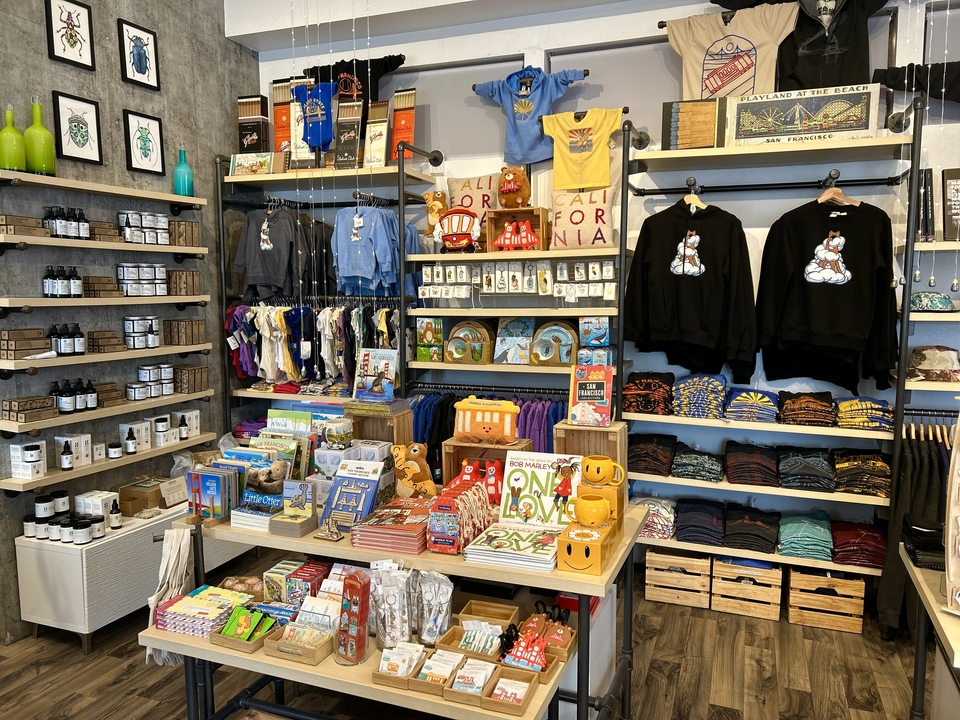 Inside San Francisco Mercantile. | Photo: Steven Bracco/Hoodline
Emmons is no stranger to the retail landscape in the Castro as he first started selling his products at the non-profit retail store Under One Roof.
Originally Emmons says he wanted to open his first shop in the Castro but decided not to because both Local Take and Cliff's Variety were doing something similar.
Now Emmons says he sees an opportunity to offer something different. "I'm trying to do a concept that won't have crossover with what Local Take is doing," said Emmons.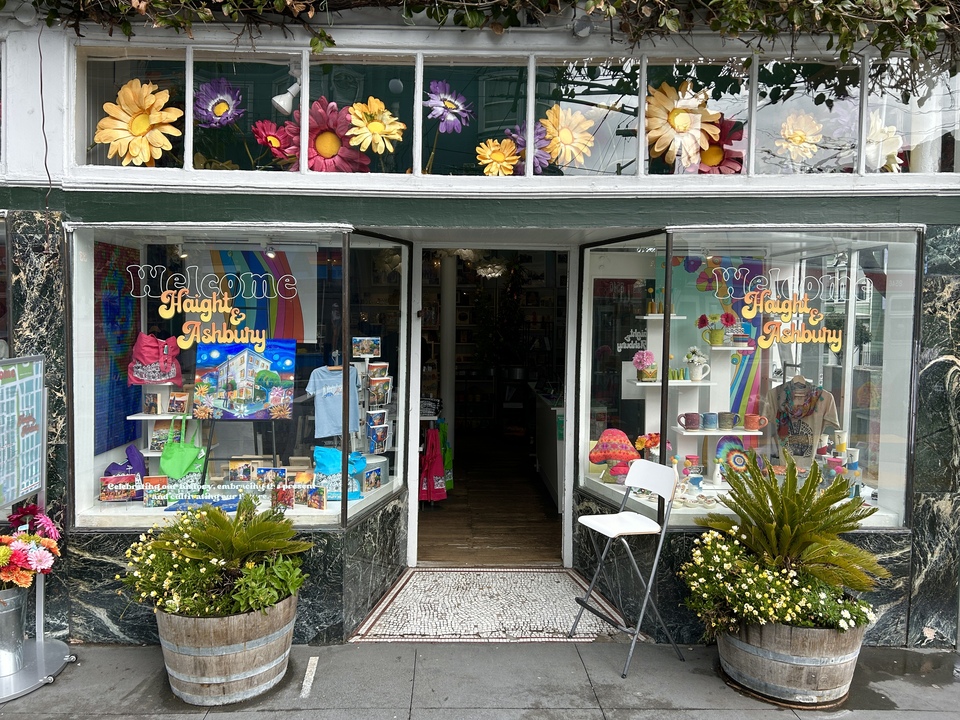 Welcome Haight & Ashbury at 1500 Haight St. | Photo: Steven Bracco/Hoodline
While Local Take carries SF Mercantile products, Emmons says Welcome Castro will not carry those products along with any of the artists or makers at Local Take as well.
"I'm sourcing about 50 LGBTQ+ artist makers and entrepreneur lines that I'm going to be bringing in," added Emmons. "I'm trying to bring in a unique assortment to the Castro that's not currently there."
First walking into the store, customers will see a large aerial photo of the Castro. "We'll be able to put pins where the different businesses and points of attraction are," explained Emmons.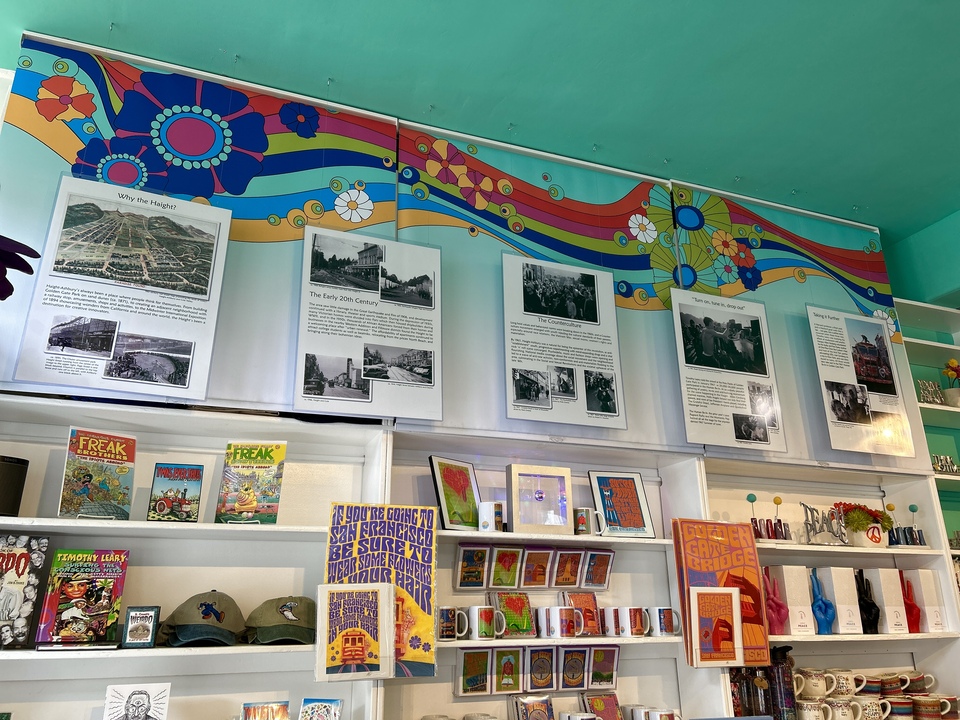 Historical timeline inside Welcome Haight & Ashbury. | Photo: Steven Bracco/Hoodline
Around the store, Emmons said there will be educational graphics talking about the history of the neighborhood beginning with the Ramaytush Ohlone and going all the way up to the present day. Visitors will be able to pick up maps with details about all the stores, restaurants, bars, and neighborhood attractions.
Visitors to the store might be reminded of the now-closed HRC Store (currently Queer Arts Featured). "That's what gave me the inspiration for what we added Welcome Haight & Ashbury," said Emmons. "I felt like one of the things missing from the Castro is that sense of place."
Asked if he's planning to stay longer than the 10-month pop-up Emmons said, "We'll see how it goes." "My thought is that any of this grant money that we're using to try and reinvigorate the neighborhood I'd like to last longer than 10 months."
Emmons is hopeful that Welcome Castro will be successful enough to give back the entire grant amount. "My goal is to make this a profitable endeavor where I can give the grant money back to Castro Merchants and they can reinvest it into another pop-up," said Emmons.
A portion of Welcome Castro's sales will go back to the Castro Merchants. Emmons explained he's still working out the details with Castro Merchants but "is committed to giving back the entire $50,000 grant amount."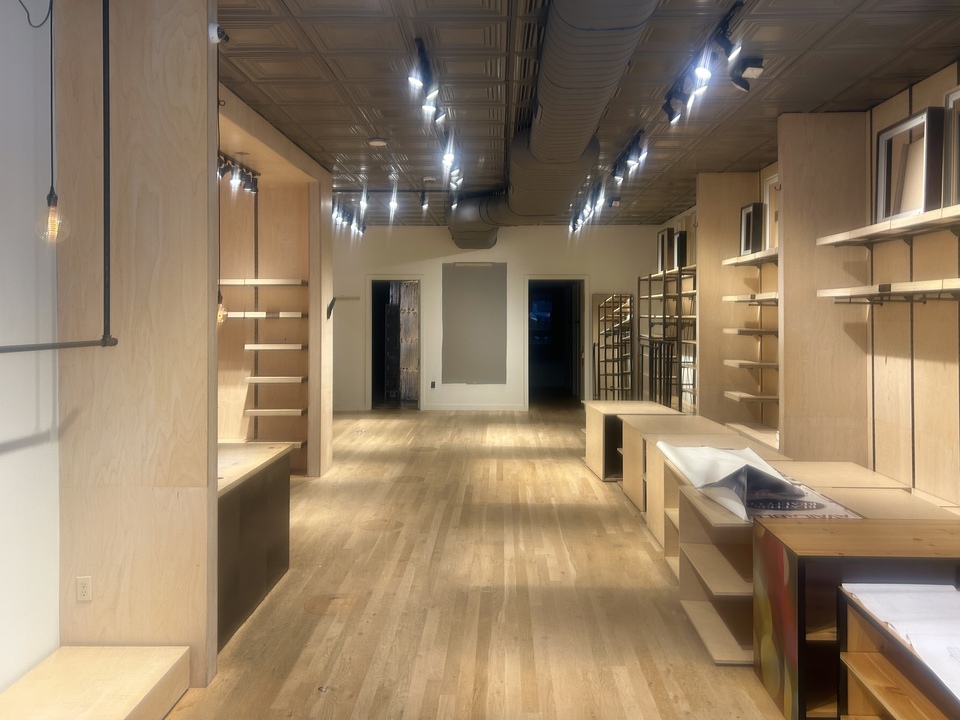 Many pieces of furniture and fixtures were left after Levi's Store vacated the space. | Photo: Steven Bracco/Hoodline
Welcome Castro will also be partnering with a handful of neighborhood groups and organizations including the Castro/Upper Market Community Benefit District (Castro CBD) and the Castro LGBTQ Cultural District (CQCD). "It's important that we partner with as many local organizations as possible," said Emmons.
The Castro CBD has helped create maps to hand out to visitors and its welcome ambassadors will now operate out of the store. Emmons added that the CQCD will have a temporary window display.
Emmons said Castro Merchants board member Terry Beswick is assisting with additional neighborhood partnerships. Beswick tells Hoodline the OEWD grant did not require a competitive process.
OEWD spokesperson Gloria Chan confirmed this information to Hoodline. "Our understanding is the larger vacancy activation effort did not require an application process," said Chan. "This is concept they are undertaking is more or less a new/test model."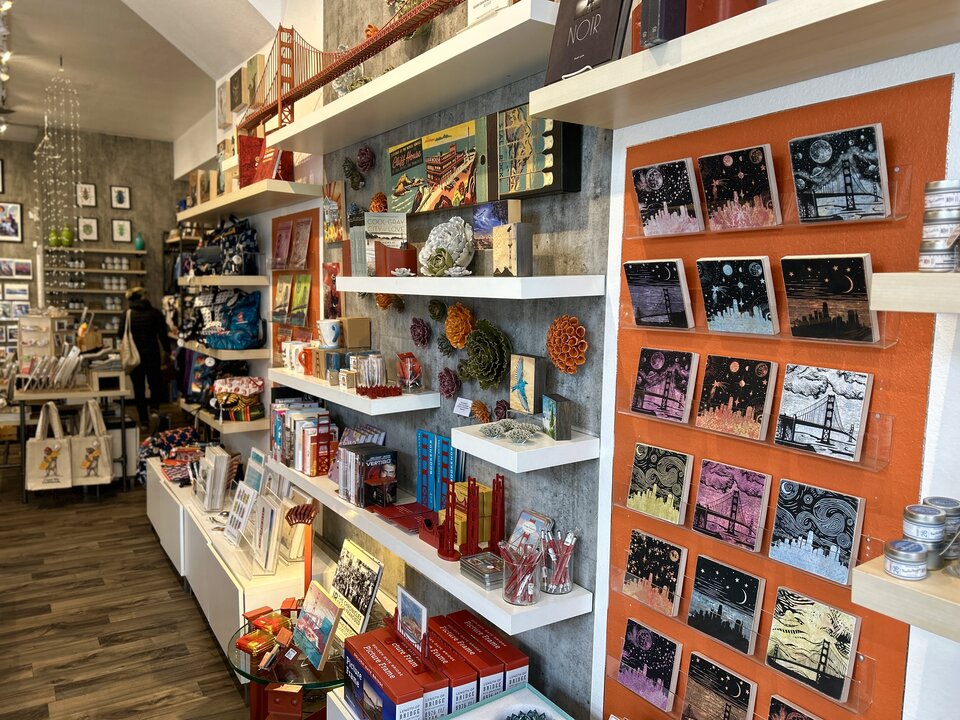 Photo: Steven Bracco/Hoodline
"We pretty quickly honed in on Robert," said Beswick. "I saw what he was doing in the Haight and said this would be great for us to do in the Castro."
"I wanted to leverage the grant to accomplish multiple goals by activating a vacant storefront, bringing in a business that promotes other businesses, creates a magnet for visitors, and is a revenue stream to support other pop-ups," explained Beswick.
Moving forward, Castro Merchants will be opening an application period at the end of March to allocate the remaining $50,000 from the Vacant Storefront grant.
Welcome Castro fills one of many storefront vacancies along the 500 block of Castro Street including Harvey's, Puff 'n Stuff, Earthbar, Sunglass Hut, and Under One Roof.
---
Welcome Castro will be open from 11 a.m. to 7 p.m. on Sunday to Thursday and from 11 a.m. to 9 p.m. on Friday and Saturday.