Published on March 13, 2023
The Castro's new Salvadoran restaurant Los Amigos on Castro is now open in the long-vacant storefront at 2295 Market St. (at Noe and 16th). Los Amigos quietly opened on Sunday for brunch.
The Mission District-based restaurant opened its second location in the former Castro Republic space, which longer ago was the longtime home of Bagdad Café.
Los Amigos is owned by Miguel Ramirez. Ramirez did not respond to Hoodline's request for comment.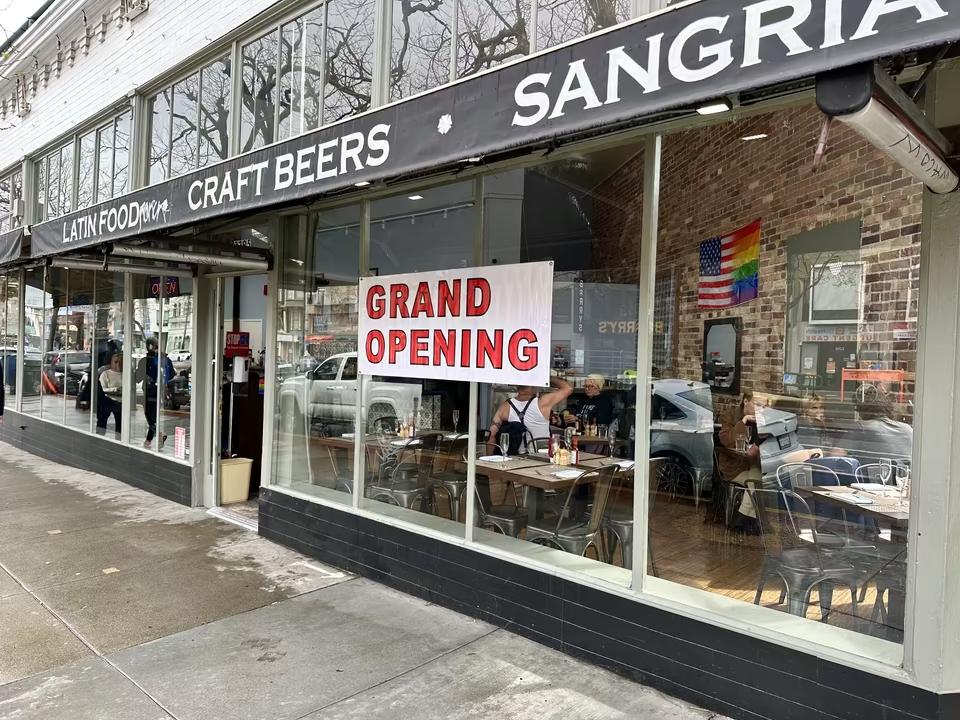 Los Amigos is now open at 2295 Market St. | Photo: Christopher V./Hoodline
Hoodline broke the news of Los Amigos opening in September 2022. At the time, a construction worker told Hoodline the restaurant would open in October.
However, it appears the restaurant's opening was delayed by permitting and licensing approvals.
Los Amigos' Mission location opened at 530 Valencia (between 16th and 17th streets) in 2019, replacing former Salvadoran restaurant Panchitas.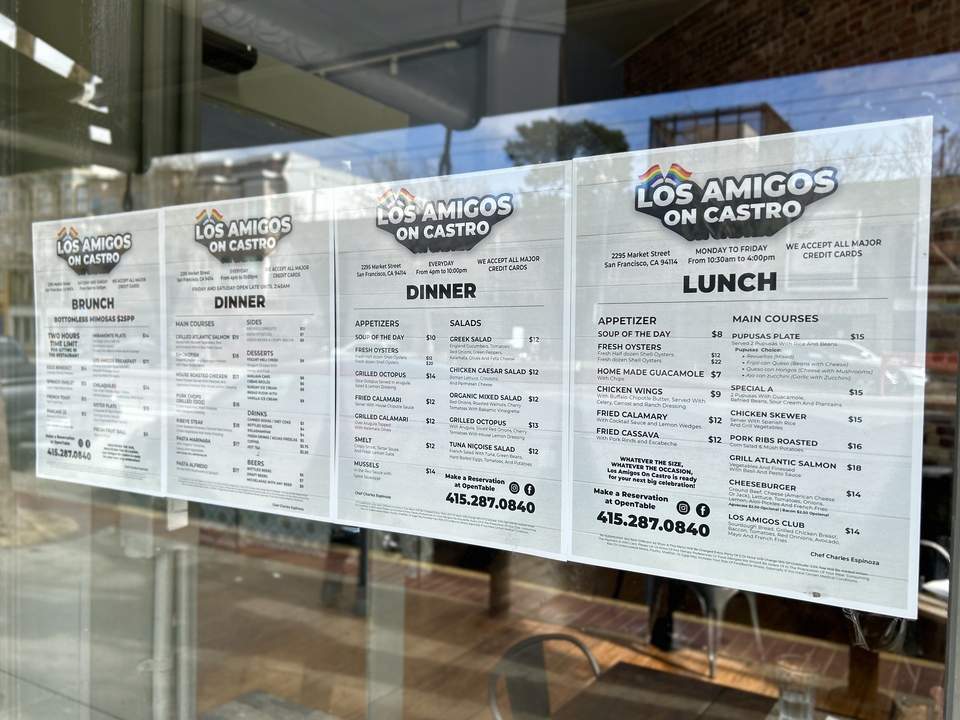 Los Amigo's lunch, dinner, and brunch menus. | Photo: Steven Bracco/Hoodline
Lunch menu options include fresh oysters ($12/$22), fried calamari ($12), pupusas ($15), chicken skewers ($15), cheeseburgers ($14), and grilled Atlantic salmon ($18). Dinner options include grilled octopus ($14), greek salad ($12), swordfish ($18), house-roasted chicken ($17), and a ribeye steak ($18).
Weekend brunch options include spinach omelet ($13), eggs Benedict ($14), pancakes ($12), chilaquiles ($14), and bottomless mimosas ($25).
Since first reporting on Los Amigos in September, Ramirez applied for and was granted a liquor license in December to sell beer and wine.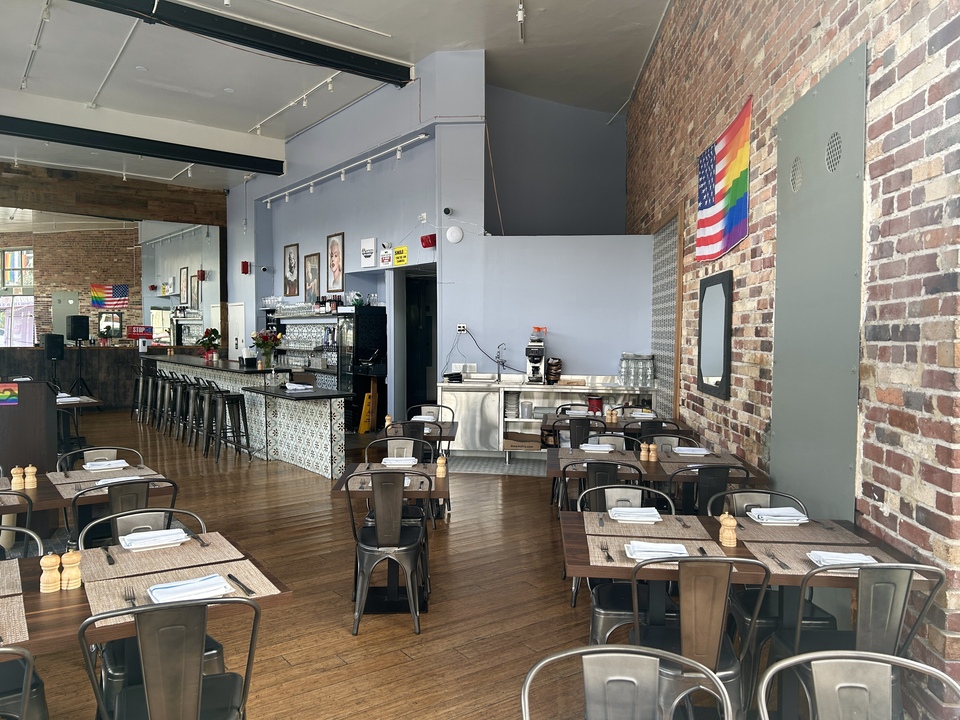 Inside Los Amigos which opened yesterday. | Photo: Steven Bracco/Hoodline
Los Amigos joins two Mexican and Latin restaurants that opened recently along the 2200 block of Market, Santeria (2251 Market) and Copas (2223 Market).
It also joins other Mexican and Latin restaurants in the Castro including Tacorgasmico (2337 Market), Taco Boys (2312 Market), Bonita Taqueria y Rotisserie (3600 16th), and La Tortilla (495 Castro). El Capitan Taqueria (4150 18th) closed in January after three years in the Castro.
During previous tenant Castro Republic's four years in the neighborhood, the restaurant experienced a variety of struggles. In 2019, the restaurant fell victim to a rash of smashed windows on Market Street.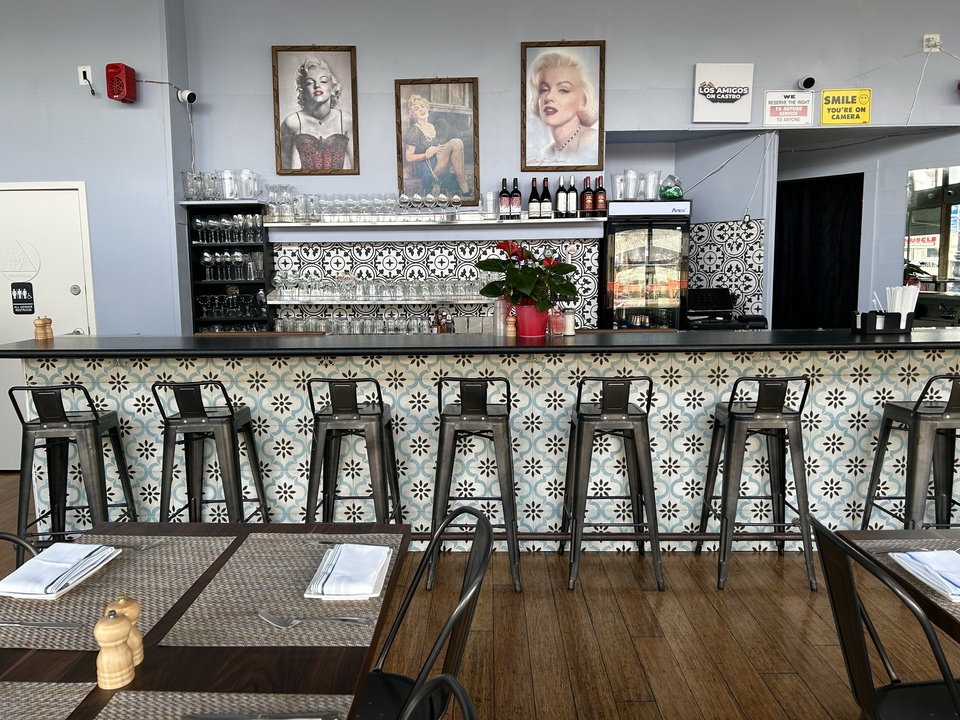 Photo: Steven Bracco/Hoodline
The rear wall of the building at 16th & Market, home to "The Hope For The World Cure" mural, has been problematic for years, with frequent tent encampments and garbage dumping.
While shuttered, the restaurant space was used over the summer to house supplies for the restoration of the "The Hope For The World Cure" mural along 16th St.
District 8 Supervisor Rafael Mandelman worked on getting a derelict trash enclosure along the rear wall removed. Last August, the Board of Appeals voted unanimously to uphold the Department of Public Works order revoking the Minor Sidewalk Encroachment Permit. The trash enclosure has since been removed.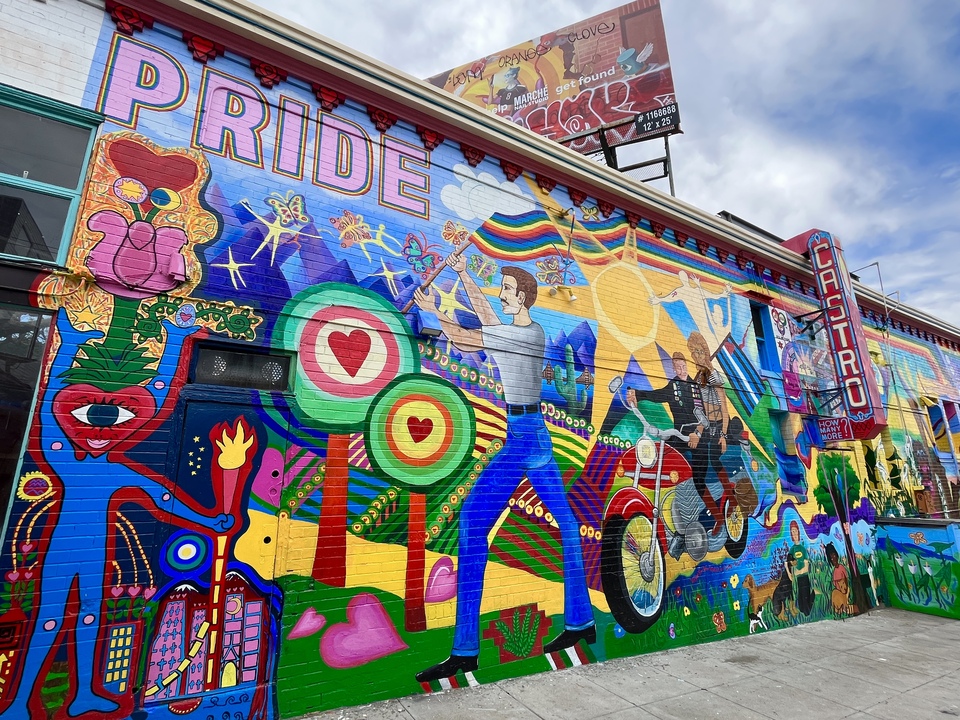 The trash enclosure has since been removed. | Photo: Steven Bracco/Hoodline
The restaurant's space at 2295 Market Street has a long history. The New York City Deli operated in the space from 1978 to 1990. It was replaced by 24-hour restaurant Bagdad Café, which operated for two decades and was a favorite among the neighborhood's queer nightlife scene.
But since Bagdad Café closed in 2011, the space has seen a fair amount of turnover. Soul food restaurant Criolla Kitchen briefly took it over before becoming SliderBar in 2012.
In 2015, the owners of SliderBar remodeled and rebranded as Ovok, hoping to evade bad publicity due to two Health Department closures. Ovok closed six months later, which is when Castro Republic moved in.
Los Amigos' expansion to the Castro fills one of many storefront vacancies along the 2200 block of Market Street. The block currently has four vacancies: the spaces formerly occupied by Harvest Ranch Market (2285 Market), Trudy's Tattoo Parlor (2275 Market), vitamin and supplement store Active Nutrition (2275 Market), and Wells Fargo Home Mortgage (2258 Market).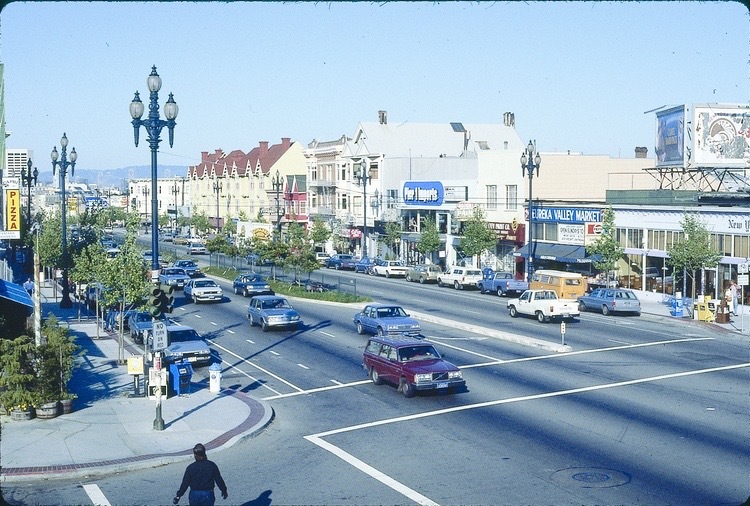 Market & Noe streets in 1986; New York Deli is on the far right. | Photo: Max Kirkeberg/SFSU
Two more storefront vacancies along the block are set to be filled. Café Flore is set to reopen as Fisch & Flore later this summer and European Wax Center has opened at 2241 Market, formerly Fidelity National Title.
Last July, specialty market The Epicurean Trader was announced as one of the ground floor tenants in the new residential condo building at 2238 Market Street.
Los Amigos will be open Sunday from 8 a.m. to 10:30 p.m, Monday from 10:30 a.m. to 10:30 p.m., Tuesday and Wednesday from 10:30 a.m. to 11 p.m., Friday from 10:30 a.m. to 2 a.m., and Saturday from 8 a.m. to 2 a.m.
Los Amigos joins a handful of restaurants in the city, including the Castro's longtime late-night eatery Orphan Andy's, that stay open late offering the nightlife crowd a place to grab food after-hours.
Last week Hoodline reported on the news that Ingleside drive-in Beep's Burgers is now open daily until 2 a.m.
Update 3/14:
After publication, Los Amigos co-owner Miguel Ramirez responded to Hoodline's request for comment.
Ramirez tells Hoodline that Los Amigos was founded by himself and Luis Rodriguez. "Los Amigos was created by two friends from El Salvador who met here in San Francisco 18 years ago," said Ramirez.
"I was the youngest who came to the United States looking for a dream to have my own business to bring this country Especially in Castro, I belong to the LGBTQ community," added Ramirez.
Asked how Los Amigos will fit into the Castro, Ramirez said, "I think that my restaurant in Castro is a family space where you can be and enjoy with family and friends with the Latin touch that characterizes us, especially for adults and children."
"I will bring dinner with a drag show and a brunch with Latin drag queens, I want everyone to love food and Latin people but especially Salvadoran food, like Pupusas," added Ramirez.
---
Thanks to Hoodline tipster Christopher V.! If you've seen something new (or closing) in the neighborhood, text your tips and photos to (415) 200-3233, or email [email protected]. If we use your info in a story, we'll give you credit.